US Open 2015 Rewind: Chambers Bay's double-edged sword brings triumph and tragedy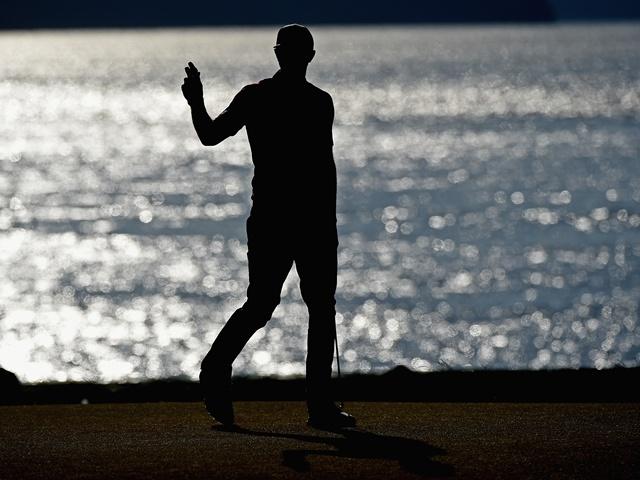 Into the shadows: Spieth eclipsed DJ but will it be the same story at St Andrews?
Romilly Evans reflects on a highly eventful second major, which ultimately kept Jordan Spieth on track for the grand slam, and left Dustin Johnson sleepless in Seattle...

"Spieth putted worse than he did at Augusta and completely scrambled his bearings off the tee for a spell during the penultimate round. He still won, though."
At Augusta, Jordan Spieth proved nobody can putt like him over surfaces as smooth as linoleum. His weekend success at Chambers Bay demonstrated that he's equally adept at rolling his rock over greens of cauliflower and broccoli. One day he really should try traditional grass.
Appropriately enough, that venerated vegetation should greet him next month when The Open returns home to St Andrews for the season's third major. Furthermore, the 21-year-old will head there hot on the heels of golf's Holy Grail: the Grand Slam.
Spieth is already the youngest player to hold Masters and US Open titles, not to mention the youngest champion of the recent major past since Bobby Jones in 1923. He's also the freshest face to take multiple majors since the great Gene Sarazen did so in 1923, and only the sixth golfer ever to win the opening two legs of the calendar slam.
However, whereas The Masters was a comparative cruise, the US Open was a flight which overcame the kind of turbulence you'd typically associate with a pushy priest. Chambers Bay was cast as Thomas Becket, while the rest of the field took turns to reprise the role of King Henry, continually whining as to why no-one would relieve the oh-so-examining course of duty.
There's an old saying in the theatre that there are no actors, only actresses. So while most players in this comedy of errors were asking USGA director Mike Davis if their flat-stick looked flaky in this setting, Spieth quietly manned up and accepted the bumpy, baked-out dance-floors for what they were.
Indeed, that tolerant attitude was the common characteristic to all the final leaderboard squatters in Chambers Bay's house of horrors. Sure, they didn't grin. But for the most part, they beared it.
Even Dustin Johnson, who three-stabbed from 12 feet to blow his dreams of a first major, took it with surprisingly good grace. "I'm disappointed I three-jacked the last but that's it," said DJ. "Other than that, I had a damn good week. I'm happy with everything in my game right now. I had a chance to win again at a major on a Sunday."
It was the mother of anti-climaxes on a day that fathered a crescendo of drama and role-swapping. Johnson's own fluctuating fortunes throughout the US Open's final round were emblematic of a wider see-sawing sea of contenders who rose and receded with the Puget Sound tide. Rory McIlroy, Adam Scott, Charl Schwartzel, Louis Oosthuizen, Branden Grace, and finally Johnson all fell a fag-paper shy of greatness.
Even Spieth himself appeared to have thrown his chance away with a double-bogey at the relatively innocuous 17th hole. True to his uncanny composure and maturity, though, he swiftly regrouped to birdie the last (the one hole that had troubled him all week) and was safely anchored in the scorer's hut when DJ lost his major moorings for the fourth time since 2010, this time from just four feet.
In comparison to Spieth, George Clooney stays about as classy as Ron Burgundy. And the Texan's post-victory interview was as compassionate as it was statesman-like. "It's hard right now, very hard," confessed Spieth, "I'm still amazed that I won, let alone that we're not playing tomorrow. To watch that happen, I just feel for Dustin. I'll put it into perspective another day."
As we've covered before in these review pages, perspective is the one commodity Spieth has in spades. Hailing from a grounded family who have collectively undergone their share of challenges in helping his younger sister Ellie battle autism, Spieth has a healthy grip on reality in a pampered sport whose exponents can all too readily lose their sense of proportion.
Their combined patience snapped again at Chambers Bay in a US Open which trod the tightrope between par and parody. Yet the last 18 holes landed in a redeeming safety net, as players traded birdies and bogeys in a true talent show. Once again, though, Spieth's steadfast refusal to fold up his tent and steal away into the night showed why this kid has the proverbial X-Factor.
Line up Messrs McIlroy, Johnson, Scott, Oosthuizen, Schwartzel and Grace alongside Spieth on the range, and you soon know which golfer you're not going to follow that afternoon. Even his Aussie peer Cameron Smith is possessed of better ball-striking and more orthodox swing fundamentals. But Spieth's resilience and short game always keep him in the mix. Like certain greats before him (Gary Player quickly springs to mind), he just hangs around and doesn't let the course beat him.
Rors said he struck the ball the best he has all year. DJ averaged over 340 yards with the driver and found the fairways with rare accuracy. Spieth putted worse than he did at Augusta and completely scrambled his bearings off the tee for a spell during the penultimate round. Nevertheless, he still won.
Small wonder the PGA Tour caddies have christened Spieth "The Golden Child". It's a name which suggests innate gifts, precocity and perhaps a small dollop of luck. Oh, and a flair for making more comebacks than Eddie Murphy. In golf, that's a heady mix.
So whether you you'd prefer to bask in Jordan's triumph and wallow in DJ's tragedy, Chambers Bay thumbed through a thesaurus of emotions on Sunday. It was the calmest man of them all, however, who closed the book, emerging blemish-free from the battlefield.
Who better, then, to now walk unscathed through The Elysian Fields and The Valley of Sin?
Discover the latest articles