Tour Championship: Finau can fire East Lake low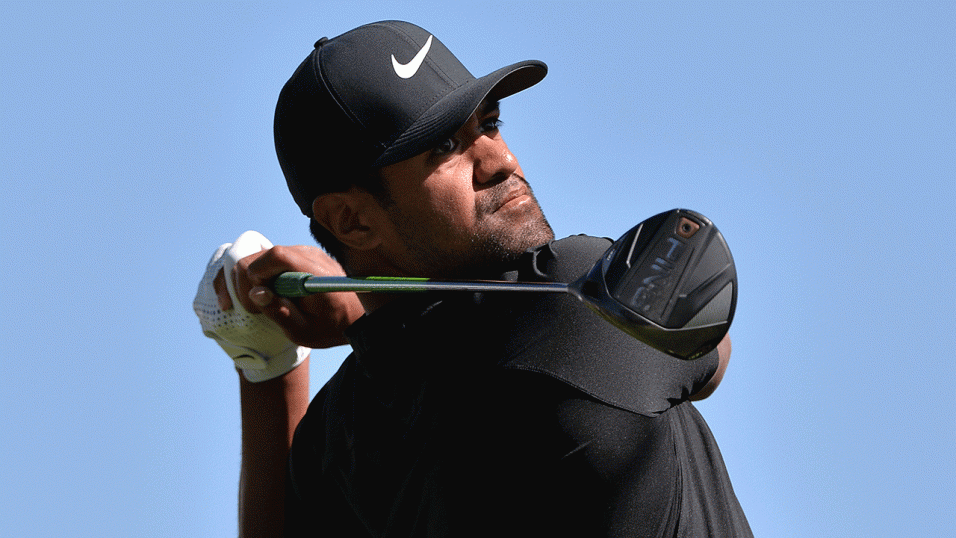 American Tony Finau can shoot the lowest score
It's the final event of the FedEx Cup Playoffs on the PGA Tour and Dave Tindall has three picks for the Tour Championship at East Lake...
"The American was fourth at last week's BMW, third in the Open Championship and fifth at the US Masters so tends to excel in elite fields."

The staggered start which sees No.1 seed Justin Thomas head out at -10, No.2 Patrick Cantlay at -8, No.3 Brooks Koepka and so on until those poor souls in 26th-30th, who tee off 10 shots back at evens adds a different dimension to this year's FedEx Cup climax.
The strength is that whoever wins the event wins the FedEx Cup too. Gone are the days when Bill Haas had no idea he'd won the overall jackpot in 2011, the penny not dropping until he saw he was the only one at the presentation ceremony and got a confirmatory nod of 'yes, both' from his wife.
So, how to deal with this new format: does it open an opportunity?
Prepare now for some possibly ropy science. To get an idea of the value of Thomas' lead, I decided to look at adjusted scoring averages for past performances at East Lake and in the 2019-2019 season as a whole.
I'll start with the leader to explain.
Adjusted scoring average is a figure based on field strength and Thomas' at East Lake is 67.22. With par being 70, his average (adjusted) round under par at the course is 70 minus 67.22 = 2.78. Multiply that by four (it's a four-round event) and, on past course form, he'd finish at -11.12 (-2.78 x 4 = -11.12).
Add in his -10 start and it takes Thomas to -21.12.
If the same (their start plus East Lake adjusted scoring average) is done with the rest of the field, no-one really gets near him.
-21.12 Justin Thomas
-17.04 Xander Schauffele
-14.04 Rory McIlroy
-14.04 Jon Rahm
-12.52 Tony Finau
-12.48 Paul Casey
-12.08 Brooks Koepka
-12.04 Patrick Cantlay
-10.80 Tommy Fleetwood
-9.24 Justin Rose
-9.04 Webb Simpson
Add in Average Score (adjusted) for the whole season and, in his 68 rounds this term, Thomas ranks fifth with 69.48. Schauffele is 19th with 69.77 so Thomas pulls further away at the top if we add in that metric.
Patrick Cantlay (69.13), Rory McIlroy (69.20) and Webb Simpson (69.30) pull a little bit back on the leader but, it seems, however you cook it, Thomas getting the biggest start is bad news indeed for the field.
Do we back him at 2/1 to win the tournament/FedEx Cup then? I couldn't put anyone off but it's not really the remit of this column to put up a 2/1 chance.
Is there value in anyone reeling him in?
Jon Rahm at 14s perhaps. The Spaniard gives Thomas six shots.
Rahm and Thomas have played in the same strokeplay event 22 times since April 2018. Rahm has beaten Thomas by six shots precisely once during that time.
It shows how hard it is for the chasing pack.
Thankfully, we also have a Lowest 72 hole Score market which ignores the starts.
There's perhaps a different dynamic given that the market leaders are ultimately chasing a different prize rather than being bothered who takes fewest swishes.
The lower seeds could also arguably lose interest although all that money to play for should add some focus.
I'll start with Tony Finau at 22s.
The American was fourth at last week's BMW, third in the Open Championship and fifth at the US Masters so tends to excel in elite fields.
Finau has posted seventh and 15th in his two East Lake starts, boasting one of the best scoring averages, while he's never finished outside the top 15 in five appearances in Georgia so likes this part of the United States.
As he struggles to win standard 72-hole events, maybe the scoreboard which measures the overall FedEx Cup scores will trick his mind and he'll fire the lowest 72 without realising.


As the above list shows, Casey has one of the best scoring averages at East Lake.
The Englishman has cracked the top five in four of his five appearances in the Tour Championship with a worst of T11 last year.
Also strong at Augusta (three top sixes in his last four visits), Casey missed the first leg of the Playoffs before coming back with T24 in the BMW Championship.
That suggests he could just have a freshness edge and, like Finau, the different scoreboard on show could keep the blinkers on.
A big fan of the course, if his putter can back up his usually excellent ball-striking, Casey can have a big week.
Finau and Casey will start at -3 and -2 respectively and I'll end with a player who'll open at -4.
It's 80/1 that Abraham Ancer wins the FedEx Cup from there which is giving nothing away.
But the 70/1 for him to shoot the Lowest 72 hole score is less fanciful.
There are some obvious downsides such as him never having won before and this is his course debut.
But, he has just 29 to beat, a few of those are struggling for form and Ancer outscored all bar Patrick Reed in a field of 125 at The Northern Trust just two weeks ago.
The Mexican gained a whopping 13.719 strokes Tee to Green that week (ranked 1st) but his putter was cold.
However, a positive SG: Putting number when T28 at the BMW was better and, given that this event has been won between -7 and -13 since 2008, he'll have a better chance after the ridiculously low scoring at Medinah.
With a Presidents Cup to look forward to, life is sweet for Ancer and he's easily playing well enough to outrun his 70/1 odds.
Dave's 2018/19 PGA Tour P/L (based on £5 ew per selection outrights, £10 win top 5s/10s)
Staked: £1170
Returned: £831.75
P/L: -£338.25
2017/2018:
P/L: +£362.84
2016/2017:
P/L: +£1179.89