The Masters 2015: Will endangered Tiger make an Easter comeback?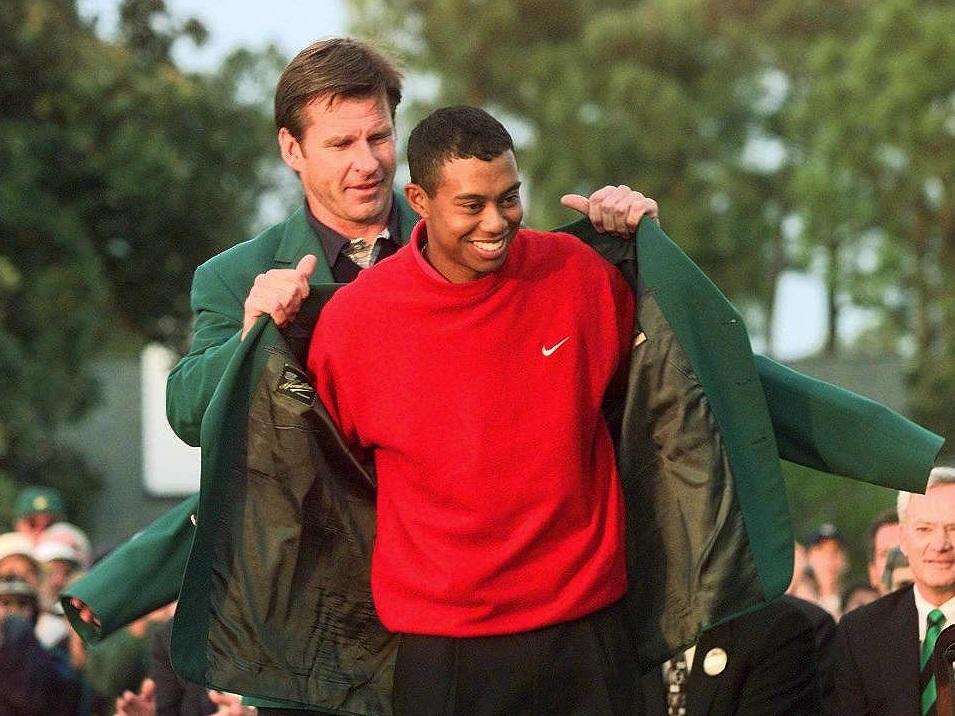 The Masters made Tiger but could it also break him?
Romilly Evans assesses the mysterious landscape behind Woods' fall from power, and wonders if he's an unlikely contender at Augusta now that he's a likely starter...
"Well, Easter is the season for messiahs coming back from the dead..."
Secrecy enables speculation. Particularly from the media. Thus it has been throughout much of Tiger Woods' career, really ever since he made some distasteful tumbleweed gags during a 1997 GQ interview in his rookie year.
"You can't write that," Tiger exclaimed. But they did. Published it, too. And it's been radio silence since. The defensive counsel of his advisors has naturally had a role to play. Yet Woods has become a master of keeping his public in the dark, a black-belt in feeding you nothing via mushrooming marketing-speak.
That was even before his Cadillac infamously hit the fire hydrant in 2009. Now, though, a bigger obstacle stands in the way of his career: the chip yips. And as usual, we're none the wiser as to what's going on behind the scenes. Will he even tee it up for next week's Masters?
Well, the first clue of comfort for Tiger fans came earlier this week when his jet was spotted on the Augusta runway. It still took his agent Mark Steinberg a day to admit what the world already knew, but he wouldn't go any further than to say: "Tiger played 18 holes of practice alongside Joe (LaCava, his caddie)."
The official line is that Tiger is still to tell Steiny if he is ready to return to competitive action. And due to fact that this four-time champ always holds the keys to the gates of Magnolia Lane, Woods may not have to officially commit to participating until next week.
Regardless, the intention to play is glaring. The temptation to close on Jack Nicklaus' haul of 18 majors is too strong. As Tiger always says, he only tees it up when he thinks he can win, but belief in that maxed-out maxim has worn thin. Repeated withdrawals, an 82 at the recent Phoenix Open (his worst round in nearly 20 years) and a short game more reminiscent of that committed club hacker who won't let you through as you rush to get back for Sunday lunch. It all adds up to oblivion, many commentators will tell you, as they sharpen their nibs on his obituary.
However, updates from The Golf Channel's esteemed roving reporter, Tim Rosaforte, suggest that rumours of Woods' demise may have been greatly exaggerated. Rosaforte's proof? Sworn testimony that Tiger just shot a "worst-ball 66" from the championship tips at his home track of Medalist GC.
This scoring system offers a player no hiding place - you play two balls from the tee, take the worst outcome, then play two more in similar fashion till you get the "worst ball" in the cup (but only by "validating" via holing that final putt twice). In short, you can't get away with the kind of mistakes which have been plaguing the former number one's game for the past year. Plus, even in this stringent format, Tiger only wound up four strokes shy of his own course record. Rosaforte concluded that it was probably the finest round Medalist had scene.
However, before you go blasting into that 44.043/1 to back, it's well to remember similar tales of Tiger's resurgence in practice have subsequently turned out to be uncoupled from tournament reality. Further, considering his current chipping malaise is both technical and mental, it wouldn't take much for one duffed wedge to scatter doubt throughout the other healthier components of his game.
You know both fans and media alike will be waiting for him to catch one heavy, or thin it through the green. Indeed, a reliable Augusta National scout related that Woods only shot 74 in his warm-up round with some "indifferent" pitches. This aspect is the key variable for Tiger. It could even send him back home before the starting gun sounds.
However, the odds are that this proud golfer will still risk his reputation around the toughest and tightest chipping areas on Tour. Playing next to Tiger used to be like having the most expensive seat in the house. Now, though, playing partners like Patrick Reed and Jordan Spieth look away in embarrassment.
Brett Ogle, the prodigiously talented Aussie golfer of the Nineties, is the highest profile casualty to have departed the world stage because of the chip yips. Obviously any comparison with Woods represents a reach, but Ogle was also superlatively gifted (off scratch within six months of taking up the game at 13-years-old) and won on every major Tour. He wound up trapped in a downward spiral of anxiety, chipping left-handed.
Clearly, Tiger isn't at a career nadir yet. But he has dropped outside the top 100 in the global rankings for the first time, and no longer has any injuries to excuse that fall. "Busting his ass day and night" (as one local pro commented) on the Medalist range at least proves his body is healthy. Unscrambling his mind is the final frontier.
So a dramatic irony is set to play out at The Masters 2015. The same media, which once rushed to build up the game's greatest with walk-on-water hype, now wield their relentless scrutiny and pressure as the weapons that can tear Tiger down. Augusta National may yet prove their accomplice or Woods' redeemer.
Well, Easter is the season for messiahs coming back from the dead...
Discover the latest articles