The Players Championship: Thomas appeals at softer Sawgrass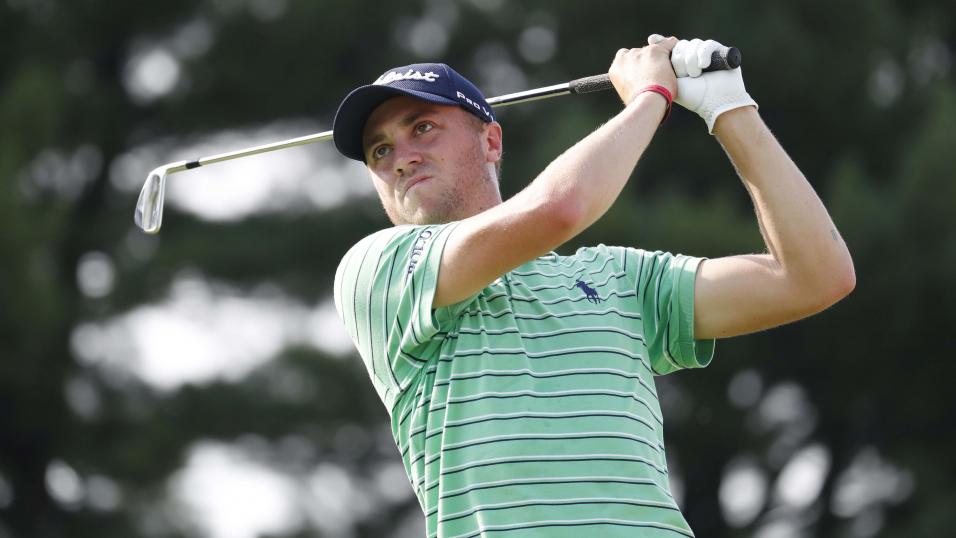 American Justin Thomas can have a big week
Dave Tindall arms you with the stats that matter for a punt on the Top 5 and Top 10 Finish markets ahead of the 2019 Players Championship...
"JT is playing well everywhere right now and his position at the top of the All-Around stats looks ideal for success at Sawgrass."
Dustin Johnson - Date switch could end DJ curse
It's a well-used fact this week that DJ has yet to have a top 10 at Sawgrass. Actually, there's only one course (Doral) in Florida where he's cracked the top 10. That said, he's been getting nearer the last two years with T12 (2017) and T17 (2018) so let's not strike a line through him straight away. A winner of two of his last four worldwide starts, Johnson says: "I feel like I got a good game plan around here." The switch to March and the softer conditions could help him this year and he's one of just two players in the field whose top 10 strike-rate is over 50% in their last 50 tournaments.
Last four events: 1-9-45-1
Course form: 17-12-28-69-59-WD-57-34-MC-MC
Florida form: 17-12-28-14-69-1-MC-59-4-WD
Last 50 starts - Win: 18%, Top 5: 36%, Top 10: 54%
Rory McIlroy - Rory may be able to let loose
Rory may not be getting the wins but he's a cash cow for anyone playing him in the top 10 market week in, week out. He's had five straight to start 2018 and four of those have doubled as top fives. Rory had a run of 8-6-8 at Sawgrass from 2013-2015 but he's found it a tough test, missing four of his nine cuts. "This is a golf course where I've had to rein in my game over the years. I had to come to terms with hitting the ball in the same positions as everyone else off the tee," McIlroy once said but that may not be the case this year with the soft, Rory-friendly conditions making his length more of an asset. "My Sundays haven't been what I would have liked, but I'm putting myself in that position, so good golf is good golf," he insisted last week.
Last four events: 6-2-4-5
Course form: MC-35-12-8-6-8-MC-MC-MC
Florida form: 6-MC-1-MC-59-35-4-12-27-3
Last 50 starts - Win: 4%, Top 5: 34%, Top 10: 48%
Justin Thomas - JT can go low at Sawgrass
"It's a lot softer, so the ball is going to not roll out near as much as it does in May, especially tee shots," said Thomas after playing nine holes on Tuesday. "I've hit 2-iron, gap wedge, 2-iron, pitching wedge into 18, and I hit driver, 5-iron today. I loved it in May. Just I love firm, fast, tricky conditions, if you will. But at the end of the day, I've played well on soft, longer courses before." Thomas has two 65s, a 66 and two further 68s in just four starts at TPC Sawgrass so it's definitely a course he gets on well with. While he doesn't have a win in 2018, he's cracked the top three in three of his six events and also has a T9.
Last four events: 30-9-2-3
Course form: 11-MC-3-24
Florida form: 30-11-1-MC-MC-MC-3-18-35-3
Last 50 starts - Win: 10%, Top 5: 28%, Top 10: 48%
Tiger Woods - Fit-again Tiger expects longer course
Even in his pomp, Tiger found TPC Sawgrass a tough nut to crack and he has only five top 10s in 17 visits although two of those were wins (2001 and 2013). His impression this year? "The golf course plays so much shorter in May than it does in March. That's probably the biggest difference. We're going to have to hit more clubs off the tees, have a little bit longer clubs into the greens, but the difference is the greens are much slower and much more receptive." The longer course may actually go against him here with it handing some of the advantage back to the bombers but Tiger may fare better on these greens after struggling on Poa out West and he's not feeling pain in his neck anymore after it forced him to withdraw at Bay Hill.
Last four events: 10-15-20-1
Course form: 11-69-1-40-WD-8-37-22-53-16
Florida form: 11-5-2-12-69-25-WD-1-1-1
Last 50 starts - Win: 4%, Top 5: 16%, Top 10: 26%
Justin Rose - Englishman predicting target golf
Another of the elite players who finds Pete Dye's Sawgrass puzzle very difficult to solve. Rose has just a single top 10 (2014) in 15 visits and only one further top 20 (2016). Of the difference between March and May, Rose said of the current date: "I think it's more target golf, and for me that's how this golf course was designed. It's a stadium-style course, a target-style golf course. I don't think it was designed to be firm and fast and running and bouncy and out of control. I think the targets are there to be hit. And if you do, you get rewarded." A winner at Torrey Pines with his new Honma clubs in January, Rose took four weeks off before returning to Bay Hill and missing the cut. Some of the rust will have gone but will Sawgrass get one over on him again?
Last four events: 63-MC-1-34
Course form: 23-65-19-MC-4-MC-51-45-MC-22
Florida form: 63-23-3-5-65-13-19-9-17-MC
Last 50 starts - Win: 12%, Top 5: 36%, Top 10: 54%
Brooks Koepka - Major man getting closer at Sawgrass
Koepka is another with unwanted membership of the "no top 10s at Sawgrass" club although he's improved his finish each time and closed with a 63 (albatross on the 16th) to take T11 last year so nearly had it revoked. A runner-up at the Honda Classic, he missed the cut at Bay Hill last week but these huge events definitely increase his focus. "You put it in the rough out here, you're going to make bogey," he said in 2016, "But as far as the birdies go, you can take advantage of those par-5s." With the rough down this year and the course playing soft, the three-time major winner could have his best chance yet of featuring on the leaderboard.
Last four events: MC-2-26-57
Course form: 11-16-35-MC
Florida form: MC-2-11-16-MC-MC-35-23-26-MC
Last 50 starts - Win: 10%, Top 5: 20%, Top 10: 34%
Rickie Fowler - Hit or miss form a concern
Fowler's Sawgrass record is just about the ultimate in feast or famine. He produced an incredible finish to win in 2015 and was also runner-up in 2012 but in his seven other Players Championship starts he has six missed cuts and a T60. He summed it up nicely a couple of years ago: "You can't fake it. It basically will pick you apart. If you're not on top of it, you can watch someone shoot 31 in the same group as someone shoots 41, 42. It's a pretty fine line." His current form is along similar lines with a win and a second in 2019 but three finishes outside the top 35. A risky play here whether you're a backer or a layer.
Last four events: 40-2-36-1
Course form: MC-60-MC-1-MC-MC-2-MC-MC
Florida form: 40-2-MC-14-MC-60-12-1-MC-8
Last 50 starts - Win: 4%, Top 5: 28%, Top 10: 40%
Francesco Molinari - Open champ seeks back-to-back wins
So we know last year wasn't a flash in the pan. After a low-key start to 2019, Molinari showed us his new-found status as one of the game's best closers by shooting a final-round 64 to win the Arnold Palmer Invitational. The Open and Ryder Cup hero now brings that form and confidence to a Sawgrass layout where he's had top 10s in three of the last four years and four overall. "I wish I knew the secret, but you just have to hit the ball well, hit fairways, hit greens, try to stay out of trouble," said the understated Italian last year. If the tournament was still in May, he'd be a strong candidate for another top 10 but the move to March and the softer conditions throws up a slight question mark although one he could easily put to bed in style. Final stat: Molinari has five top 10s in his last eight Florida starts.
Last four events: 1-17-27-26
Course form: MC-6-7-6-MC-MC-MC-9
Florida form: 1-MC-26-6-7-14-7-9-MC-65.
Last 50 starts - Win: 8%, Top 5: 16%, Top 10: 26%
Jon Rahm - March move could aid Spaniard's struggles
It's early days for Rahm at Sawgrass and perhaps it's too soon to spot trends or patterns. But so far he's had some good days (68 in R1 in both visits) and some destructive ones (82 in R3 in 2017 and 77 in R3 last year). "Long length is completely eliminated on this course," he said in 2017. "So you just need to place it off the tee and then have a really good iron week. A lot of patience, stick to the strategy." That outlook could change this week when he sees the shorter rough and wider hitting areas off the tee so Rahm could slot into the camp which benefits from the switch to a March date.
Last four events: 45-9-10-5
Course form: 63-MC
Florida form: 63-MC
Last 50 starts - Win: 8%, Top 5: 34%, Top 10: 48%
Xander Schauffele - American loves the big time
First-timers tend to struggle at Sawgrass but Schauffele defied the stats last year when finishing runner-up on debut. Not that he saw it coming. "It was just one of those weeks where I had a bad attitude early and sort of turned it around and it just kind of shows what a good attitude can do just, because I feel like, if you talked to my team on Tuesday or Wednesday night it wasn't looking too pretty." Since then he's finished runner-up in The Open, won a WGC and also landed the season-opening Sentry Tournament of Champions so he's definitely one to watch when golf's top names gather.
Last four events: 14-15-10-25
Course form: 2
Florida form: 2-MC
Last 50 starts - Win: 8%, Top 5: 20%, Top 10: 28%
Conclusion
Given how Sawgrass has been a bit of a graveyard for the big names, an initial thought is to lay all the top 10 in the betting.
To see if that works, here's how the top 10 fared last year:
Jason Day T5
Jordan Spieth T41
Justin Thomas T11
Rory McIlroy MC
Dustin Johnson T17
Rickie Fowler MC
Jon Rahm T63
Henrik Stenson T23
Justin Rose T23
Patrick Reed T41
Only market leader Day made the top 10 so a blanket lay would have produced a very healthy profit.
As for 2017...
Dustin Johnson T12
Rory McIlroy T35
Jordan Spieth MC
Sergio Garcia T30
Rickie Fowler T60
Jason Day T60
Jon Rahm MC
Hideki Matsuyama T22
Justin Rose T65
Henrik Stenson T16
The blanket lay would have garnered the maximum return with not a single player making the top 10.
The big question is whether the trend continues in March when some of the fire has been taken out of the course, making it less prone to randomness in terms of bounces and results.
It'a tough call and small lays of the top 10 this week could well work out very well again.
In terms of a back, I'll put forward Justin Thomas at [4] as I think he's the most reliable of the big names on this course given his record of three top 25s in four starts, a run which includes a third and an 11th.
JT is playing well everywhere right now and his position at the top of the All-Around stats looks ideal for success at Sawgrass.
Dave's 2019 Top 5/10 P/L (based on £10 per selection)
Staked: £30
Returned: £23
P/L: -£7
Recommended bets
Back Justin Thomas for Top 5 @ [4]