The Open 2015: Mix of mystery and history makes St Andrews relevant today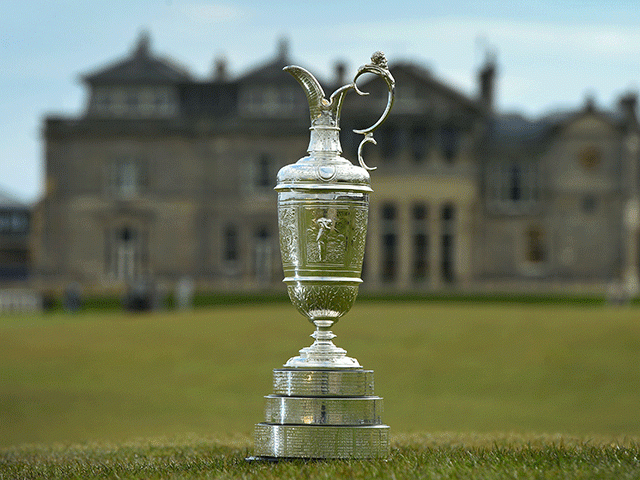 The Claret Jug and St Andrews go together like Butch and Sundance
Romilly Evans assesses the magic and timeless appeal of St Andrews, scene of this month's 144th Open Championship...

"Our own Sir Nick will thumb through his Babs Streisand collection for a final rendition of The Way We Were on the Swilcan Bridge"
The hedonistic treadmill is a dangerous contraption. Once you're on it, it's hard to jump off. Take your laptop. It's a good laptop, state-of-the-art only last year. You're familiar with its settings. Its Google cookies are tailored to you and your proclivities. In short, it gets you. So why do you want to get rid of it?
Because there's another laptop out. It's sleeker, sexier, lighter, fresher, funnier, better at dinner parties. New and varied features abound. Sorry, old pal, it's time for a change. I deserve the latest, you know. Trouble is: this pattern won't ever end, as you downward spiral your way into oblivion on the treadmill's never-ending belt which promises a better tomorrow that never arrives.
So instead of this perennial torture, why not pull the plug, and get back to Nature? Praise be, then, for the R&A who are doing their little bit to disabuse society of its covetous tendencies, standing staunchly by St Andrews as The Open venue of choice, despite the Old Course looking progressively uncoupled from the demands of modernity.
Indeed, The Open is committed to returning to the home of golf every five years, despite many other suitors calling for its attention throughout the UK and displaying more dazzling credentials in terms of real estate, vistas, golfing challenge and logistical set-up.
So why does this unique location deserve the accolades and attention, when it's not too much to look at? In fact, if your sister brought St Andrews home for the first time to meet the family, your dad would be worried that he's far too old, your mum would try to mitigate matters by saying "I'm sure he's very intelligent or amusing, dear", while you'd cynically suggest that he must be loaded.
The truth is, St Andrews is simultaneously all and none of these things. The oldest course is Musselburgh (which has been getting the rounds in since 1567). But the Old Course itself has now hosted the most Opens in history (28 times, with decommissioned Prestwick second on the honours board at 24). However, my personal favourite five explanations as to its enduring appeal comprise:
Rollcall of champions: an unsurpassed CV, majoring in greats of the game at the top of their games all the way back to Bobby Jones in 1927. More recently, Jack Nicklaus in 1978, Seve Ballesteros in 1984, Nick Faldo in 1990, and Tiger Woods in 2000 / 2005 were all number ones at the height of their powers. While John Daly and the last St Andrews champ, Louis Oosthuizen, were also precociously talented players.
Iconic landmarks: from the looming historic clubhouse to the Road Hole (firing a tee-shot over that hotel) and the 700-year-old Swilcan Bridge, the Old Course's brochure holds enough scattered pictures to bring the nostalgia for any follower of the sport. Arnie and Jack have both bade a misty-eyed farewell to The Open at this track, and this month our own Sir Nick will thumb through his Babs Streisand collection for a final rendition of The Way We Were.
Public accessibility: in a game still tinged with elitism, despite making some recent gains in its struggle against racism and sexism, it's reassuring to note that the Old Course remains open for business to any member of the public with a handicap of 24 or lower.
Domestic driver: forget the oil refineries along the Firth of Forth, St Andrews provides a clean alternative to boosting the coffers around the picturesque estuary. Its jaw-dropping coastal views are no impediment to golf tourism either. In 2010, when King Louis was crowned, the home of golf brought over £100m to the local ecomomy, far more than any other stop on the rota, and not bad for a town of only 17,000.
Bizarre bunkering: while not possessed of the most sand traps on the circuit, St Andrews still averages over six bunkers per hole with 112 in total. Curiously, most don't come into play, especially in the modern era where technology has allowed the bigger hitters to fly straight over most of the fairway hazards (Tiger started the trend in 2000). Furthermore, many others are redundant simply because the Old Course was originally played backwards before it was reconfigured in 1832. The club still allows golfers to give the original format a go one day every year. Still, as Han Solo said of the Millennium Falcon, she's got it where it counts. Over 50 bunkers have been rebuilt by staff to add some much-needed teeth (with faces up to 10-feet tall). Hell Bunker (14th) and the Road Hole Bunker (17th) are the consuming chasms which can still unravel any round.
So although St Andrews may not be the prettiest or the most interesting, it's still a homing mecca for the world's best golfers and fans alike. Golf has been played over this hallowed soil for the better part of a millennium, and long may it continue.
The human thirst for novelty and improvement is occasionally overrated. Sometimes, it's better to cut the chord on that hedonistic treadmill and enjoy what we already have. St Andrews serves as a timeless reminder of whence we came. It's in the sport's DNA. And just like the Old Course's history, you can't shake that.
Discover the latest articles