The Northern Trust: Simpson can be National hero
American Webb Simpson
It's the start of the FedExCup Playoffs on the PGA Tour and Dave Tindall has three picks for the opening event in New Jersey...
"Basically we have a player striking it great but also backing up his strong tee-to-green performances with excellent putting."
It may be the opening event of the Playoffs and the tournament changes location but it doesn't take long to realise that class immediately rises to the top in The Northern Trust.
Last year's winner Bryson DeChambeau had won Memorial a couple of months earlier; Dustin Johnson was winning for the fourth time in 2017 when he lifted the trophy two years ago; Patrick Reed was on a run of five top 13s in his previous six events before taking the title in 2016; Jason Day was on an absolute roll after winning two of his previous three starts, including the USPGA; Hunter Mahan was coming in on the back of T7 in the USPGA and T15 at the WGC-Bridgestone in 2014; and in 2013 when the event was last held at this week's venue; Liberty National, Adam Scott had cracked the top five in the previous two majors.
Their world ranking at the time: DeChambeau 21st, DJ 1st, Reed 14th, Day 3rd, Mahan 41st, Scott 4th.
And how did they win?
DeChambeau: 5th TTG, 5th SGP
Johnson: 1st TTG, 24th SGP
Reed: 3rd TTG, 27th SGP
Day: 3rd TTG, 1st SGP
Mahan: 3rd TTG, 15th SGP
Scott: 2nd TTG, 33rd SGP
In other words, more through elite ball-striking - all six winners were in the top five for Strokes Gained: Tee to Green - rather than a hot putter.
That point is highlighted, in particular, at Liberty National.
In 2013, the top five home ranked 2nd, 13th, 1st, 9th and 7th for SG: Tee To Green but only 33rd, 16th, 54th, 22nd and 29th for Strokes Gained: Putting.
It's pretty obvious what we're looking for this week and I have to make Webb Simpson my opening bet at 25/1.
The 2012 US Open winner ranks in the top 15 for both SG: Approach and SG: Tee To Green this season and a latest thermometer check of those two stats is equally encouraging.
Simpson gained 8.886 strokes Tee to Green (ranked 5th) when runner-up at the Wyndham Championship and he was also 5th for SG: Approach when taking second place in the WGC event at St. Jude two weeks ago.
Basically we have a player striking it great but also backing up his strong tee-to-green performances with excellent putting.
His chance is an obvious won but there will be an extra determination to get the win after three second places in his last five starts.
Course form? Yep, we can tick that too. Liberty National has staged this event twice and he posted T8 in 2009 and T15 in 2013.
He was in the top two after 36 holes in both events and said in 2013: "I love being here. I love this city. The greens remind me of Donald Ross greens. I grew up in Raleigh playing on Pinehurst and playing a lot of Donald Ross courses. They are undulating; the putts break a lot and you have to use a lot of imagination around the greens. I think I'm just used to it and I enjoy it."
I'm definitely sold on a Simpson win this week and 25/1 looks fair.
If it's an in-form ball-striker that we're looking for this week - and it is! - then Tommy Fleetwood has to be near the front of the queue.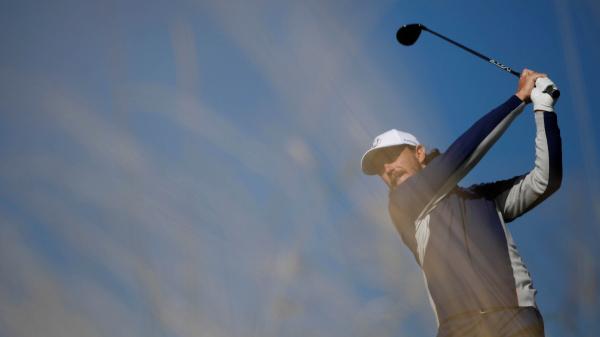 The Englishman was runner-up to Shane Lowry at the Open Championship and, just as impressively, followed it up with a top four in the WGC-FedEx St. Jude Championship in Memphis the week after when it was easy to dismiss his chances due to some mental let-down.
Fleetwood struck it great at Portrush (no SG stats available; surely this has to change with majors soon) but we did get a measure in Memphis and it paints him in a particularly good light.
The World No. 12 (Simpson is 13) ranked 1st for SG: Tee to Green, picking up 7.614 shots on the field.
Prior to that Fleetwood was fifth SG: Tee to Green in the Irish Open
"Energy levels are fine," he said at St. Jude where rounds of 68-70-65-66 put him in a tie for fourth and nudged the Southport swinger just three places below his peak world ranking of ninth.
"Overall, just another really good week, another solid week of golf. Yeah, just consistent results," was Fleetwood's parting shot in Memphis and, while this is his first start at Liberty National, a course which rewards elite ball-striking over putting looks right up his street.
Like Simpson, Fleetwood is 25/1 and I'm happy to play - especially with eight each-way payout slots.
Brooks Koepka may well decide he wants this title too and, if fully focused, will be hard to stop.
Dustin Johnson looks some way short of his best and I don't really fancy the 11/1 for Rory McIlroy given his habit of challenging but fading down the stretch.
Patrick Cantlay would perhaps be my other one if playing the top end of the market although I'd put Justin Thomas not far behind.
But, instead, I'll go a little further down and take the 45s on one of the in-form young phenoms.
Collin Morikawa didn't quite get in a blow at the Wyndham when tied 31st although that was hardly a disgrace and he saved his best round, a Sunday 65, til last.
But prior to that the 22-year-old from California had scored a breakthrough first win by landing the Barracuda Championship, taken fourth at the John Deere and finished runner-up a the 3M Open.
His Strokes Gained: Tee to Green ranking in those three events? 1st, 1st, 2nd.
In that run, he picked up just under 40 shots tee to green over the field and that is pretty staggering.
Yes, this is a step up but tied 35th at the US Open - the only major he played this year - bodes well and these youngsters just don't have any nerves or sense of having to bed in and learn the ropes.
Winning could be a stretch but making the top eight is enough to give us a nice each-way return and he looks very capable of that.

Staked: £1100
Returned: £831.75
P/L: -£278.25
2017/2018:
P/L: +£362.84
2016/2017:
P/L: +£1179.89
Recommended bets