The Masters 2015 Recap: A transatlantic tussle's brewing between Jordan and Rors?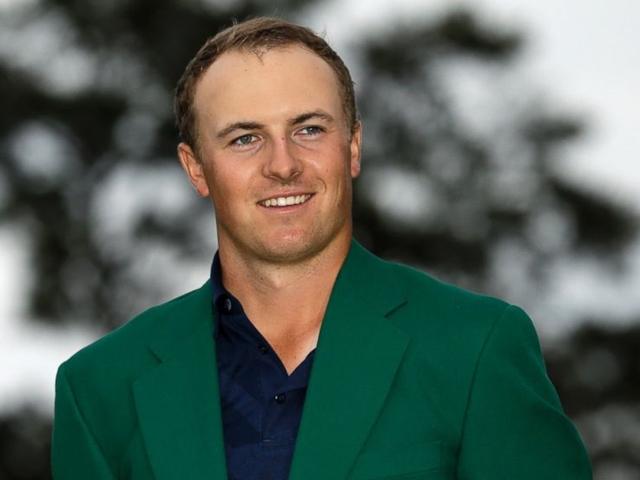 Full mental jacket: Spieth's poise and composure are his allies
Romilly Evans reflects on a job well done by Jordan Spieth at Augusta, and wonders if he can sustain his burst to rival Rory McIlroy...
"Spieth may be doomed to play Salieri to McIlroy's Mozart"
The popular misconception with Jordan Spieth used to be that he's just too nice. If there was a queue to be found, he'd find the back of it. No, sir, after you. That's why he couldn't shut the door on Sundays. And why the only tournament he'd ever won before late 2014 was the John Deere "Not Such A" Classic, where he self-professedly "thinned a bunker shot in the hole on the 72nd, before getting even luckier in the subsequent play-off."
However, Ben Crenshaw, Spieth's mentor and fellow Texan was having none of it. "When I first met that kid, I saw Wyatt Earp," said the two-time Masters champion. Don't be fooled, was Crenshaw's inference, Spieth had the backbone and straight-shooting to impose his own world order on golf's grandest stage. He didn't have to wait long to be proven correct, as his young protégé stole the show at Augusta with a display of gun-slinging bravado to match anything you've seen in those old Western shootouts.
There was something fitting about Spieth stepping up as Crenshaw stepped aside at the weekend, playing in his final Masters. The man known as Gentle Ben had delighted the Georgia galleries for years with his easy blend of bullseye putting and genial conduct. Spieth demonstrated a similar combination over the rapier breaks and burrows of Augusta National. Put succinctly, like Gentle Ben before him, he killed them with kindness and channelled his inner bear.
Whenever Phil Mickelson or Justin Rose closed to within a few shots, Spieth simply produced the clutch birdie or par-save to maintain his four-stroke, final-round lead. What's more, his putts invariably and unerringly found the centre of the cup. It was as impressive as it was routine. Few chip as well as this affable 21-year-old. Fewer have the same level of feel. And no-one rolls their rock better. While all three of those facets carry a premium in Masters week, they're pretty handy in any other week, too.
Small wonder Crenshaw can't wait to see how Spieth performs over the humps and bumps of the game's other unique test at St Andrews, when The Open returns home this July. "He's just a player with so much instinct and imagination," added the 63-year-old. "I can't believe he won't take to it."
The truth is, Spieth has already taken to links golf. He contended as a teenager at Muirfield in 2013 before fading over the weekend, and then showed his versatility over another demanding set-up when firing a course-record 63 across the bone-dry cambers of The Australian Golf Club to win their national Open late last year.
That win Down Under changed everything for Spieth. He closed the deal on a revered track against stellar field, which included the top two players in the world. Since then, he hasn't looked back. Form figures of 1-1-7-MC-7-4-17-1-2-2-1 tell an eloquent tale as to his burgeoning belief, and he's only now looking up at Rory McIlroy in the rankings.
However, talk of a new rivalry emerging between the pair is as inevitable as it is premature. For, unlike in other sports, proper golfing rivalries come together about as often as the planets align. Naturally, some will point to dynamic duos like Jack Nicklaus and Arnold Palmer, even Tiger Woods and Phil The Thrill. But as Lefty would have to agree, these supposed rivalries more closely resembled executions than fights.
Nicklaus quickly eclipsed Palmer on his way to 18 majors, while Woods made light work of Mickelson for the better part of a decade. Sure, Arnie and Phil were fan favourites who won their fair share. But their respective rivalries seldom saw either pair go head-to-head in the final group on any given Sunday.
So, too, may Spieth be doomed to play Salieri to McIlroy's Mozart. Rors had his B-game at Augusta but still plugged on for fourth place, his finest Masters finish to date. He has the perfect bull-whip swing, the booming drive and the laser irons. Spieth only outperforms the Ulsterman in and around the greens. Indeed, the American's swing is pretty unorthodox by comparison, exerting unnecessary strain on his lower body (his right heel was bandaged throughout much of 2014). Although his young frame and short game can withstand the stress for now, Spieth's long-term future could be more uncertain.
Consequently, now is the time to catch the kid who refers to last year as "the distant past." Spieth is a sportsman for the moment - and major moments at that. He will enjoy them, though, while Rory struggles with the burden of chasing down the mantles of history laid down by Tiger and Jack.
Spieth is mature beyond his years and but still retains the enthusiasm of childhood. His sportsmanship and humility are refreshing in a selfish game, and his charm-offensive has already won over every fan and member of a largely narcissistic PGA Tour. His rare perspicacity and understanding of what's important stems from a grounded upbringing of supportive parents who were never overbearing. In fact, Augusta was the first time they'd attended one of their son's professional wins. And his father was the one who suggested Jordan go back out and applaud the crowds around the 18th green.
Yet his ultimate inspiration comes from his younger sister, Ellie, whose battle with autism is a constant reminder as to what really matters. "She's shaped me," Spieth confirmed. "She's the most special part of our family, my biggest supporter, and the one who makes you reflect that golfing frustrations are always secondary."
Crenshaw was right. This kid gets it. Now he's got a Green Jacket, too. So, at least for today, golf gets its promise of a better tomorrow: a dazzling new rivalry for Generation Next. Our young Wyatt Earp shoots silver bullets from the hip and plays from the heart. McIlroy, on the other hand, talks of losing his love for the game. Don't worry about him losing his heart, though. He'll get along just fine without it. The Tin Man did.
Praise be, then, for Spieth's early bloom to stardom among the azaleas. Nice guys can finish first.
Discover the latest articles