Players Championship: Dave Tindall rates the top 10 for current, course, Florida and long-term form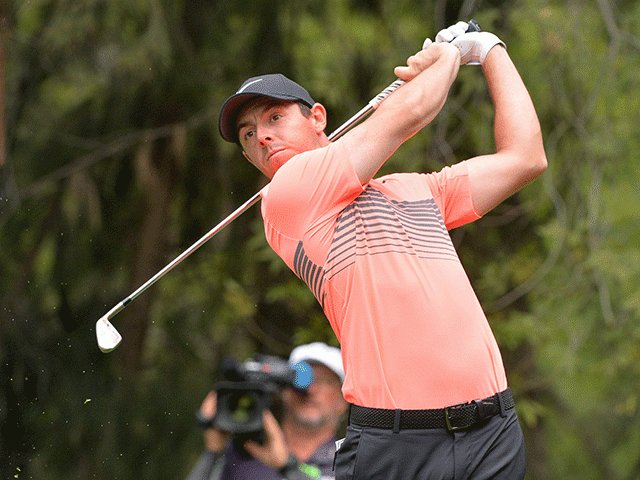 Rory McIlroy can feature prominently this week
Dave Tindall arms you with the stats that matter for a punt on the Top 5 and Top 10 Finish markets ahead of the Players Championship at Sawgrass...
"Rory has made the top 10 in 62% of his last 50 starts and, more specifically, in three of his last four at Sawgrass."
Dustin Johnson
He's yet to come in for interview as I write this although this was DJ's take a year ago on his very average record at TPC Sawgrass which shows nothing approaching a top 10 in eight visits. "I don't know. I feel comfortable around here. I like the golf course a lot, but it's tough, it's always windy, it plays difficult. I think the greens are tricky. I think putting is a big deal here." Since this point last year, he's won a major and taken a huge lead at the top of the world rankings so how much store do we put in previous poor Sawgrass form? Falling down the stairs at Augusta which ruled him out of the Masters could have set him back but, despite admitting to no practice, he shrugged it off by returning to action with T2 in last week's Wells Fargo. It's a brave call to lay DJ at around 5/4 for a top 10 but one with logic behind it as, apart from Doral, he's got an indifferent record at several of the Florida venues.
Last four events: 2-1-1-1
Course form: 28-69-59-WD-57-34-MC-MC
Florida form: 28-14-69-1-MC-59-4-WD-12-46
Last 50 starts - Win: 14%, Top 5: 42%, Top 10: 64%

Rory McIlroy
"I feel like my game's in good shape. I needed to address a few issues in between Augusta and here, and I did that sort of with the first 10 days after Augusta." Those issues were centred around equipment - "I wasn't really happy with the golf ball I was playing" - and he's now switched to a TP5x ball and signed a new $100m 14-club deal with TaylorMade. He's also just got married and said: "I'm in a great place in my life and I feel very settled." That had a hugely positive effect on Sergio Garcia so perhaps McIlroy will enjoy another career surge now, starting at Sawgrass. He did struggle here to begin with but three top 10s and a near-miss T12th last year suggests getting nearly 6/4 for another is very fair.
Last four events: 7-30-4-7
Course form: 12-8-6-8-MC-MC-MC
Florida form: 4-12-27-3-MC-8-11-9-MC-6
Last 50 starts - Win: 14%, Top 5: 44%, Top 10: 62%

Jordan Spieth
They've renovated TPC Sawgrass for this year's event and Spieth is all in favour. "I love it. They went to TifEagle and the grass is very full. Chipping areas are actually quite a bit easier, I think, than they have been in past years, and you can actually putt out of them. The greens are spectacular." He's missed his last two cuts after T4 on debut but thinks 2015 and 2016 aren't representative on what he can achieve here. "I love this course and I think it fits my game well. I want to think that it's just been kind of a fluke couple times in a successful career at this event going forward where those two years could have been spread out over 15 and everything else is solid." He's First in Shots Gained: Approach The Green which could be a vital attribute for this course and if he can do his usual thing with the putter on these new greens, Spieth should play a major part.
Last four events: 4-11-MC-30
Course form: MC-MC-4
Florida form: MC-18-17-MC-1-17-4-20-34-7
Last 50 starts - Win: 14%, Top 5: 36%, Top 10: 50%

Sergio Garcia
It will be fascinating to see how Sergio performs on the back of his breakthrough Masters win. He's hardly been out of the green jacket since his triumph at Augusta, taking it on a whirlwind tour of New York, his holiday home in Crans, at his beloved Real Madrid and also his local club in Castellon where he grew up. It's understandable if he's not quite on it here and yet he's the event's leading money winner and has had far more success overall at TPC Sawgrass than he has at Augusta National. "It kind of reminds me a little bit of Valderrama," he said a couple of years ago. "It's small greens; if you hit a good shot you're always going to have a birdie putt. It's one of my favourite courses on Tour." As well as his win in 2007, he boasts top 10s in three of the last four years and five times he's cracked the top five here.

Last four events: 1-30-12-14
Course form: 54-2-3-8-56-12-47-22-1-2
Florida form: 14-54-11-2-2-31-31-3-16-8
Last 50 starts - Win: 8%, Top 5: 24%, Top 10: 34%

Rickie Fowler
"It is a very hard golf tournament to win," said 2015 champ Fowler in Tuesday's press conference. "It's arguably the best field in golf and one of the best golf courses we play as far as a test. It tests all parts of your game. You got to hit a variety of golf shots around here. You can't fake it. It basically will pick you apart. If you're not on top of it, you can watch someone shoot 31 in the same group as someone shoots 41, 42. It's a pretty fine line." That latter comment is probably why so many of the top players have mixed records at TPC Sawgrass and Fowler's is the most extreme in terms of feast or famine. He has a win and a second but has missed the cut in the other four. His play for most of this year suggests another good one, as does the American's record of four top 10s, including two wins, in his last six starts in Florida.
Last four events: MC-11-3-12
Course form: MC-1-MC-MC-2-MC-MC
Florida form: 12-1-MC-8-6-1-29-12-41-MC
Last 50 starts - Win: 10%, Top 5: 24%, Top 10: 40%

Jason Day
"It's obviously pretty special to come back as defending champion," said Day on Tuesday. "I was here a couple months, or a month ago for the media day, going over the changes. The course is in tremendous condition right now. It was back then, and it is probably even better today. So, with the upcoming weather that we have, how firm the greens are going to get and how fast the greens are going to get, it should be a tough championship." Day hasn't won since his superb victory here 12 months ago and the best a defending champion has managed is T5 so it looks a much harder ask this year. He admits he's also trying to "rebuild" after revealing that being the world number one had got to him. "Mentally, I burnt myself out just constantly doing stuff." I'd much rather be a layer given his unimpressive recent form and the extra demands of defending and it's just under 3/1 that he fails to make the top 10.
Last four events: MC-22-58-23
Course form: 1-MC-19-MC-6-MC
Florida form: 23-1-1-23-MC-17-31-19-45-43
Last 50 starts - Win: 16%, Top 5: 36%, Top 10: 46%

Jon Rahm
It's the Spaniard's first outing at TPC Sawgrass but it's ridiculous to rule him out on those grounds as he's been thriving all season on courses he'd never played competitively before. Okay, this field is the deepest so far but he's making the top five in a third of his events and creeping towards a 50% strike-rate for top 10s. The latest came via T4 in last week's Wells Fargo Championship and that was his fourth top five in six starts. Rahm, who went to college on the opposite West Coast, didn't play any events on the Florida Swing earlier this year so does that offer a clue (not as comfortable there?) or was it just a scheduling thing? Current form arguably trumps course form at TPC Sawgrass in which case Rahm is well worthy of support.
Last four events: 4-27-10-2
Course form: Debut
Florida form: Debut
Last 50 starts - Win: 4%, Top 5: 33%, Top 10: 42%

Hideki Matsuyama
"It's a very difficult golf course. The key, for me anyway, is to keep the tee shots in the fairway and then score well on the back nine. If you don't hit the fairway with your tee shot, you just got to put it on the green somewhere and hope to make par," said Matsuyama after shooting a 67 in round one two years ago to hold a piece of the lead. He's quietly building an impressive record here and posted a first top 10 in 2016 after shooting another 67 in round three and opening with a 68. The Japanese star did suffer a dip after winning in Phoenix but he kept it together well at the Masters and came through the field with a 5-under closing lap to post T11. His tee-to-green play looks sharper again (6th for GIR at Augusta) but a cold putter would be the concern here and may be the element that keeps him outside the top 10.
Last four events: 32-11-51-45
Course form: 7-17-23
Florida form: 45-7-6-35-WD-17-21-23-23-34
Last 50 starts - Win: 10%, Top 5: 26%, Top 10: 36%

Justin Rose
If there's a golfing god, he might give this one to Rose after the Englishman's brilliant performance at the Masters went unrewarded. That said, it was much easier to argue the case for him at Augusta National than it is here. "This golf course has never been good to me, to be honest with you. It's been a bit of a personal challenge over the years to try and figure it out," he said in 2014 although he did post his best ever finish of T4 that year and backed it up with T19 in 2016. Last year's round scores were particularly intriguing - 65-74-78-66 - suggesting that some days he's solved the puzzle but on others it still baffles him. Rose said he felt the course was "there for the taking" when analysing that opening 65 last year so perhaps he needs a good-weather Players Championship to shine fully as the crosswinds at Sawgrass tend to knock him out of his stride. Those 20mph gusts on Saturday could be a concern then.
Last four events: MC-2-15-13
Course form: 19-MC-4-MC-51-45-MC-22-MC-MC
Florida form: 13-19-9-17-MC-MC-55-MC-4-MC
Last 50 starts - Win: 6%, Top 5: 28%, Top 10: 40%

Henrik Stenson
What's going on with Henrik Stenson? Missed cut at Bay Hill. Missed cut at Houston. Missed cut at the Masters. Missed cut at the Zurich Classic. The latter, in that pairs event, came in tandem with Justin Rose and, giving him the benefit of the doubt, they did combine for a 66 in round two. "I couldn't buy a putt," Stenson reflected although his GIR figures haven't been good enough either of late. An in-form Stenson would be a back given that he won this event in 2009 and has had two other top fives and a top 10. But something's not right at the moment and it's a bit of a leap of faith to expect him to click back into action at one of the Tour's toughest venues. You'll have to pay 4/1 for the privilege of hitting that 'lay' button though.
Last four events: MC-MC-MC-MC
Course form: MC-17-34-5-15-MC-MC-1-10-23
Florida form: MC-7-MC-3-11-28-17-2-4-4
Last 50 starts - Win: 4%, Top 5: 36%, Top 10: 52%

Conclusion
It feels as if Rory McIlroy is turning over a new page after getting married and signing a lucrative equipment deal and I fancy him to play a big part this week.
Rory has made the top 10 in 62% of his last 50 starts and, more specifically, in three of his last four at Sawgrass.
So, despite the caveat of the big names producing far more flops here than they would do at, say, the Masters, I think a punt on Rory at 2.526/4 to make the top 10 is well worth it.
Jordan Spieth has teed it up 10 times in 2017 and posted five top 10s along with an 11th and a 12th.
He clearly fancies himself at this course despite a couple of blobs the last two years and he really does appear to have the perfect game to do well.
Spieth is 2.6413/8 for a top 10 but I'm going to be more ambitious and take him for a top five at 5.24/1.
Reading about the course changes makes me that extra bit positive about his chances as he'll love the new greens which he describes as "spectacular".
"I know I can play it really well if I play it smart," he said on Tuesday and he won't be putting the same pressure on himself the way he did at Augusta.
A top five is certainly within range and comes at a nice price.

Recommended Bets
Back Rory McIlroy for Top 10 @ 2.526/4
Back Jordan Spieth for Top 5 @ 5.24/1
Dave's 2017 Top 5/10 P/L (based on £10 per selection)
Staked: £70
Returned: £103
P/L: +£33
Discover the latest articles