Players Championship 2015: Dave Tindall rates the top 10 for course, current and Florida form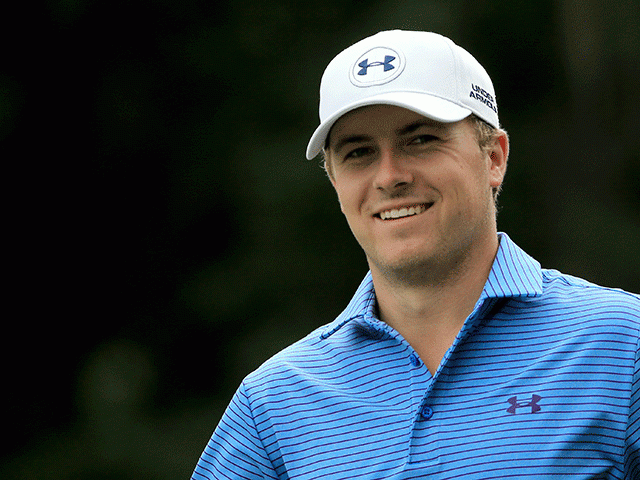 Spieth held the 54 hole lead at Sawgrass in 2014 before eventually finishing fourth
Dave Tindall arms you with the stats that matter for a punt on the Top 5 and Top 10 Finish markets ahead of this week's showdown at Sawgrass
Rory McIlroy
Rory now has 10 PGA Tour wins after his success at the WGC-Cadillac Match Play on Sunday. If he was privately getting a little miffed by all the attention on Jordan Spieth, it was the perfect answer and it will be fascinating to see how the two young guns perform over the first two days at Sawgrass after being paired together. McIlroy missed his first three cuts here but has since cracked the top 10 in each of the last two years, twice shooting 66 in his last five rounds. He said in 2014: "I feel like I figured this golf course out and I can play it much better than I have been able to in the past. It doesn't frustrate me quite as much as it used to."
Mental fatigue after playing seven rounds in San Francisco last week? Rory answered that one in his press conference: "I got to the final of this tournament a couple of years ago in Tucson and then went the next week and won at Honda."
Last four events: 1-4-11-9
Sawgrass record: 6-8-MC-MC-MC
Florida form: 11-9-MC-6-25-2-8-8-WD-MC
Last 50 starts - Win: 14%, Top 5: 36%, Top 10: 58%

Jordan Spieth
Spieth had a great run at the 2014 Masters on his Augusta debut and returned this year to dominate and win the tournament. So will he do the same at Sawgrass having held a share of the 54-hole lead on his first appearance last year before finishing fourth? The new Masters champion described it as "a cool golf course" last year and said: "I feel very comfortable chipping around these greens. It makes it a lot easier to hit the second shots in, knowing that I can be a little more aggressive, don't have to play to 30 feet."
As for his Group exit at the Match Play, there was certainly no cooling off. He just ran into a hot Lee Westwood one day. As Spieth reflected: "No complaints, I'm 16 under in three rounds. In our group there's only been two bogeys made against me in the three days. I was just told at some point yesterday I had a 7 shot lead in stroke play in the field."
And there were these ominous words when he looked ahead to the Players Championship: "I'm excited about next week. It's a course that fits my game well. I love putting Bermuda. I putt better on Bermuda than I do on these."
Last four events: T17-11-1-2
Sawgrass record: 2
Florida form: MC-36-17-2-MC-44-MC-21
Last 50 starts - Win: 8%, Top 5: 32%, Top 10: 42%

Henrik Stenson
The Swede won this tournament in 2009 and says of Sawgrass: "It's a course I love playing. I've always been comfortable playing it. It's a very special place for me. It's a tough golf course, and if you do the right things you get the reward."
He added another top five in 2013 and was also third in 2006 and 10th in 2008 so that's four top 10s in nine appearances which is just about the most consistent course form of anyone in the field. Stenson reeled off three straight top fives on the Florida Swing in March before he was laid low with illness and had to dig deep to first make the cut and then finish T19 at the Masters. He's feeling stronger by the day so the man who tops both Strokes Gained categories (tee-to-green and putting) should be primed for another big week.
Last four events: L17-19-2-4
Sawgrass record: 34-5-15-MC-MC-1-10-23-3
Florida form: 2-4-4-34-5-16-MC-5-8-MC
Last 50 starts - Win: 8%, Top 5: 42%, Top 10: 48%

Justin Rose
"This golf course has never been good to me, to be honest with you. It's been a bit of a personal challenge over the years to try and figure it out. I changed my strategy a little bit off of a couple of the tees this year to try and keep the ball in play. I think that hitting fairways is important around this golf course." That was Rose speaking in 2014 and the fresh approach certainly had the desired effect as he finished fourth. If we trust that the Englishman has turned the corner, he'd be a back for either top five or 10 given that his last two strokeplay events show a win in the Zurich Classic of New Orleans and a second place at the Masters. He was ranked 1st (Augusta) and 3rd (New Orleans) respectively on the All-Around stats during those two weeks so his game looks rock solid.
Last four events: L17-1-2-37
Sawgrass record: 4-MC-51-45-MC-22-MC-MC-MC-58
Florida form: MC-55-MC-4-MC-8-34-MC-2-8
Last 50 starts - Win: 8%, Top 5: 30%, Top 10: 42%

Jim Furyk
Furyk ended a win drought which stretched back to 2010 when landing the RBC Heritage last month but he almost stopped the rot in this event 12 months ago when finishing a shot behind champion Martin Kaymer. That was hardly a surprise given this is his local track although he admitted in Tuesday's press conference: "I've grown to like it over the years. When I first moved here, I'll be honest with you, I did not like this golf course. I was adamant about it. Didn't enjoy playing it. But I played here all the time to kind of get used to it."
Having played it hundreds of times, he also gives this insight. "Off the tee box I don't think it really favours a style. I don't think there's more cuts or more draws. It's definitely not a bomber's paradise off the tee. I think into the greens here you want to hit the ball up in the air and hit it high and hit it soft and spin the ball."
After reaching the semis of the WGC-Match Play, Furyk is a genuine contender for a tournament he'd love to win for the first time.
Last four events: 4-1-MC-58
Sawgrass record: 2-MC-25-MC-47-5-27-28-3-MC
Florida form: 40-12-2-20-62-MC-65-7-35-25
Last 50 starts - Win: 2%, Top 5: 26%, Top 10: 42%

Jason Day
The Aussie has only made the top 10 once in 13 starts in Florida but at least that came here when he was tied sixth in 2011. That year he played the first two days with eventual runner-up David Toms and Day admitted later that watching the short-hitting American "did influence me to play a few smarter shots off the tee."
That top six tempers an initial urge to lay him, as does a T19 last year when he shot another couple of rounds in the 60s. After a strangely subdued final 54 holes at Augusta, Day was fourth at the Zurich Classic but playing 36 holes on the final day apparently left him "pretty exhausted". He went out in the Group phase when trying to defend his WGC-Match Play title in San Francisco last week so at least he'll feel fresher here.
Last four events: L17-4-28-17
Sawgrass record: 19-MC-6-MC
Florida form: 17-31-19-45-43-33-MC-20-20-6
Last 50 starts - Win: 6%, Top 5: 30%, Top 10: 40%

Tiger Woods
Tiger's surprising display of emotion took the headlines in his Tuesday press conference as he said he hadn't slept for three days after his break-up with girlfriend Lindsey Vonn came on the same weekend as the anniversary of his father's death. As for his golf, Woods admitted that he was happy with his short game after putting in lots of hours but revealed he'd made a few "swing tweaks" to "keep getting it better" as that part is "still a little fresh". That's a revealing comment as he won't be able to get away with poor driving in the same way he did at wide-open Augusta National. Sawgrass will be much more punishing. Tiger is a two-time winner of this event but it's worth noting that he's only made the top 10 twice in the last 10 tries.
2015 events: 17-MC
Sawgrass record: 1-40-WD-8-37-22-53-16-11-14
Florida form: 25-WD-1-1-1-37-40-1-WD-2
Last 50 starts - Win: 16%, Top 5: 36%, Top 10: 42%

Dustin Johnson
I've noted before in these columns that DJ plays well in only one Florida tournament. That's the WGC-Cadillac which he won this year having finished second, fourth and T12th previously. Take out Doral and he's never managed a top 30 in 15 other starts in Florida. His Sawgrass best is a T34 in 2010 although he did at least manage to shoot his first round in the 60s when opening with a 68 last year (he followed it with rounds of 74-72-74). Having to throttle back off the tee clearly hampers Johnson so it would be a surprise if he was a factor this week - especially given that he appears to have cooled off a little in the last two events. A top 10 lay looks fair enough.
Last four events: L17-43-6-6
Sawgrass record: 59-WD-57-34-MC-MC
Florida form: 1-MC-59-4-WD-12-46-35-57-MC
Last 50 starts - Win: 6%, Top 5: 24%, Top 10: 36%

Hideki Matsuyama
Matsuyama got gubbed by eventual winner Rory McIlroy at the WGC-Match Play but we can forgive him that. His star continues to rise and, of course, his previous strokeplay start was a top five at Augusta National where he closed with a 66. His form in Florida remains in the "bubbling under" category after three straight finishes between 20th and 25th, including a decent T23 on debut here 12 months ago. The Japanese ace was solid, shooting 70-71-72-70. Overall, his record in 2015 shows four top fives in eight starts so on those numbers he could be worth a back at 9.08/1 for top five although I'm not entirely convinced this is a great course for him.
Last four events: T9-5-21-23
Sawgrass record: 23
Florida form: 21-23-23-34-WD
Last 50 starts - Win: 8%, Top 5: 24%, Top 10: 34%

Sergio Garcia
Sergio has a win, a second, a third and a fourth in this event so is always a likely leaderboard presence at Sawgrass. He said last year: "I've always liked this tournament because of what it is, because it's not a long course but it plays hard. I won with 5-under. For the most part I can see what I want to do, and that obviously makes it a little easier to make my mind up."
The Spaniard isn't exactly pulling up any trees at the moment and has just one top 10 all year but on a course he clearly relishes this could be the week where he turns those top 20s and 30s into something much better.
Last four events: L17-17-37-31
Sawgrass record: 3-8-56-12-47-22-1-2-14-32
Florida form: 31-31-3-16-8-8-WD-7-3-56
Last 50 starts - Win: 4%, Top 5: 26%, Top 10: 40%

Conclusion
Sometimes it doesn't need rocket science so backing both McIlroy and Spieth for a top 10 at odds-against means if just one of them manages it, we'll have a profit across those two bets.
Spieth was fourth here on debut in 2014 and has seven top 10s from 10 strokeplay starts this year (also an 11th and a 17th). McIlroy has cracked the top 10 on his last two Sawgrass appearances and has four top 10s from six strokeplay starts (also an 11th) as well as winning last week's WGC-Cadillac Match Play.
Having the two golden boys batting for us makes lots of sense.
Even in his pomp, Tiger struggled to make the top 10 here and I think there are too many negatives for him this week.

He's dropping hints that his swing is still a work in progress and Sawgrass will expose that much more than Augusta did. Add in his lack of sleep and mental state and it's a recipe for a fail.

Laying for a top 10 looks fair enough but there's certainly scope for laying him to make the cut at 1.75/7 as it could really unravel if he gets out of sync.

I'm tempted by a top five back of Stenson and a top 10 lay of Dustin Johnson but will stick to these three.

Recommended Bets
Back Rory McIlroy for Top 10 @ 2.111/10
Back Jordan Spieth for Top 10 @ 2.021/1
Lay Tiger Woods to make cut at @ 1.75/7
Dave's 2015 P/L on Top 5/10s (based on £10 per selection)
Staked: £180
Returned: £246
P/L: +£66
Discover the latest articles