Players Championship 2015: Fowler's future is bright, maybe even Orange!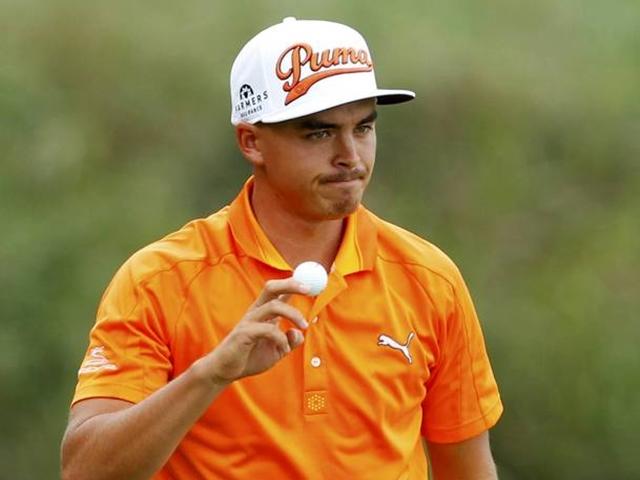 Ready to pounce: Rickie is running into form
Romilly Evans argues, despite the rise of Jordan Spieth, that now is the perfect time to keep the faith with stalling statesider Rickie Fowler...

"Spieth's Augusta anointment could take some of the press-pack pressure off this social-media darling. Surely 914,000 Twitter followers can't be that misguided?"
All hat and no cattle. It's the ultimate cowboy insult in the West, implying a triumph for style over substance.
On the PGA Tour, fans have long since viewed Rickie Fowler as the circuit's roguish rancher, lassoing wild major courses with a flashy swing and a flashier smile. He even sported the bright oversized orange cap to match.
Trouble is, Fowler's results never quite lived up to the tall billing. And this week, it seems, his fellow pros admitted what his faithful followers could not. Taking bravely to an anonymous Sports Illustrated survey, the electorate of players polled found Fowler The Most Overrated Player on Tour, amassing a staggering 24% in election week.
Less surprising was that Fowler was joined on that number by England's Ian Poulter, a man who has been all mouth and loud trousers Stateside for longer than any golf commentator cares to remember. Indeed, Poults has never even won a strokeplay event on US soil.
Fowler at least has. Albeit a lone victory in 2012 at Quail Hollow, another major-esque venue. Last year, this classy Californian became one of only three players to have recorded top-fives in all the majors during a solar cycle. The others are Jack Nicklaus and Tiger Woods. Exalted company, yet those two actually won majors when displaying that high-table consistency.
Fowler added a tie for 12th at April's Masters (he's yet to post a top-ten this season) and certainly needs to stop being damned with the faint whiff of praise that comes from finishing close but with no cigar. Otherwise this 26-year-old, who was routinely knocking back rounds in the 60s before his 18th birthday, might be routinely knocking back something stronger in his thirties.
Where better for Uncle Sam's self-styled saviour to stop the rot than at the game's self-styled "fifth major"? Fowler has been surpassed and superseded by Jordan Spieth's recent Augusta anointment as America's answer to Rory McIlroy. That could, however, take some of the press-pack pressure off the young shoulders of this social-media darling. Surely 914,000 Twitter followers can't be that misguided?
The Players Championship is perhaps the greatest technical challenge in the game. Its watery graves lie at every turn, waiting to engulf any imperfect shot. While Sawgrass also assembles the strongest field in golf with a rollcall of honour to match any major championship.
So a swift riposte to the nay-sayers here (where Fowler finished second in 2012) would be as rapier as it would be rasping. He undoubtedly looks a stand-out wager for another Top Ten Finish at around 7.06/1.
Fowler's CV sports 24 top tens from just over 100 starts since turning pro in 2009. Ten of those arrived last season. So it's clear that his game only requires evolution, not revolution. Sawgrass could prove the missing link for one of the most popular guys in the locker room.
His stable-switch to Butch Harmon the previous December has laid the foundations, creating a swing plain that exerts less stress but more power - a crucial component when you're launching lasers from a meagre 150-pound frame. Stats for Driving Distance, Greens in Regulation and Birdie Average have risen accordingly. Only Fowler's putting has subsided. He ranks a lowly 167th for Strokes Gained In Putting, and admitted as much earlier this term. "Need to stick my putter in the oven and heat that thing up," was his frank assessment.
Rickie certainly has a problem in golf's key criterion. Yet, fortunately, it's not surrounding his stroke, which is as pure as his iron-play. Instead, his set-up or stance often gets misaligned, an issue he has sought to correct under the watchful eye of caddie Joe Skovron. More promising performances with the flat-stick at The Masters and in qualifying for the latter stages of the fickle World Matchplay were definitely encouraging.
They've been trying to convert this kid into a superstar for the better part of a decade. And despite amassing more than $16m in on-course earnings and millions more off it, they've only succeeded in creating a hairdresser's dream, or a rationalist's nightmare. Fowler, though, only needs to get back to reality and embrace it.
He remains one of the best swingers in town at world number 13, takes time for fans, and gives back to charity in truckloads. Four years shy of his 30th birthday (when most golfers are considered in their prime) now is not the time to change or panic.
Jonathan Swift once wrote than when "genius appears in the world, you may know him by this sign: that the dunces are all in confederacy against him." PGA Tour pros are known more for their arrogance than for their intelligence. So just wait until the next time they question Fowler's talent with a "dur, man, what are you looking at?" The reply may soon be "a bunch of morons."

Recommended Bet
Back R. Fowler for Top Ten Finish @ 7.06/1 or better
Discover the latest articles