US Open First Round Leader: Phil can thrill his fans in the opening exchanges at Merion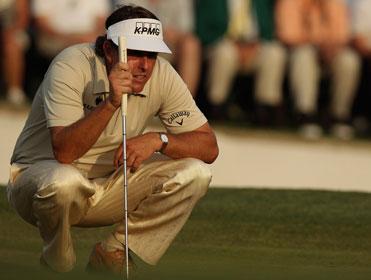 Will you be backing Phil to lead after the first round?
Romilly Evans fancies the perennial US Open bridesmaid to go one better - at least in the first round - with an early alarm call...
"This may end up being a week where the patient plodder prevails. But don't assume that means Steady Eddies like Luke Donald and Jim Furyk"

The US Open has a marked propensity for throwing up shock first-round leaders. Marty Fleckman anyone? In fact, rather than headline names as familiar as your favourite characters in a soap opera, the season's second major spits out the sort of short-lived day-players who are quickly killed off after round one.
You know the sort. That plucky member of the Starship Enterprise you'd never seen before who gets sent down to inspect the surface of a new planet and check for signs of life. Sure, they have their five minutes of fame. But it's not long before they're wishing they had set their phasers to something a little stronger than stun, as a hostile local resident decides to consign them to an obscure footnote at the next Trekkie convention.
So who will boldly go low in this next generation of the US Open, which has set up camp this year at Merion Golf Club? To be certain, Merion is a very different kind of test. Firstly, it falls a fag paper short of 7,000 yards from its extremities - a shorty by the standards of the modern major monsters. Secondly, it's not going to play firm and fast - the way the USGA like to prepare their typically merciless layouts.
Mother Nature and her consistent downpours - which arrived again on Monday - have ensured that the course will play soft throughout the week. And nowhere more so than during Thursday's opening round. Off-line drives will stop more abruptly in the fairways, greens will be welcoming with their pins kindly inviting the players to enjoy a spot of target practice. 
I'm not about to say it's going to be easy. No US Open is. However, some Pennsylvania natives have been predicting double-digit figures for an under-par winning score. Defences will reside in knee-high rough (described by Ernie Els as "the worst I've ever seen" - and he's seen a lot in his time) and punishing pin positions. We'll see if that's dastardly enough to keep good scores around par, the number the USGA seeks out by Sunday night.

But more immediately, what sort of golfer will flourish on Thursday?
1. Big hitters - heavy artillery players should have a massive advantage here. Finding the fairways is essential but an easier task with the sodden conditions. 
2. Wily strategists - four par-fours register at under 360 yards. This either allows a bomber like Bubba to have a crack at them, or take an iron off the tee to be certain of good placement. This may well end up being a week where the patient plodder prevails. However, don't assume that means Steady Eddies like Luke Donald and Jim Furyk. Power players like Dustin Johnson and Tiger Woods (who famously won the 2006 Open at Hoylake by only drawing the driver once) can plot their way round with as little as a three-iron.
3. An early tee-time - a perennial pre-requisite for first-round trailblazers. That bias looks likely to be accentuated this year, where the morning starters will relish the best of smooth, soft greens that will be spiked and roughed up by the footfall of afternoon traffic. Birdie barrages could be a feature of the week as a whole, but the early birds will find Merion at its most benign.
Dustin Johnson (7.00am) - DJ was in initial contention at the Masters, led pillar-to-post at the Hyundai, and was again near the round-one summit in Memphis last week. What happens subsequently has been more of a concern of late, but Johnson is fit again and, as I said earlier, could manage his slugger game to advantage on this track. 
Phil Mickelson (7.11am) - Lefty tuned up for the major he wants the most in true Phil The Thrill style. Five times the US Open bridesmaid, his short game and wedge-play improved no end as the week wore on, culminating in him almost holing his approach to the 18th to set the clubhouse score. No-one wants it more, and Phil can make hay before the sun shines.
Paul Casey (7.18am) - Still on something of a comeback mission from blows both emotional (recent divorce) and physical (protracted injury). But self-assured Case The Ace knows that he has the game the get back where he belongs. He's even led the US Open after the opening 18 (2010 Pebble Beach) and can do so again with conditions to suit and his confidence returning. A closing 64 to qualify at Walton Heath proved as much.
Rickie Fowler (8.06am) - Completes my early risers from the morning wave and is the absolute embodiment of a streak player who is not afraid to back up one birdie with another. No fear is a rare commodity in the US Open, whose very intimidation factor can send a golfer two-over-par before his tee time arrives. Fowler is immune to such doubts and he been inside the Top 30 on Tour for first-round scoring for the past three seasons.

Recommended Bets
Back Phil Mickelson @ 40.039/1
Back Dustin Johnson @ 65.064/1
Back Rickie Fowler @ 70.069/1
Back Paul Casey @ 150.0149/1
Discover the latest articles