PGA Tour: In-form US Young Guns can lay Waste to rivals in Phoenix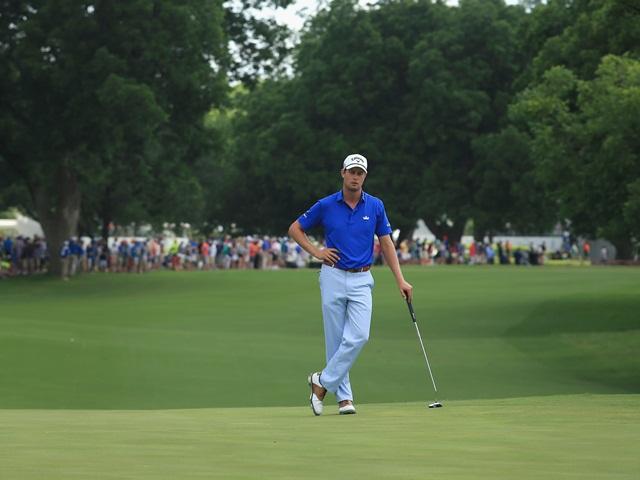 Less belly, more welly: English has a major game at just 25
Romilly Evans assesses the recent streak of youthful American winners and wonders if it signals a changing of the guard for the season to come - and even next year's Ryder Cup!
"Effortlessly long – and stupidly straight for all that length – English is an up-and-comer who will stay for a while "
After another meek Ryder Cup surrender and its fiery fallout stateside, the game of golf was gravely informed that the PGA of America, alongside some eminent players on the PGA Tour, had seen enough.
The time had come hire a crack, covert "Task Force" to right the wrongs of the past decade. It was a case of Avengers Assemble. Their challenge: to bond a team of volatile, self-obsessed superstars who don't play well with others. Apparently, Marvel executives gladly waived the rights.
Gleneagles triggered a national emergency whereby a break-the-glass solution to the Ryder riddle had to be found. After all, changing the gallery tune of "Europe, Europe" couldn't be as simple as Rickie Fowler hitting shuffle on his iPod Nano. No, Uncle Sam needed new recruits and a different strategy.
Or perhaps he simply had to wait for the 2015 wrap-around season to reconvene. Ten of the first 11 PGA Tour events this "year" have been won by stars in the stripes, and only South Korean Sang-Moon Bae got a look-in for the seasonal opener.
Since then it's 10 out of 10 - and all of them were different American golfers. Equally tellingly, the average age of these victors is under 30. Okay, 29.9-years-old to be exact but it still points towards an early, maybe even grossly premature, swing of the pendulum back across the pond.
Indeed, if this carries on, a transatlantic sea of tears could be on the cards for Europe when the biennial battle returns to US soil in 2016 at Hazeltine National.
So who are these thrusting young Turks and which of them is up for turning the tide for the current campaign? Let's have a look at the likely lads:-
Billy Horschel (28): roll the clock back to last season and rising US stars claimed the final four Play-off events of 2014 too. Horschel took the concluding tournaments and the Fedex Cup in a white-hot display that sets him apart as possibly the most talented player under 30. Mercurial by nature, but mesmerizing when on song, twitchy putting can occasionally hold this bundle of joy and nerves back. Flat green complexes will accordingly be his friend.
Chris Kirk (29): the other immature "yank" to come of age in the Fedex Series, leaving captain Tom Watson with a severe case of dumper's remorse for the pre-selected wildcard spots. An imperious ball-striker and nearly as streaky as Billy The Kid, wait for Kirk to holster some indifferent form, then draw.
Jordan Spieth (21): a player some have opposed to good effect in the outright markets on the main tour (just one full-field win in 2013) but it would be churlish to right off Spieth just because he's reached the legal drinking age of world temptations. Full of confidence after leading home two back-end processions (one Down Under, the other at Tiger's Invitational), no-one currently rolls their rock better than this in-form Texan. But that can't last forever. Awesome but far from invincible, then, with an unconventional swing that is already exerting strain on his lower body. Achilles had a weakness because Thetis dipped him in the invulnerable waters of the River Styx by his right heel. Spieth's mum, it seems, lowered him by his right ankle.
Rickie Fowler (26): fills out a tight orange V-neck with the best of them, but Fowler's allure doesn't stop there. Rickie's evolution has progressed from pin-up to pin-hunter, as he proved last year when he became one of only three players to have posted top-fives in all the majors during a solar cycle. The others are Jack Nicklaus and Tiger Woods. Exalted company, yet those two actually won majors when displaying that high-table consistency. Fowler's strike-rate stinks (even more than Spieth's) and he'll be keen to add to his compatriots' recent run of Tour success and not be damned with the faint praise of another ten top-ten finishes. As for the big four, Rickie had better bag one quickly lest that major molehill becomes a major mountain.
Harris English (25): looked a Ryder Cup lock before some complacency got the better of his work ethic last term. English, however, has rededicated himself to his game and it's already reaping the reward (third at the Sony Open a fortnight back). Effortlessly long - and stupidly straight for all that length - this is an up-and-comer who will stay for a while once he sorts his head out. The reformed Dustin Johnson should have a word.
So that's my five emerging talents to follow this season, to infinity and beyond. Keegan Bradley (28) just missed out on selection but where's the fun in backing someone who takes longer than the entire Super Bowl show to complete a round?
The greatest show on turf heads the sporting line-up this weekend, but the PGA Tour gives its own nod to the razzmatazz with its powder-keg event in Phoenix. So can the trend of youthful Americans beating their rivals red, white and blue continue on Sunday's festival of football and fairways? Perhaps Uncle Sam's ageing core of Tiger Woods and Phil Mickelson will jump on the bandwagon, or prove yesterday's men. Either way, though, his troops finally appear enthused with this infusion of new blood.
Discover the latest articles