Hero World Challenge: Woods you trust Tiger's new coach?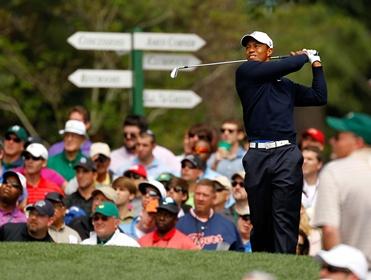 At a crossroads: but which way will Chris Como send Tiger?
Romilly Evans assesses the fourth coach of Tiger's career. Chris Como is about to go from obscurity to the game's brightest spotlight at this week's Hero World Challenge where his new charge makes his seasonal bow
"Tiger has gone to the faceless end of the totem pole and a man who lives in the shadowy world of biomechanics"
Popular opinion has it that Tiger Woods, like a 1977 Pontiac Trans Am, is now rusting up on blocks and dreaming of a past when he used to pick up chicks and trophies more regularly than Burt Reynolds in Smokey and the Bandit.
Roll back the clock to the year 2000 and we all remember the vintage model: nine PGA wins from 20 starts and a Tiger Slam which saw him hold all four of the game's major tent-poles by April 2001.
It only took Woods a decade to get to 14 majors. However, he is now to win one since 2008 and with mounting injury issues which scream refit, the jury's been out long before he withdrew himself from Ryder Cup selection in September.
The gearbox has gone, the chassis is contorted, the rubber's burnt. In short, he's got fixer-upper written all over him. Can anyone restore this classic car to its former greatness?
Step forward Chris Como, freshly unveiled as Tiger's new coach ahead of his return to action at this week's Hero World Challenge. And Como is certainly an unlikely hero, even to members of his own family.
At a time when pundits were urging a return to Butch Harmon or a mentor-share with Tour buds like Matty Kuchar (Chris O'Connell) and Keegan Bradley (Chuck Cook), Tiger has gone to the faceless end of the totem pole and a man who lives in the shadowy world of biomechanics.
However, on closer inspection, this union for golf's original messiah is not as unholy as it might first appear. Firstly, Como was recommended by Tiger's old Stanford pal and confidant, Notah Begay, who made the introduction a few months back. The newly-weds haven't stopped gassing ever since.
Biomechanics may not constitute sexy pillow talk for most, but Tiger has become increasingly obsessed with its themes ever since the slew of injuries started mounting up. Most of the damage has arrived on Woods' left side: elbow, Achilles, calf, tibia, fibia before the back started to buckle under the collective strain. The biomechanical goal - at least in golf - is for Como to create a smooth swing path for Woods that avoids aggravating these concerns or provoking others.
Como, barely ranked inside the top 100 golf teachers by Golf Digest in 2013, has created something of a niche specialization in this arena to promote his blossoming career. Having worked with Begay (who left the PGA Tour after a promising start due to prolonged back trouble), Como has also turned his "motion mentoring" techniques to Aaron Baddeley (ankle, back) and Trevor Immelman (elbow, tendon) who both speak highly of his insight.
However, what've Badds and Trev done for you recently? Not a lot. Indeed, it appears Como's only fully healthy pupil Jamie Lovemark has cornered the market in underwhelming. Okay, so he's only 26 and a Web.com grad, but so far he struggles to make more cuts than he misses in this top tier - as evidenced by his 66th at the Australian Open at the weekend.
Nevertheless, this is Tiger, not some also-ran stablemate. The greatest player in history still needs to prove it in terms of major achievement. Nicklaus' magic number of 18 still waves the sorcerer's scarf in Tiger's face at 14. The target's become fleet of foot, illusory, out of reach. It seems agonizing and illogical to a man who once held all the magic and wizardry in his hands. 
So can Como, the Sorcerer's apprentice if you will, help the 38-year-old rediscover his touch? His forerunners fared progressively poorly, albeit through the prism of the loftiest expectations. Harmon guided Tiger to eight majors over six years, Hank Haney snaffled six over another six, while Sean Foley couldn't even manage a token effort. Although in fairness to Foley, Tiger was crocked throughout most of his four-year reign - and he did manage a five-win Player of The Year campaign in 2013.
Towering hopes can often lead to a teetering reality, though, and Woods' prospects among commentators have crashed to basement level. This is in Como's favour. He can build from the ground upwards without the searchlight of judgement. Como knows Tiger isn't a condemned building, otherwise he wouldn't have taken the job.
Even a cursory look at the world number 24's performance over the past five seasons shows that he's no back number. Only Rory McIlroy, with 13 victories worldwide, has won more than Tiger (nine times) during this period. Woods also has a better wins-to-runs ratio (12%) than McIlroy and has been ranked as the game's top cat for longer than any other player (60 weeks). In short, this tabby still ain't too shabby.
Como's main task, aside from fashioning a pain-free plane, is to curb Woods' two-way tendencies. When in his pomp, Tiger had a right-rough bias for his misses. In recent years, the left side of the course has increasingly come into play. Como needs to cut this propensity out and deliver a swing that if it errs, errs right. The driver is Tiger's main deficiency. While 54% driving accuracy in 2014 suggests he's actually okay, that percentage masks the times he's taken three-wood or iron off the tee. With the driver, it's really 39%. A shorter, more dynamic swing is apparently the pair's target.
Como's coupling comes under the media microscope on Thursday at Tiger's home course of Isleworth. Woods is a 15.5 to back sixth favourite, and despite the doubts I'm tempted. The course sets up perfectly for him and this limited, friendly field will be cheering on their host.
Whisper it, but some say life begins at 40. Now entering his 40th solar cycle, Woods could yet prove the point. As for Como, whichever way it goes, his life will never be the same.
Recommended Bet 
Back Tiger Woods Each-Way @ 15.014/1 
Discover the latest articles