Memorial Tournament: Dave Tindall rates the top 10 for course, current and Ohio form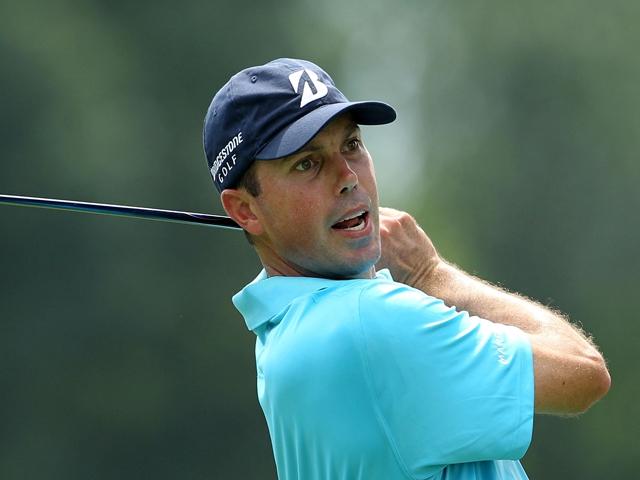 Matt Kuchar is a top-10 machine at Muirfield Village and is fancied to finish high up again
Dave Tindall arms you with the stats that matter for a punt on the Top 5 and Top 10 Finish markets ahead of this week's PGA Tour event at Muirfield Village...

"A Top 5 is obviously worth considering but he's lacking a touch of sharpness so go for the Top 10 which he can seemingly pull off in his sleep."
Jordan Spieth
Having played Muirfield Village in his college days, in the Presidents Cup and in this tournament twice, Spieth says he knows it very well. "Probably more than just about any other one other than the ones at home. Yeah, I've seen all the pins multiple times now. I know where certain putts go. Just certain tendencies. Starting to really feel more comfortable, not taking as much time trying to figure it out before I hit shots into the green. So it helps." He also loves the fast greens which remind him of those at Augusta National where, of course, he won his first major a couple of months ago. Tied second at Colonial two starts ago and fifth going into the final round here 12 months ago, he would appear to have a great chance of winning this. Perhaps going for the jackpot (win market) is better than a Top 5 or Top 10 bet though.
Last four events: 30-2-MC-17
Memorial record: 19-63
Form in Ohio: 49-19-63-44
Last 50 starts - Win: 6%, Top 5: 32%, Top 10: 42%

Dustin Johnson
DJ frustrated win backers with his wild quadruple bogey at the sixth in the final round of the Byron Nelson last week although he did play the final 12 in 2-under to finish T8 and give Top 10 backers a reward. The mental lapses he's prone to aren't a good idea at Muirfield Village and might explain why he's only managed a single top 10 in seven attempts at this event. "I enjoy playing this tournament. I really like this golf course," insists Johnson although that's par for the course as everyone loves playing Jack Nicklaus' event and the course is always in immaculate condition. It's tempting to lay him given his average course form but he topped the putting stats on the lightning greens at Augusta National and at the Byron Nelson he made a point of saying how well he'd been putting of late.
Last four events: 8-69-17-43
Memorial record: 46-MC-19-4-33-14-68
Form in Ohio: 46-33-MC-19-19-48-4-15-33
Last 50 starts - Win: 4%, Top 5: 22%, Top 10: 36%

Justin Rose
"It's that week!!! Memorialgolf #Memorial," Rose tweeted on Monday. This tournament clearly means a lot to him as it was the scene of his first ever PGA Tour win back in 2010. Two years earlier he'd been runner-up while he also cracked the top five in 2004 and finished T8 in both 2012 and 2013. Add that all up and his Top 10 strike-rate at Muirfield Village is 50%. "My game seems to enjoy the golf course," he said last year. If only his 2015 form was so reliable. Basically, Rose has played well in just two events although, to be fair, they were a second place in The Masters and a win at the Zurich Classic. And with Rose saying of Muirfield Village, "What I like about it, is that it really tells you where you're at with your game," the worry for backers is that it will expose some current flaws that are holding him back.
Last four events: 38-MC-17-1
Memorial record: MC-8-8-MC-1-MC-2-14-75-4
Form in Ohio: 4-MC-17-8-5-8-33-MC-19-1
Last 50 starts - Win: 8%, Top 5: 30%, Top 10: 42%

Hideki Matsuyama
Matsuyama made his big breakthrough here last year, beating Kevin Na in a playoff to lift his first, and so far only, PGA Tour title. He also played some great golf at Muirfield Village in the 2013 Presidents Cup. Speaking at a Memorial media day a couple of weeks ago, he said: "I don't know how it fits my eye, but I do know that the fairways are a little wider than some of the tournaments we play. And Muirfield Village is a great second shot golf course, which is my strength. And maybe those are the two reasons that I've done well here." The Japanese ace has a bunch of great stats (2nd Strokes Gained: Tee-To-Green, 4th All-Around Ranking) but the most relevant for this preview is that he's second only to Jordan Spieth in number of Top 10s this year. Matsuyama has seven from 15 starts.
Last four events: 20-17-9-5
Memorial record: 1
Form in Ohio: 12-1-21
Last 50 starts - Win: 8%, Top 5: 22%, Top 10: 30%

Rickie Fowler
Fowler had a pretty memorable week at the Irish Open all things considered. He completely outplayed partners Rory McIlroy and Martin Kaymer over the first two days and put himself in position to make a title challenge on day three but ended with a pair of 8s to ruin his hopes. He eventually finished T30. His results suggest he's had only one good finish at Muirfield Village (2nd in 2010) but in 2012 he was third going into the final round but shot a calamitous 84 and dropped 49 spots. Speaking the following year, he said: "I really enjoy playing here. For some reason I enjoy a lot of Jack's courses. I'm not sure if it's a visual thing or what it is. But I've definitely made a lot of putts here." With his Players Championship win still fresh in the memory, he's certainly a legitimate back in both Top 5 and Top 10 markets.
Last four events: 30-1-9-MC
Memorial record: MC-37-52-22-2
Form in Ohio: 46-33-MC-19-19-48-4-15-33
Last 50 starts - Win: 2%, Top 5: 18%, Top 10: 34%

Jason Day
Day pulled out of last week's Byron Nelson Championship after complaining of dizziness in the pro-am and returned home. Well, 'home' just happens to be Ohio and last year he said: "To be here at Memorial in front of my friends and family, especially here at my home course, it's exciting for me. I play this course a lot and I practice out here pretty much every day." His record in this event is poor though, his theory being that he puts too much pressure on himself. One plus, however, is that he did shine in a losing cause when Muirfield Village staged the 2013 Presidents Cup. An overall assessment would be that there are too many pros and cons to be confident either way.
Last four events: MC-17-4-28
Memorial record: 37-41-MC-33-27-MC
Form in Ohio: WD-37-53-41-29-MC-4-22-33
Last 50 starts - Win: 6%, Top 5: 30%, Top 10: 40%

Jim Furyk
"I love playing here. I've had success in the past." That's what you might call an understatement as Furyk has a storied record at Muirfield Village with a win (2002), two second places and three other top 10s. If you're counting, there are eight other top 25s on his CV. He also met his wife here (she worked right by the course and "caught my eye"). If that sounds wishy-washy, let's recall how it helped galvanize Steven Bowditch at the Byron Nelson last week. But before we leap into a Top 10 back, he hasn't actually had one in this event since 2010, while he's underperformed - to a surprising level given his consistency - at Sawgrass (T56) and Quail Hollow (MC) in his last two starts.
Last four events: MC-56-4-1
Memorial record: 19-21-13-MC-10-2-39-23-18-8-24-1
Form in Ohio: 15-19-9-21-2-13-23-MC-6-10
Last 50 starts - Win: 2%, Top 5: 26%, Top 10: 42%

Matt Kuchar
"Holy cow, the course is in awesome shape," said Kuchar at his rudest last year (this is a man who says "golly gosh" if he hits one into water. "I've had some great things go on here over the years. This tournament has been really good to me, this is always a special place for me to come back." Jeepers, he can say that again. His record in this event is phenomenal and a 15th here last year was the first time he's failed to crack the top 10 since 2007. Backers would like to see some better recent form but he was fifth at The Heritage on a course where he often thrives (he won there in 2013) and he carded middle rounds of 67-64 at the Byron Nelson last week.
Last four events: 39-MC-17-5
Memorial record: 15-1-2-8-5-10-13-MC-32
Form in Ohio: 12-15-27-1-8-19-2-9-8
Last 50 starts - Win: 2%, Top 5: 26%, Top 10: 36%

Phil Mickelson
Lefty has done pretty well at Memorial but perhaps not as well as you might expect given the mix of wide fairways and fast greens - the recipe that would seem perfect for his game. One interesting stat is that no left-hander has ever won this event (compare that to The Masters where Mickelson has helped the southpaws win 6 of the last 13). He says of the course: "I see some shots that I feel comfortable with and I see some shots that I feel very uncomfortable." Given that he often breaks into the top five when he has a good week (he's done it twice in his last four starts but on courses he loves) and is nowhere when he's off colour, a lay of him in the Top 10 market would be the way to go.
Last four events: 4-MC-2-17
Memorial record: 49-WD-13-5-20-4-9-11-MC-69
Form in Ohio: 15-49-21-43-WD-48-13-46-5
Last 50 starts - Win: 4%, Top 5: 20%, Top 10: 22%

Tiger Woods
"I think I've always played Nicklaus courses well. I've won on quite a few, whether it was junior golf, college, and now professional golf. I just feel comfortable on his golf courses, the way he sets it up. There is ample room off the tees. The greens are really severe. If you miss the greens, it tests your short game. Those are the things that I think I do well." That was Tiger's assessment in 2013 when he returned to the event as a five-time winner (2012, 2009, 2001, 2000, 1999). The quotes are interesting because although the knee-jerk reaction is to lay him, he does appear to have sorted out his short-game yips and his errant driving won't be as punished as it was at Sawgrass. Perhaps the best form guide to his performance this week is the T17 he managed in similar-ish conditions at Augusta National a couple of months ago.
 
Last three events: 69-17-MC
Memorial record: 65-1-19-1-15-3-3-4-22-1-1-1
Form in Ohio: WD-1-65-8-1-37-78-19
Last 50 starts - Win: 16%, Top 5: 34%, Top 10: 40%

Conclusion
This is a course where repeat Top 10s are common so it's logical to cash in on that.
First up is Matt Kuchar, the 2013 winner. The American had five top 10s in a row here from 2008 to 2013 and either side of that was T13 and T15 so he's a standing dish at Muirfield Village.
A Top 5 is obviously worth considering but he's lacking a touch of sharpness so go for the Top 10 which he can seemingly pull off in his sleep.
Combine a Kuchar Top 10 with one from defending champion Hideki Matsuyama. If either achieves it, we'll be in profit.
Yes, there will be some extra pressures on the youngster this week but, although it's scant evidence, the last time he defended a title on his home Japanese Tour he finished fourth.
Matsuyama loves the course and is a bit of a top 10 machine with a strike rate of 47% in his 15 events on the PGA Tour this season.

Recommended Bets
Back Matt Kuchar for Top 10 @ 3.39/4
Back Hideki Matsuyama for Top 10 @ 3.259/4
Dave's 2015 P/L on Top 5/10s (based on £10 per selection)
Staked: £230
Returned: £340.9
P/L: +£110.9
Discover the latest articles