USPGA Championship 2013: Knock on Westwood for a change of luck at Oak Hill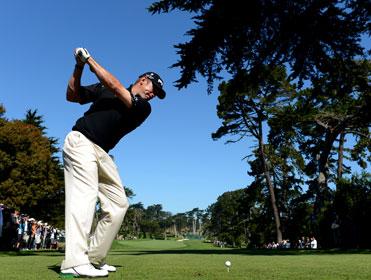 A decent long game is a must this week - and Lee's long game is very decent indeed!
Romilly Evans looks at the nearly man of golf and asks if he can ending a 62-major losing streak at the USPGA
"Westwood has enjoyed golf's party. Trouble is he keeps getting asked to leave just before it gets to the best part."
Life is often portrayed as a party which is to be enjoyed. Just leaf through the daily newspaper headlines, however, and you'll soon see that many people are having no fun whatsoever. Given luck's vast spectrum of possibilities, it's often galling to hear multi-millionaire sports-stars moan about their lot. Perspective and the modern professional athlete rarely go hand-in-hand, it seems.
So it's all the more refreshing to hear the frank testimonials of one Lee John Westwood as he grapples with the emerging reality that he may never win one of golf's major championships. "Listen," he once reflected after another near miss. "I make millions playing the sport I love. There's really not much to complain about."
This phlegmatic attitude, coupled to a dry wit, has endeared The Worksop Wonder to many both inside and outside the ropes of tournament play. Westwood stands on the threshold of 40 worldwide wins (ninth all-time on the European Tour), has banked tens of millions in prize money and sponsorship. Ample fiscal reward for his efforts, no doubt.
Nevertheless, many wonder if all that compensation has offered him any real consolation. For while Westy may have scaled the peak of the world rankings a few years back, a golfer's place in the pantheon is secured not by points but by the game's big four prizes. In this rarefied arena, Westwood has come up gasping in no fewer than 62 previous attempts. 
Not that he hasn't come close, of course. The agony of being of being one grappling hook short on the major mountain only adds to the agony. He Westwood has now recorded eight top-threes since 2008 in golf's Big Four - and in two of those he was the runner-up. This sequence of near-misses bears comparison with any who have previously sported the "best player never to..." blazer badge. None has worn it more proudly.
Indeed, Westwood's most recent surrender in last month's Open Championship eloquently restated the point. Two shots clear going into the final round, Westwood was soon tumbling down the leaderboard into the safe haven of third, as Mickelson surged passed him (just as he had at Augusta in 2010). His reaction? "I'm just going to try and take the positives out of it rather than the negatives. I think if you just keep putting yourself in contention, that's all you can do."
Hardly sounds like a winning mantra, does it? In fact, it's eerily reminiscent of the sort of post-capitulation conference Tom Kite used to give after a series of close shaves with major achievement throughout the 1980s. Four second places and countless top-tens had led most to conclude that Kite was "damned in the slams". But the bespectacled American wouldn't hear of it, seeking solace in the positives and saying that it honestly didn't matter to him if he never won a major.
Then, one windswept afternoon at Pebble Beach in 1992, Kite finally clung on for victory at the US Open. His reaction? "This is the greatest day of my life." Winning a major had indeed been dominating his thoughts for years, he confessed. So what about all that talk of taking the positives? "I saw only missed opportunities," replied Kite. "I was lying." 
Is Westwood guilty of similar self-deception, I wonder? Like Kite, is he simply playing a game with the press, so they focus on hang-dog, woe-is-me types such as Sergio Garcia and Colin Montgomerie? The jury is out and we probably won't get a true verdict till he hits the Champions Tour at 50.
For now, though, Westwood has every reason to be optimistic that his brightest years are still ahead of him. Best buddy and ISM stablemate, Darren Clarke, eventually broke through at the ripe old age of 42 to take the 2011 Open. Ernie Els then followed suit the following year. Mickelson was a year older when he finally got his hands on the Claret Jug. Lefty even declared that he was playing the best golf of his life. Westwood has only just broken the 40 barrier himself. So with his family now settled stateside, Westy is one man who will now be slowing down for children in his roaring forties.
Westwood's manager, Chubby Chandler, had actually booked a victory party for his man in East Lothian. Naturally, he had to subsequently cancel the festivities. But while Chandler may have prematurely tempted fate, he is certainly keeping the faith in his client.
As for Westwood himself, Muirfield may actually have been one of his easiest losses to stomach. After all, he experienced something of a reversal of skills-sets that week. His normally impeccable tee-to-green system malfunctioned, yet he made practically every putt he looked at.
With his bread-and-butter game temporarily MIA, Nottinghamshire's finest never felt he was in control of his destiny. Hence, any residual scarring may be at a minimum as Westy bids to make it 63rd time lucky at this week's PGA (where he's fifth favourite at 34.033/1 to back). His ball-striking returned at Firestone too, so if he can recapture his flat-stick form - under the tutelage of putting guru Ian Baker-Finch - he looks in good shape for Oak Hill, an old-fashioned course which places a premium on driving. 
Make no mistake, Westwood has enjoyed golf's party. Trouble is he keeps getting asked to leave just before it gets to the best part. What's worse, as the doors swing shut, he can hear the cheers for the chosen few who have become the game's guests of honour.
So if he gets tapped on the shoulder again on Sunday evening, what a welcome surprise it would be if he discovered that this party was in fact for him.
Win more In-Play with Betfair!
If you'd backed Phil Mickelson to win The Open for £25 on Betfair – after the completion of Round 3 – you would have won £735, after 5% commission.
£25 at Ladbrokes, Bet365, Paddy Power and William Hill would have only won you £500.
That means you were £235 better off with Betfair compared to all four bookmakers.

Discover the latest articles