Abu Dhabi Championship: Is Rors roaring back to form for 2014?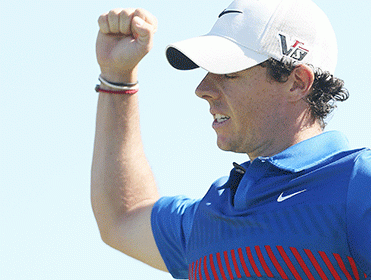 Back on song: Rory's recent win in Oz could be a springboard
Rory McIlroy has a new driver-and-ball combo, a new bride-to-be and a new groove for the coming year, says Romilly Evans. Will he reward favourite backers in the desert this week?
"As for Wee Mac's swing, it's getting back in the groove too after rediscovering the rhythm off which his natural game thrives."
Back in 2012, it seemed as though Rory McIlroy could win golf tournaments standing on his head. Last year, it was as if he tried to. McIlroy went from claiming five wins - one of which was a major - and money titles on each side of the pond to a totally fruitless campaign on both major tours.
Big Mac had become Wee Mac. And a former number one with the world at his feet had fallen to also-ran status on the fringes of the global elite. Sure, world number-ones have tumbled outside the top-ten more spectacularly in the past. David Duval, anyone? One moment Double D was the perfect fit for golfing greatness, the next his game was downward-spiralling into terminal decline.
Even more recently, Europeans like Martin Kaymer, Lee Westwood, and Luke Donald have all found top-dog status to be a poisoned chalice better pushed aside. However, Rors was supposed to be here to stay. A once-in-a-generation talent guaranteed to hunt down Tiger Woods and stave off any thrusting young Turks from Generation Next.
At only 24-years of age, of course, now is not the time to panic. McIlroy can afford the odd slip. Yet with the media spotlight seldom dimming in its attention to this bright-eyed star from Holywood, the current campaign could well define the course of his early career.
After all, couple too much frustration to the carriage of expectation, and the weight can stop express trains. Just ask Phil Mickelson, Justin Rose, Adam Scott - major champions-in-waiting who never got going till their thirties. Or worse still Sergio Garcia, golf's Peter Pan who never grew up.  
McIlroy has no such worries. He is already a two-time major champion and has accordingly never had to bear the burden of "best player never to..." Nevertheless, in this most fickle and mental of sports, monkeys on your back nine can quickly materialise from the trees which line the lush fairways.
Rory's 2013 appeared scuppered by two such prying mates, both of whom initially looked like friendly fellas. First came his reputed $100m-plus deal with the manufacturing giant Nike, which saw McIlroy switch allegiances to Tiger's team and pick up a new set of blades. The transition proved protracted and provocative, with the youngster petulantly rejecting his new Nike putter after only one round of medal play, demanding a return to Titleist's Scotty Cameron. The driver proved even more recalcitrant and the self-doubt soon filtered down into his imperious iron play.
Still, with Swoosh scientists working overtime to correct launch-angles and balance weighting issues, it wasn't long the before their assiduous technical systems had recreated McIlroy's previous clubs. Yet his wayward tendencies persisted. And while equipment could no longer be blamed, it had sown the seeds of doubt. His stablemate was also back on song and back atop the golfing tree. Pressure was growing, belief fading.
His high-profile courtship of tennis ace Caroline Wozniacki was also a progressive distraction. Once the darling couple of the sporting world, it didn't take long for the media to get their claws into them with reports of rifts, affairs and the collateral damage of trying to support one another's careers. The kick'em-when-they're-down machine of celebrity was ramping into overdrive. Personal demons were creeping into his professional domain.  
Now, though, it appears that McIlroy is on the verge of getting his house in order on and off the course. Nothing like a spring clean and new solar cycle to put a spring in your step. And Rors set the tone for a season of hope by getting down on bended knee at New Year to propose to Wozniacki. The Danish star accepted both proposal and accompanying 120k rock, and her hubby-to-be proclaimed it his "first victory of the year". The first of many?
Well, the Northern Irishman signed off 2013 with a win Down Under in which he reeled in the world's in-form player, Adam Scott, over the closing 18 holes. So it's not as if he should be lacking for confidence. He also found a new responsive golf ball too, which marries up with his driver for "the best driver and ball combination I've ever had." You can view such media-speak as trying to placate Nike for 12 months of conspicuous underachievement but McIlroy's results have improved markedly since he made the switch before the 2013 USPGA.
As for Wee Mac's swing, it's getting back in the groove too after rediscovering the rhythm off which his natural game thrives. Both his boyhood coach, Michael Bannon, and his short-game mentor Dave Stockton converge in their opinion that their charge is at his best when his mind is uncluttered by thoughts and swing mechanics. It's a matter of feel, muscle memory and letting it flow straight from the tap.
Those pipes spring open again this Thursday in the Abu Dhabi desert for the HSBC Championship and it's unlikely McIlroy will have to change the barrel this term. He is now happily settled with his kit (Nike) and caboodle (Wozniacki, family, new management company) and goes off as 6.86/1 favourite for this week's big-bucks event.
And although his acrimonious departure and subsequent lawsuit with his former friends at Horizon casts a long shadow, it's worth remembering that McIlroy played some of his best golf when splitting from former agent Chubby Chandler two years ago after the Scot apparently referred to him as his retirement fund. 
Even though Chandler was probably unwise to be talking crude numbers, most would have been thinking the same. After all, numbers mean everything in golf. Except when it comes to age. Fortunately for McIlroy, he has plenty of time on his side. This could be the year he rescales the summit. 
Discover the latest articles