Golf Form Guide: Zach a solid bet at Colonial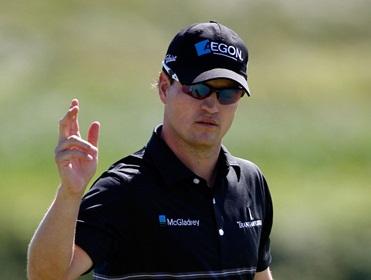 Zach Johnson has an excellent record at Colonial
Fresh from recommending another winner Mike Norman is back with his updated Form Guide, and it's a solid putter at Wentworth, and a Colonial expert that catch the eye.
Zach Johnson simply loves Colonial, recording a win, a top five, and a top 10 finish in each of his last three visits.

Another great week for the Form Guide was enjoyed on the European Tour last week but I can't help but rue the one that got away in America.
I'm talking of course about Jason Dufner, a man who I'd selected before his two previous outings and someone that I said was going to make, "huge strides in the game" after he'd won in New Orleans last month.
What's more, Dufner was high up on my Form Guide ratings last week and I'm still not sure why I overlooked him. A man in terrific form who had played well at the venue previously - the perfect requisite for a rock solid pre-tournament selection.
Not backing Dufner was definitely a mistake on my part so I'm thankful that Nicolas Colsaerts - selected pre-tournament at 18.017/1 - won the World Matchplay or I might have been staring intensely at cliff top edges all day Monday!
The main focus this week will be on the European Tour's flagship event - the PGA Championship - where a stellar field (barring the non-travelling Americans of course) has assembled, including the world's top three ranked players - Rory McIlroy (13.012/1), Luke Donald (9.28/1) and Lee Westwood (12.5).

European Tour - BMW PGA Championship
(Tournaments used: World Matchplay Championship, Madeira Islands Open, The Players Championship, Open de Espana, Ballantines Championship, China Open, Malaysian Open)

Luke Donald (2)... 30 (W 2011, T5 2010, T5 2008)
Ben Curtis (3)... 27.5 (T10 2009)
Nicolas Colsaerts (3)... 26
Marcus Fraser (2)... 15.5 (T5 2011)
Rafa Cabrera-Bello (2)... 15.5
Francesco Molinari (2)... 15
Victor Dubuisson (2)... 14
Soren Kjeldsen (1)... 14 (T5 2009, T10 2008)

*number in brackets after a player's name is the number of top-10 finishes achieved in last six weeks/tournaments on tour
**information after a player's points relates to wins (W), top-five (T5) and top-10 (T10) finishes in corresponding tournament in previous four years

Donald tops my ratings thanks largely to a very impressive Wentworth record in this event, but despite a win and some consistent performances this season I'm not convinced that his game is as 'reliable' as it was last year. At just 9.28/1 to back he's easily - perhaps foolishly - overlooked.
Other than Ben Curtis all my selection are rather big prices, but when you look at the recent winners of this event, having an outsider on your side isn't a bad idea at all.
Curtis of course has been in tremendous form on the PGA Tour, winning in Texas and finishing second at the Players Championship recently, so massive credit to him for coming over and playing in this tournament (as he did in 2009 when recording a top 10 finish). His confidence is sky high and I can see him plotting his way around Wentworth and holing some putts, so at 40.039/1 to back he has to be on the shortlist.
Of my other selections I like Marcus Fraser a lot. The Australian has three times finished in the top six this season and played really well here last year to finish fourth. At 100.099/1 he is worth a wager.
Soren Kjeldsen has also performed well at this venue in the past and has been in good form of late, whilst Rafa Cabrera-Bello and Victor Dubuisson have shown enough form in recent months to suggest they will be right at the front of the queue should another outsider prevail in this prestigious event.
Recommended Bets: Ben Curtis @ 40.039/1, Marcus Fraser @ 100.099/1, Rafa Cabrera Bello @ 80.079/1, Victor Dubuisson @ 150.0149/1, Soren Kjeldsen @ 70.069/1

PGA Tour - Crowne Plaza Invitational
(Tournaments used: Byron Nelson Championship, The Players Championship, Wells Fargo Championship, Zurich Classic, Texas Open, RBC Heritage)

Zach Johnson (2)... 31.5 (T5 2011, W 2010, T10 2009)
Jason Dufner (2)... 25
Matt Kuchar (1)... 14
Carl Pettersson (2)... 13
Bo Van Pelt (1)... 11.5 (T5 2011, T10 2010)

I wouldn't put anyone off backing the top three on my ratings as all look to have solid chances this week. I'm leaving two of them out however and instead I'm including Bo Van Pelt in my selections.
Zach Johnson simply loves Colonial, recording a win, a top five, and a top 10 finish in each of his last three visits. He is in good form too, finishing second in two of his last three events played on Tour. He's available to back at 19.018/1 currently but I suspect he'll be favourite come tee-off.
Van Pelt is a steady player who churns out top-10 finishes like there's no tomorrow. One day he will get his nose in front, and the fact that he recorded a top five finish here last year and a top 10 finish in 2010 is very encouraging to the hope that his turn will be this week.
Recommended Bets: Zach Johnson @ 19.018/1, Bo Van Pelt @ 34.033/1
Discover the latest articles