Golf Form Guide: Course form Points to DA at the Byron Nelson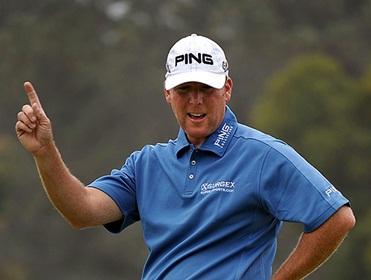 DA Points has some solid form at the Byron Nelson Championship
Mike Norman updates his weekly Form Guide and likes the look of a proven matchplay performer in Europe and a man with excellent course form on the PGA Tour.
Points was beaten in a play-off at the Wells Fargo Championship a fortnight ago, which is extremely encouraging given that he has finished seventh (2010) and third (2009) here in recent years.


The last two weeks on the PGA Tour have been highly enjoyable, but unfortunately for this column, far from profitable.
One of the most annoying aspects of golf betting is to back a player one week when you really fancy him, only for that player to perform much better the next week when you don't have a single penny on.
It happened to me in spectacular fashion last year when I tipped Darren Clarke to win the Scottish Open. He didn't win, but the following week he won the Open Championship at odds of around 360.0359/1. Ouch.
Two weeks ago I was very sweet on the chances of Kevin Na at the Wells Fargo Championship. He played pretty poorly if I'm being honest but last week at the Players Championship he was matched at 370.0369/1 to win, and was available to lay at just under 2.01/1 on Sunday night when he briefly held a three shot lead.
The moral of this story then is to never discount a golfer on one performance. I'm not suggesting you back the previous week's selections the following week all the time, but never write them off without a second thought (as I've been guilty of). After all, if you fancied them one week, they won't have become bad players overnight.

PGA Tour - Byron Nelson Championship
(Tournaments used: The Players Championship, Wells Fargo Championship, Zurich Classic, Texas Open, RBC Heritage, US Masters)

Matt Kuchar (2)... 24.5 (T10 2011)
Louis Oosthuizen (2)... 22
DA Points (1)... 14.5 (T10 2010, T5 2009)
Jason Day (1)... 13 (T5 2011, W 2010)
Jason Dufner (1)... 13 (T10 2011)
Carl Pettersson (2)... 13
Ryan Palmer (1)... 10.5 (T5 2011)
Brian Gay (1)... 9.5 (T5 2010)

*number in brackets after a player's name is the number of top-10 finishes achieved in last six weeks/tournaments on tour
**information after a player's points relates to wins (W), top-five (T5) and top-10 (T10) finishes in corresponding tournament in previous three years

My introduction to this week's Form Guide was basically a long-winded way of saying that I fancy Louis Oosthuizen again this week.
Prior to missing the cut (and he missed it by just one shot playing in the blustery conditions on Friday afternoon) at the Players Championship, Oosthuizen recorded seven consecutive top-20 finishes in completed strokeplay events, including a second at the Masters and a win on the European Tour in the last six weeks.
After being supported heavily prior to The Players the South African eventually started the tournament at around the 40.039/1 mark. He is available to back at 26.025/1 this week (from 30.029/1) in a much weaker field and has to be followed again.
I wouldn't put anyone off backing Matt Kuchar after his recent exploits but at just 15.014/1 to back he's not for me. Neither is Jason Day at 22.021/1, who despite having excellent course form in recent years is just not showing the same level of form this season as he did last season. In fact he's not even close to being the player he was in 2011.
Carl Pettersson - available to back at 32.031/1 - and DA Points (60.059/1) will complete my selections however. Pettersson remains in fine form, recording another top-10 for the season at Sawgrass last week, this coming a month after he won the RBC Heritage and finishing second at the Shell Houston Open.
Points was beaten in a play-off at the Wells Fargo Championship a fortnight ago, which is extremely encouraging given that he has finished seventh (2010) and third (2009) here in recent years.
Recommended Bets: Louis Oosthuizen @ 26.025/1, Carl Pettersson @ 32.031/1, DA Points @ 60.059/1

European Tour - World Match Play Championship
(Tournaments used: Madeira Islands Open, The Players Championship, Open de Espana, Ballantines Championship, China Open, Malaysian Open, US Masters)

Nicolas Colsaerts (2)... 16 (T5 2011)
Ian Poulter (1)... 12 (W 2011)
Branden Grace (1)... 11
Charl Schwartzel (1)... 10 (T5 2011)

As much as I like matchplay golf as a spectacle I'm not overly keen when it comes to betting on the format. I rarely get involved in individual matches but in terms of this week's outright Winner market I'm happy to have two fancied runners on my side.
Ian Poulter is a terrific match play competitor, is the defending champion here, and has been in good form on the PGA Tour of late, whereas Nicolas Colsaerts is one of the most 'in-form' players on the European Tour currently and finished an excellent third at this venue last year.
Recommended Bet: Nicolas Colsaerts @ 18.017/1, Ian Poulter @ 11.010/1
Discover the latest articles