Golf Betting 2015: Dave Tindall's new year wishlist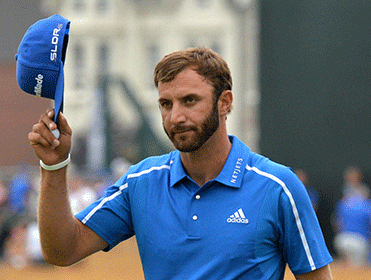 Dustin Johnson - set for big things in 2015?
Okay, both golf tours have already begun their 2015 seasons but for most of us it feels like it all gets properly under way this week. Dave Tindall is as excited as we are so here are his predictions for some of the big names and big events in 2015...
"Kuchar is still only 36 and still very much in the middle of his golden years, he plays a busy schedule and off weeks caused by sleeping with other players' wives or "poor lifestyle choices" simply aren't part of Kuchar's world. Give him some love at 28/1."
Phil Mickelson to win The Masters
Watching housewives' favourite Fred Couples contend year after year in some sort of weird golfing Groundhog Day reminds us that Augusta National is the ultimate venue for those who believe in horses-for-courses. However, while Couples still only has one Green Jacket, Phil Mickelson has three. And then, of course, there are the five other top threes and six further top 10s. The Californian is an absolute animal at The Masters and getting an each-way bet at 20/1 is phenomenal value - he's not been that price for years. Augusta loves a lefty (six of the last 12 have been won by southpaws) but forget Bubba Watson this year. He'll have too much on his plate fretting about what to serve for dinner. Mickelson, who finished third on his latest major start, is the man so enjoy the ride as he pulls off another Hollywood victory.

Dustin Johnson to win... everything!
Well, maybe not The Masters. That's Phil's bag this year and DJ doesn't seem able to fathom Augusta out anyway. But the new-look Dustin Johnson can be a huge challenger everywhere else. True, he's been a very naughty boy but the Tim Rosaforte article in Golf Digest was music to the ears of those hoping this prodigious talent can produce a comeback as stunning as Elvis' in 1968. The other three majors look right up his street this year. He was a promising T14 at St Andrews back in 2010 and has since shown his love of links golf by finishing second, ninth and 12th in three of the last four Opens. A US Open by the coast at new course Chambers Bay should also play into his hands while the US PGA returns to Whistling Straits where he suffered that infamous two-stroke penalty on the final hole when a shot clear playing the last in 2010. And don't stop there, back him at 40/1 each-way for the US Money List. A likely February return means he won't miss too much of the season and he's twice finished top five in this market before.

Matt Kuchar to win the US Money List
I struggle to back Matt Kuchar for any individual tournament. His price always looks too short and, when I do take the plunge, he finishes tied eighth and I view this rather lovely man as an annoying, grinning buffoon. It doesn't have to be that way though. Imagine a world where you take delight from a Kuchar T8. That world actually exists and it's called the US Money List. Kuchar actually won this in 2010 and his finishes since have been 6-11-3-9. See, all that high-class plodding adds up to some serious numbers. In addition, he's still only 36 and still very much in the middle of his golden years, he plays a busy schedule and off weeks caused by sleeping with other players' wives or "poor lifestyle choices" simply aren't part of Kuchar's world. Give him some love at 28/1. 

Martin Kaymer to win the Race To Dubai
Okay, Rory will probably win this in a canter but 6/5 is no fun. So, how about the juicy 28/1 about the back-to-form German who finished third, first and third in this market between 2009 and 2011. Kaymer's career took a dip after that but brilliant wins in last year's US Open and Players Championship reminded us that he is still one of the game's elite players. With just three payout places on offer we can't muck about trying to find someone outside the top 50 in the world who might finish a plucky fourth and fifth so the focus has to be on those who sit at golf's top table. Two of the four majors this year are at St Andrews and Whistling Straits - in 2010 he was T7 at the former and took victory at the latter - so expect big money returns in those weeks in what could prove a massive year for the German. 

Paul Casey to win The Open Championship
If you're going to win an Open, "this is the one" Stone Roses fan Casey (yes, really, he is!) would surely agree. Every player in the history of the game has wanted to lift the Claret Jug at St Andrews and Casey was in touching distance of that dream in 2010 when entering the final day in second place and going out in the final group. Louis Oosthuizen proved an unstoppable force on that occasion but it was further evidence that Casey could one day win an Open at The Home of Golf. The other big hints have come from his performances in the Alfred Dunhill Links (two of the four rounds are played over the Old Course) where his finishes include a third, a fifth, a sixth, an eighth and a 10th. A winner in the KLM Open in September, it's no investment in Fool's Gold to back Casey at 50/1.

Recommended Bets
" target="_blank">Phil Mickelson e.w. in US Masters at 21.020/1
Dustin Johnson e.w. in US Open at 34.033/1
Dustin Johnson e.w. in The Open Championship at 29.028/1
Dustin Johnson e.w. in US PGA Championship at 34.033/1
Dustin Johnson in PGA Tour Money List at 41.040/1
Matt Kuchar e.w. in PGA Tour Money List at 29.028/1
Martin Kaymer e.w. in Race To Dubai at 29.028/1
Paul Casey e.w. in The Open Championship at 51.050/1 

Discover the latest articles