Find Me a 100 Winner: Triple-figure outsider picks for the Hong Kong Open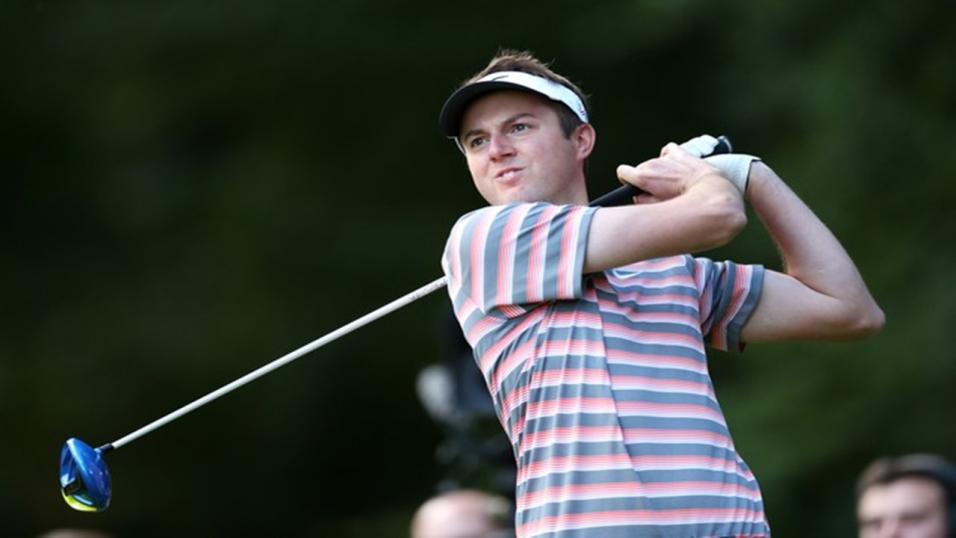 Ashley Chesters is well worth following in his second season
Paul Krishnamurty's weekly outsider-hunting column looks at the opening event of the new Race to Dubai. Check out his trio of triple-figure priced selections and some discarded alternative picks here...
"Ashley Chesters also ranks sixth for driving accuracy and 11th for greens in regulation - both of which are highly important around this tight layout."
As many a seasoned gambler may well agree, one of the most demoralising aspects of our pursuit is how the inevitable bad runs always seem to involve really frustrating near-misses! So you can imagine my reaction to Brian Gay - the player we've backed more than any other this term, and in two of the three previous events at massive odds - finishing third at Sea Island over the weekend, having traded down to 4.03/1. Hopefully some of you kept the faith - I didn't even have a saver.
Consequently, what once looked like being a great year may even end up in deficit. With just a few weeks left, our annual profit has diminished to just three units. Of course as Gay's example demonstrates, one good pick will turn it all around but it needs to arrive fast!
For me, the Hong Kong Open is a much likelier place to find that winner than this week's other main event. As explained in my preview, the Australian Open is usually dominated by a small number of world-class contenders and may well boil down to a match between Jordan Spieth and Jason Day. Nevertheless I shall mention the outsiders that came in for consideration there.
I've backed Travis Smyth each-way at 80/1 and he falls within our triple-figure price range. Win and place, however, makes much more sense than win only at 120.0119/1, given the strength of those favourites. 12 months ago I backed youngster Brett Coletta and, while he missed the cut, a subsequent sixth in the PGA and 25th at the Memorial confirmed his promise. Having hit two excellent rounds last week at the NSW Open, he's interesting at 130.0129/1, but again my advice is to focus on each-way or place markets instead.
In contrast, my shortlist for Hong Kong was very long. It isn't that this event is particularly primed for an outsiders - although we've seen two huge upsets in the last three renewals. Rather, the presence of so many world-class market leaders means dozens of likeable types at 99-1 or better. Here's my best trio, along with some discarded picks.

Back Ashley Chesters 2u @ 150.0149/1
Place order to lay 12u @ 15.014/1
Place order to lay 15u @ 5.04/1
After an impressive rookie season that never quite yielded the big cheques it often promised, expect further progress from Ashley Chesters in the new campaign. This will be his first Asian event and that is a slight worry, but he's had a month to prepare and I really think Fanling will play to the strengths of his accurate game.
As Steve Rawlings explains in his detailed tournament preview, par-four scoring is a key stat to follow here. Indeed I can't recall Tour Tips course compatibility ratings ever pointing so firmly towards it. Among this field over the past 12 months - and remember, this is a rookie - Chesters ranks fourth, only behind Fleetwood, Aphibarnrat and Suri.
He also ranks sixth for driving accuracy and 11th for greens in regulation - both of which are highly important around this tight layout. Ashley's problem last year was putting four good rounds together at once, but that is bound to happen soon.

Back Oliver Fisher 2u @ 240.0239/1
Place order to lay 10u @ 25.024/1
Place order to lay 15u @ 10.09/1
Once upon a time Oliver Fisher was regarded as one of the best British prospects and, whilst the Essex man has yet to fulfil his potential at the age of 29, it's too soon to write him off. He's got a decent Fanling record and has probably never arrived in better form, having registered top-12s on two of his last three starts.
Nine years ago he finished 11th here, blowing his chance with one three-over par round of 73. More recently, his last two appearances yielded top-25s, with six sub-70 rounds from eight. Setting this lay target at 25.024/1 doesn't feel too ambitious.

Back Chien-Yao Hung 2u @ 400.0399/1
Place order to lay 10u @ 50.049/1
Place order to lay 20u @ 8.07/1
Likewise, all we'll need to bank a profit from this rank outsider is get him matched at 50.049/1. A good first round, or even front-nine, could suffice. Given that he was placed seventh at halfway last year before ruining his chance with a third round 78, that seems perfectly plausible.
From Chinese Taipei, Hung's Asian Tour form is eyecatching. Three of his last six results were top-ten finishes, including fourth on his penultimate start in Macau and third at the strong Kings Cup. Moreover his accuracy and greens in regulation stats have been outstanding.
Finally, here's some of those discarded from the shortlist. Steve notes a correlation with two courses hosting high-class Euro events - Crans-sur-Sierre and Wentworth. Alejandro Canizares has several good results at both and at Fanling. If he had any good recent form, this two-time winner would have been a pick.
A number of characters just above 100.099/1 appeal, including my each-way pick Paul Peterson and former champion Greg Bourdy. And recent Indonesian Open winner Panuphol Pittayarat looks overpriced around 350.0349/1, given that excellent recent form and a couple of decent shows here as a youngster.
Discover the latest articles