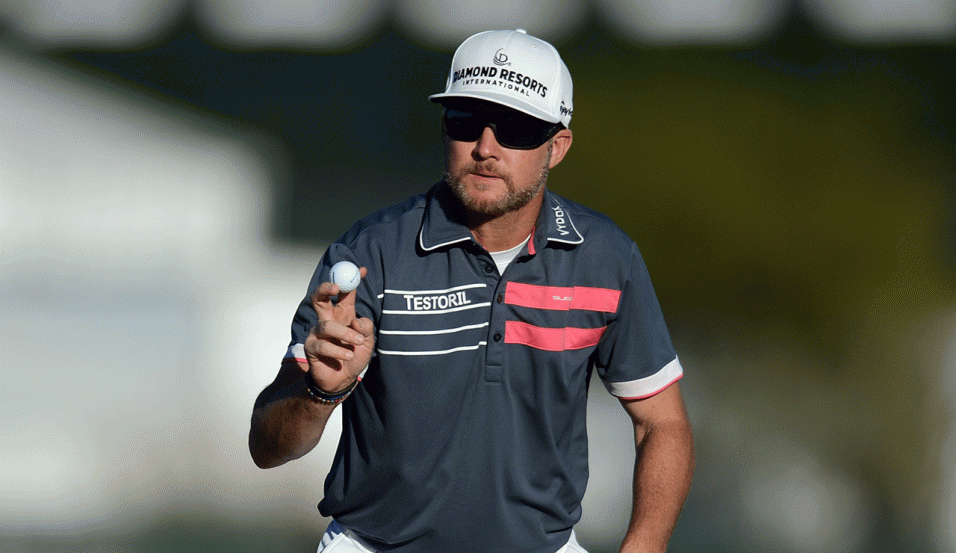 Brian Gay is a former champion at Hilton Head
Paul Krishnamurty has scoured both of this week's golf events in search as always for value bets at 99-1 or better. Here's his three picks and a handful of alternative outsiders to follow...
"Gay was sixth last year and won the event by miles in 2009. He's in good form this term too, finishing a respectable 22nd at Bay Hill last time after an earlier couple of top-nines."

Back Brian Gay @ [160.0]
This column's takeaway from that sensational Masters was to rue the classic Betfair golf trader's dilemma - do you bet each-way at enhanced place terms or take much enhanced win odds via the exchange? Had we chosen the former route, Cameron Smith's top-eight finish would have yielded a full 25-1 place. Instead, our win-only trade at [290.0] never even got close to the [30.0] lay target.
While that was obviously frustating, there is no 'right' way to play and that sort of luck probably evens itself out. Indeed, we returned 25 units from Smith reaching the World Match Play quarter-finals previously, where an each-way bet would have lost.
Whereas the Masters was impossibly stacked towards the favourites, that is much less likely to be the case in either of this week's events. Numerous outsiders came in for consideration in both the Open de Espana and RCB Heritage.
Pavon well-suited to ball-striking test
Back Matthieu Pavon 2u @ [120.0]
Place order to lay 15u @ [10.0]
First, a repeat of my each-way selection at 40 points bigger on the exchange. I'm surprised to see this excellent prospect up in our triple-figure range and suspect the test in Spain will be one of his best opportunities of the season.
Pavon won me over at last year's Scottish Open at Dundonald, shooting 69/66 over the weekend in strong winds. Whilst he'd shown promise and already contended a couple of times, that performance on a Scottish links showing it's teeth, against world-class company, suggested serious potential.
The ball-striking skills on display then - Pavon ranks sixth amongst this field over the past year for that key stat - look sure to offer a big advantage at Centro Nacional de Golf. As Steve Rawlings reports in his comprehensive tournament preview, this track is undulating and exposed to the wind, of which there is plenty forecast.
Among dozens of capable types at [100.0], three particularly warrant a mention. Given their records in this event James Morrison [150.0] and Max Kieffer [220.0] caught the eye. The latter is also an excellent ball-striker, as is Lorenzo Gagli [130.0]. The Italian ranks first for greens in regulation over the past year, and won a decent Challenge Tour event last time.
Follow these course specialists at the Heritage
There are very few events on the golfing calendar with clearer indicators than this annual fixture at Hilton Head. The Heritage is a tournament that has yielded many a multiple winner and course specialist. With power off the tee less important than accuracy and experience, it is a track where older players have a better chance than usual. Both picks are in their forties and have plenty of previous here.
Back Brian Gay 3u @ [160.0]
Place order to lay 10u @ [25.0]
Place order to lay 15u @ [8.0]
Readers may recall our trials and tribulations with Brian Gay last year. He earned us a profit overall and definitely justified the decision to back him on the small number of courses that aren't too long, but we missed out on the chance for big profits when third at Sea Island.
Interestingly Steve Rawlings notes a correlation between this track and nearby Sea Island, although we already know he likes this test. Gay was sixth last year and won the event by miles in 2009. He's in good form this term too, finishing a respectable 22nd at Bay Hill last time after an earlier couple of top-nines.

Back Rory Sabbatini 2u @ [230.0]
Place order to lay 10u @ [25.0]
Place order to lay 15u @ [8.0]
It has been a while, coinciding with a generally bad spell, but Sabbatini used to have a cracking record here, finishing no worse than 17th in five visits between 2009 and 2014. There have definitely been signs of life from the 42 year-old ever since he found a spark to make a late run to the FedEx Cup play-offs.
Merely the fact that Rory has made all nine cuts in 2018 - recording three top-20s including fifth at the Valspar - is significant. This famously erratic, inconsistent character hasn't managed that for a decade, perhaps suggesting a new determination. He ranks tenth for strokes gained around the green, which bodes particularly well for what is always a scrambling test.
My first reserve should either withdraw is also one of Steve's picks, Kevin Streelman [130.0]. Sean O'Hair is also on my radar at [210.0] after a couple of decent efforts. Finally Martin Kaymer [190.0] should be infinitely better suited to this than Augusta. I still have to blink when seeing such odds about this multiple major winner. He'll bounce back somewhere.
2018 Profit/Loss
-35 units
Recommended bets
Back Matthieu Pavon 2u @ [120.0]
Place order to lay 15u @ [10.0]
Back Brian Gay 3u @ [160.0]
Place order to lay 10u @ [25.0]
Place order to lay 15u @ [8.0]
Back Rory Sabbatini 2u @ [230.0]
Place order to lay 10u @ [25.0]
Place order to lay 15u @ [8.0]