DP World Tour Championship: Dave Tindall rates the top 10 for current and long-term form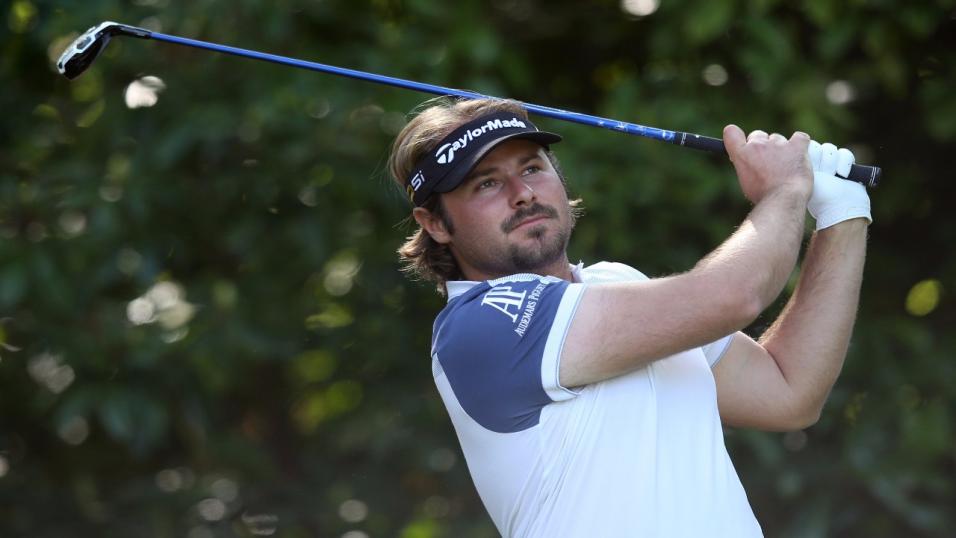 Victor Dubuisson can make the top five here again
Dave Tindall arms you with the stats that matter for a punt on the leading players in the Top 5 and Top 10 Finish markets ahead of this week's Race to Dubai finale at the Earth course...

"Dubuisson's last eight top 10 finishes show 3-3-4-4-3-9-4-1 so we're short-changing ourselves by not backing him for the top five."
Justin Rose
"It's a course that I really enjoy playing. It's a course that's good for me," says Rose, who is a two-time runner-up at the Earth Course and once shot a final-round 62. The secret? "It's probably good iron play to be honest. The fairways are generous enough where I think that most guys are going to be putting it in play off the tee, and I think it's a great second-shot golf course." After back-to-back wins in the WGC-HSBC Champions and Turkish Airlines, Rose has risen to second in the Race to Dubai and is 3.185/40 to reel in Tommy Fleetwood and finish as No. 1. He therefore has the course form, current form and incentive this week - a powerful combination.

Current form: 1-1-10-2
Course form: 22-2-10-2-50
UAE form: 22-12-2-10-2-2-50-2-56-77
Last 50 events - Win: 8% Top 5: 26%, Top 10: 42%
Jon Rahm
It's a first start here for Rahm but he thinks the test will be ideal for him. "It's a golf course I've looked at on TV many, many times. It really suits me, especially off the tee, because I can free-wheel it a little bit. I can get to the tee and hit it as hard as I can. Those extra yards are always an advantage, but on a course like this where position to the green is very important, it's a huge advantage." The newly-crowned European Tour Rookie of the Year can't win the Race to Dubai despite sitting fourth but he'll want a big finish after recent dips in his home Andalucia Valderrama Masters (MC) and T36 in the WGC-HSBC Champions.

Current form: 36-MC-15-7
Course form: Debut
UAE form: Debut
Last 50 events - Win: 5% Top 5: 32%, Top 10: 43%
Sergio Garcia
Sergio can still win the Race to Dubai if he takes victory this week, Rose finishes solo fourth or worse and Fleetwood ends outside the top 11. Don't put it past the Spaniard. His magical season started with victory in the Dubai Desert Classic back in January and he was the 36-hole leader in this event last year before fading. He does say this though: "I guess it's probably not one of my favourite golf courses that we play all year, so that probably doesn't help on my behalf. But it doesn't mean that I shouldn't be able to do well. Obviously I've had some good weeks here, but I haven't probably had weeks as well as I probably should have." Garcia won at Valderrama on his last start but also note that he's got some new Callaway equipment in the bag this week. "It's felt great. So I don't see any major changes. It's just a matter of seeing how it feels on the golf course during a tournament, and distance control."

Current form: 1-30-MC-10
Course form: 19-12-9-11-21-7
UAE form: 1-19-MC-12-19-17-9-12-11-20
Last 50 events - Win: 10% Top 5: 24%, Top 10: 34%
Branden Grace
"I think it is a long hitter's golf course. So if you can get it out there quite a long way and give yourself the opportunities then you should be able to score around this place. So definitely the guy who is going to be at the top this week is the guy that hits it a long way and can hit the fairways and make the odd putt." Grace is a modest 63rd in Driving Distance but he brings all sorts of other tools to the table and that's why his record at the Earth Course is impressive with three top 10's in five starts. He's also on a huge high after taking victory in last week's Nedbank Golf Challenge in his native South Africa. Will he ride the wave of that win or perhaps just bask in it a little and have a steadier week here?

Current form: 1-15-15-32
Course form: 27-3-9-52-6
UAE form: 13-27-5-3-55-20-9-MC-52-52
Last 50 events - Win: 4% Top 5: 10%, Top 10: 20%
Matt Fitzpatrick
Although hitting it big is seen as a major asset on this course, Fitzpatrick showed there is more than one way to skin a cat by taking victory last year (2nd Driving Accuracy, 1st Scrambling and, according to his own figures, gaining over 9 shots on the field with the putter). That said, he gave it a fair clip off the tee as well and the dry conditions meant he got plenty of run. Another explanation? "I think just the way that the golf course plays and the way the holes are shaped, I don't feel like it plays 7,700 yards. As for the current state of his golf, the Englishman has been ultra-consistent in recent weeks and says: "My game's trending nicely I feel. Sort of the last eight, nine weeks, been playing really solid and it would be nice to peak again this week."

Current form: 8-11-9-15
Course form: 1-4
UAE form: 5-MC-1-45-26-4-MC-MC-19
Last 50 events - Win: 6% Top 5: 12%, Top 10: 22%
Tyrrell Hatton
"I feel really comfortable on this golf course," says Hatton of this week's track and that it's a direct contrast to Gary Player Country Club where he admitted, "To be honest, I don't feel massively comfortable here." Still, T19 at last week's Nedbank Golf Challenge was a decent effort and represented a seventh straight top 20, two of which were wins (Alfred Dunhill Links Championship and Italian Open). Hatton loves this event and had a huge chance of winning last year before finishing runner-up and he's a huge fan of desert golf in general. In ten starts in the United Arab Emirates, he's cracked the top 10 six times. Two of his last three starts have resulted in top fives, the most recent a third place in the Dubai Desert Classic in early February.

Current form: 19-16-11-1
Course form: 2-13-6
UAE form: 3-13-2-8-46-13-55-6-6-MC
Last 50 events - Win: 6% Top 5: 22%, Top 10: 36%
Tommy Fleetwood
The long-time Race to Dubai leader is nearly there. Justin Rose and Sergio Garcia can still take it away from him so Fleetwood has to keep it going this week. Part of his stellar season included a victory here in the United Arab Emirates when he won the Abu Dhabi Championship in January while he also made the top 10 on this course for the first time last year. He also scraped into the top 10 in last week's Nedbank Golf Challenge when it looked as if it was getting away from him and he can look his nearest challenger, Rose, in the eye this week as the two are paired together on Thursday morning. His attitude is also positive. "I think to be in with a chance of winning The Race to Dubai, it's pretty special, really. It's not a burden. I don't feel stressed about it. I don't feel anxious. I just think it's great that I've got the chance to win it, and a good chance."

Current form: 10-23-20-6
Course form: 9-53-12-37
UAE form: MC-1-9-50-MC-53-47-MC-MC-12
Last 50 events - Win: 4% Top 5: 14%, Top 10: 30%
Charl Scwhartzel
Schwartzel was a decent T12 in his home Nedbank Golf Challenge on Sunday and that has to be seen as a positive rather than a slight disappointment. Last year when turning up at the DP World Tour Championship, he admitted: "This week and (Alfred) Dunhill is two of the weeks that really suit me well and I've played well before. Sun City, lovely week, but the course gets to me a little bit. But I'm happy to be here this week." The South African is definitely one of the course horses in the field and top five backers have been in clover as he's landed that bet in four of his last five visits. One obvious downside to consider is that he hasn't posted a top 10 anywhere in 12 starts since June.

Current form: 12-50-28-48
Course form: 3-4-47-3-5-21-53
UAE form: 3-4-9-47-3-17-5-8-21-38
Last 50 events - Win: 6% Top 5: 20%, Top 10: 28%
Francesco Molinari
Molinari is an ever-present in this event and has rewarded top five and top 10 backers in four of his previous eight appearances. In the last two, he's finished fourth both times, hitting over 80% of greens in regulation on each occasion. Stretch his record further back and the Italian has six top 10s, and four other finishes between 11th and 16th in 12 starts in the UAE. Usually as reliable as they come tee-to-green, he's been a little inconsistent in recent weeks and modest ball-striking stats meant he had to settle for one great round (65) and three poorish ones (73 and two 75s) when T27 in last week's Nedbank Golf Challenge.

Current form: 27-46-6-12
Course form: 4-4-16-13-34-6-6-30
UAE form: 4-4-16-13-13-MC-34-16-8-6
Last 50 events - Win: 2% Top 5: 14%, Top 10: 28%
Victor Dubuisson
If there's one thing we know about Dubuisson it's that he continually performs well on the same courses. Being comfortable mentally is hugely important to him and he always seems to be in a good place when he comes here. After a third top four finish at this course last year, he reflected: "It's just a course I like. It's long. You have to carry the ball long. It's target golf. Long game is very important, putting. I just like the way it sets up." Making the field here looked way beyond him a few weeks ago but a pair of top three finishes, the latest in South Africa on Sunday, ensured a return and there seems a strong chance the Frenchman can shine again at the Earth Course.

Current form: 3-35-3-WD
Course form: 4-13-2-3-36
UAE form: MC-4-MC-13-4-2-3-MC-MC-36
Last 50 events - Win: 2% Top 5: 14%, Top 10: 18%
Conclusion
When he's in his comfort zone, Victor Dubuisson is one of the best around; when he's not, he usually withdraws. We're obviously looking at the former this week and it makes sense to go for the jugular.
Dubuisson's last eight top 10 finishes show 3-3-4-4-3-9-4-1 so we're short-changing ourselves by not backing him for the top five. The 6.25/1 is definitely a play.
On first glance, I agreed with the market and rated others above Tommy Fleetwood but let's strip it down the the bare facts. He won in the UAE earlier this year, he's No.1 on the Race to Dubai, he was T9 at this course last year and came through the field to make the top 10 in South Africa last week.
Given all that, I think he's value at 6.25/1 to end the season with a bang and make the top five here.
Recommended Bets
Back Victor Dubuisson for Top 5 @ 6.411/2
Back Tommy Fleetwood for Top 5 @ 6.25/1
Dave's 2017 Top 5/10 P/L (based on £10 per selection)
Staked: £200
Returned: £103
P/L: -£97
Discover the latest articles