DP World Tour Championship 2016: Dave Tindall rates the top 10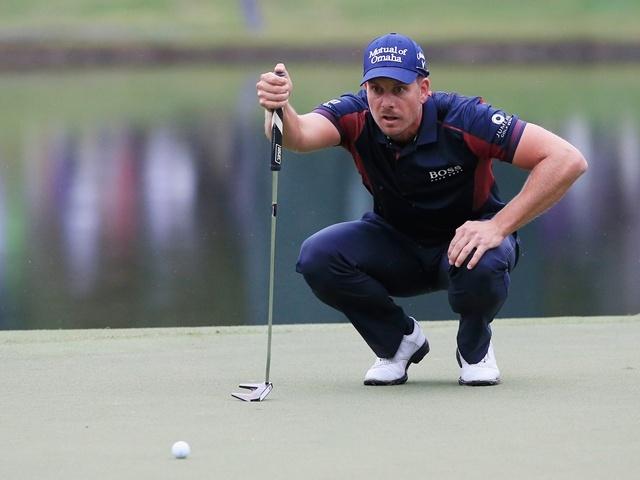 Two-time course winner Henrik Stenson can make the top five again
Dave Tindall arms you with the stats that matter for a punt on the Top 5 and Top 10 Finish markets in this week's Race to Dubai finale at the Earth course...

"Looking at his last 50 starts, Stenson makes a similar amount of top fives (40%) to top 10s (50%) so it's worth taking the bigger odds."
Rory McIlroy
"It's great to be back. Great memories from this place. Feel like my game is in pretty good shape. I've played this golf course pretty well in the past, and hopefully can play it just as well, if not better this week," said Rory in Tuesday's press conference. "I've been here for the last couple of weeks. I've done a bit of practice, enjoyed myself. Yes, mathematically I can win (the Race to Dubai), but it's not going to happen. I wouldn't hold my breath." However, that won't stop him wanting to win this trophy for a third time in five years. He's only been outside the top five once in seven starts at this event so it's hard to envisage anything but the usual big performance from Rory although the market knows that.

Current form: 4-1-42-1
Course form: 1-2-5-1-11-5-3
UAE form: 6-3-1-1-2-2-9-2-5-MC-1-5-2
Last 50 events - Win: 18% Top 5: 48%, Top 10: 62%
Henrik Stenson
"I felt like my swing had more moving parts than my Swiss watch," said Stenson at the Nedbank. "So I was fighting the long game this week, and I think I did pretty good despite that." Solo eighth when not at his best is clearly impressive. As for this event? "It's one of my favourite weeks of the year. I made Dubai my home for almost ten years. Coming back here, I feel like I'm coming home in a way, and that certainly helps. I like desert golf. Hitting a lot of fairways and greens, that's kind of my strong part of my game, and that's really paying off on a golf course like this one, and especially on Bermuda (greens), same when I won the TPC Sawgrass in 2009." Like Rory, he'll be chasing a hat-trick of wins at the Earth Course and, just as he did in 2013, he'll want to wrap up the Race to Dubai with a win here.

Current form: 8-2-41-WD
Course form: 59-1-1-7-24-23
UAE form: 6-3-59-13-MC-1-29-MC-1-26-23-7
Last 50 events - Win: 6% Top 5: 40%, Top 10: 50%
Alex Noren
You'd think Noren would be delighted with his game after making it four wins in 11 starts with a closing 63 at the Nedbank Golf Challenge on Sunday. But he's concerned he only has a fade going off the tee and has been trying to sort it with his coach. "I know around here (Earth Course), that the driver is key. Although these fairways are a little bit wider maybe than last week and some other weeks, you've got to hit it quite long to get the right shots into these tucked-away pins. And if it gets windy, I only have that fade working. Some holes are quite difficult." He's been more miss than hit in this tournament with three of his four finishes below halfway. Also note that his results immediately after those recent wins read: 46-34-37. It might appear brave but there are decent grounds to oppose him here.

Current form: 1-12-37-1
Course form: 38-39-37-6
UAE form: 50-35-38-2-37-30-32-39-MC-61
Last 50 events - Win: 10% Top 5: 18%, Top 10: 28%
Branden Grace
"I'm going to Dubai next week and then I'm getting married the week after which is nice. We're very excited for that," said Grace at the Nedbank where he ended a modest run of golf with T3. He also occupied that position at this venue last year. "I think it is a long hitter's golf course. So if you can get it out there quite a long way and give yourself the opportunities then you should be able to score around this place. So definitely the guy who is going to be at the top this week is the guy that hits it a long way and can hit the fairways and make the odd putt." The wins for McIlroy and Stenson over the last four years here suggest that's a fair assessment. Grace is 27th for Driving Distance (296.7) on the European Tour this year.

Current form: 3-30-33-34
Course form: 3-9-52-6
UAE form: 5-3-55-20-9-MC-52-52-5-6
Last 50 events - Win: 8% Top 5: 28%, Top 10: 38%
Andy Sullivan
"Brings back good memories. Obviously played Desert Classic well and last year, DP World. So it's nice to get back out here and see some friendly faces again," said Sullivan in Abu Dhabi at the start of the year. That was a reference to his epic duel with Rory in this event 12 months ago (Sullivan lost by a shot and was five clear of third) and another second place in Dubai two weeks before Abu Dhabi. He's now compiled three top four finishes in his last four starts in the United Arab Emirates and he also owns a pair of top threes in his last three European Tour events. Those converging trends suggest he's a definite candidate for a 'back'.

Current form: 3-25-2-41
Course form: 2-21
UAE form: 2-22-2-4-57-21-MC-19-12-68
Last 50 events - Win: 2% Top 5: 12%, Top 10: 18%
Sergio Garcia
Sergio hasn't made the top five in any event in the United Arab Emirates since 2006; that's a run of 16 tournaments. On a more positive note he's cracked the top 10 three times and had numerous decent finishes in that spell (13 of the 16 were actually top 20s). Overall, playing him in these markets has to be seen as an exercise in frustration if you're a backer but would you really want to lay him instead? His course form results are all bunched around 10th so he really is a borderline pick and therefore probably a 'no bet'. T9 at the WGC-HSBC Champions in China on his last start only adds to that opinion.

Current form: 9-17-47-24
Course form: 12-9-11-21-7
UAE form: MC-12-19-17-9-12-11-20-21-13
Last 50 events - Win: 4% Top 5: 24%, Top 10: 38%
Bernd Wiesberger
The Austrian has made the top 20 in his last two starts at the Earth Course and shot some good rounds but 72s in each of his four opening laps in the event have always slightly put him on the back foot. By contrast, he's been making some fast starts on the European Tour over the last few months and a first-round 66 in the Turkish Airlines Open helped him take T4 in the Final Series opener. Overall, Wiesberger has four top fives and a further top 10 from his last six starts so when you add that to three top 10s and three additional top 20s in his last seven starts in the United Arab Emirates, he looks a likely leaderboard presence.

Current form: 4-35-2-7
Course form: 17-16-34-42
UAE form: 16-26-17-4-6-16-9-MC-34-59
Last 50 events - Win: 2% Top 5: 14%, Top 10: 20%
Francesco Molinari
An ever-present in this event, the Italian arrives in excellent form. "I leave with a great taste and can't wait to get back on the course," said Molinari after a Sunday 61 on his most recent start (Las Vegas) rocketed him to T4. He also enjoyed his final round in this event last year, a hole-in-one helping him take fourth spot, improving on the pair of T6s he's previously posted at the Earth Course. These desert courses suit his fairways-and-greens game and in his 11 starts in the United Arab Emirates he can boast five top 10s and a further four top 20s.

Current form: 4-6-1-MC
Course form: 4-16-13-34-6-6-30
UAE form: 4-16-13-13-MC-34-16-8-6-8-6
Last 50 events - Win: 2% Top 5: 14%, Top 10: 28%
Louis Oosthuizen
"I'm very positive. I'm playing well, I feel like I'm rolling the ball nicely," said the South African in last week's home-soil Nedbank Golf Challenge were he eventually finished T9 after falling back from T2 with three holes to go. With top six finishes in three of the last five years at the Earth course, Oosthuizen is clearly a candidate for a 'back' in the top 10 market, especially after his impressive display last week (3rd on the All-Around, 6th in Greens In Regulation). An overall top five rate of just 12% in his last 50 events suggests it may not pay to aim any higher than that.

Current form: 9-45-53-17
Course form: 38-6-32-5-6-13-12
UAE form: MC-38-6-32-5-6-MC-13-44-5
Last 50 events - Win: 2% Top 5: 12%, Top 10: 30%
Thomas Pieters
Thomas revealed at the start of the year that he practises in Dubai so knows this part of the world more than you might expect for one so young. He's already thrived in the United Arab Emirates with a second (2016) and a fourth (2015) in the Abu Dhabi Golf Championship and he was going nicely on his debut in this event last year when opening with a pair of 69s to sit 13th at halfway before eventually dropping back to T22. His big hitting and smooth putting are ideal assets for this course so it's a venue where he should shine in the years to come. He hasn't had his best stuff since his brilliant display in the Ryder Cup but he could easily turn it on here.

Current form: 34-14-31-50
Course form: 22
UAE form: MC-2-22-42-4-MC
Last 50 events - Win: 6% Top 5: 16%, Top 10: 20%
Conclusion

Race to Dubai leader Henrik Stenson was jokily self-deprecating about his play in South Africa last week but he still took eighth place.

I expect an improvement this week as the Swede looks to end his memorable season on a high and therefore am happy to back him at around 5/4 to finish in the top five.

Looking at his last 50 starts, Stenson makes a similar amount of top fives (40%) to top 10s (50%) so it's worth taking the bigger odds.

In the same market, I'll have some 5.49/2 about Branden Grace.

The South African has his wedding to look forward to after this and is clearly in a good place following a top three on home soil last week.

Three times in the top 10 in four starts at the Earth Course, including T3 last year, he's got a bunch of great form in the desert (won the last two Qatar Masters, top five in Abu Dhabi this year).

I expect him to be prominent again and once more top five is the way to go given that he's hit that target 28% of the time in his last 50 starts.
Recommended Bets
Back Henrik Stenson for Top 5 @ 2.265/4
Back Branden Grace for Top 5 @ 5.49/2
Dave's 2016 P/L (based on £10 per selection)
Staked: £260
P/L: -£20.42
(After WGC-HSBC Champions)
Discover the latest articles