BMW PGA Championship: Dave Tindall rates the top 10 for course, current and England form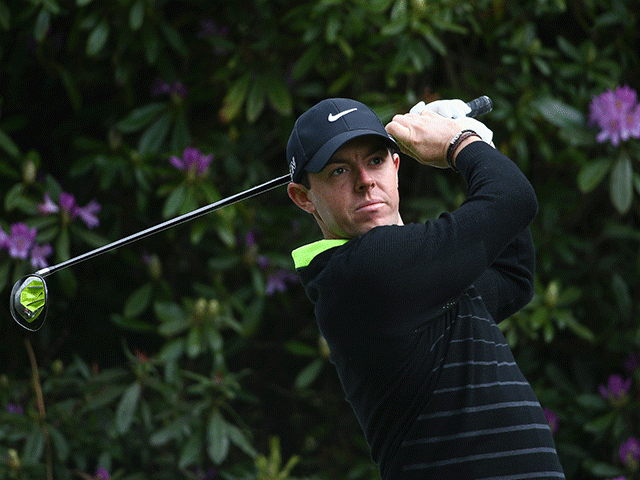 Will you oppose Rory at Wentworth this week?
Dave Tindall arms you with the stats that matter for a punt on the Top 5 and Top 10 Finish markets ahead of this week's European Tour showdown at Wentworth...
"With a US Open on the horizon and all his off-course activities (he did a full day with Nike in London on Monday after flying in from North Carolina), McIlroy's eye may just be slightly off the ball. And you don't need to be off by much to get caught out at Wentworth."
Rory McIlroy
"I think the style of golf that you need to play here is very similar to the style of golf you need to play around Sawgrass. You don't get to hit many drivers at Sawgrass. You have to position your ball in the right spots and just be patient and I feel I'm getting better at that." That was McIlroy speaking before last year's event and, of course, he went on to win after coming from seven behind on the final day. However, before that his form since the 2010 redesign was dreadful (two missed cuts and no top 20). Quail Hollow, where he won by seven shots last week, was right up his street; Wentworth, like Sawgrass, is not, as he has to reign himself in. So, although he can win anywhere, is Rory worth taking on at odds-on in the Top 5/10 markets?
Last four events: 1-8-1-4
Wentworth record: 1-MC-MC-24-48-5-MC
Form in England: 1-1-MC-60-MC-25-24-48
Last 50 starts - Win: 16%, Top 5: 36%, Top 10: 60%

Justin Rose
Rose used to come here as a boy and dream of one day lifting the trophy. "It's a bucket list tournament for me. It's a tournament I grew up watching as a kid so it's definitely special to me; the Majors, a World Golf Championships or two possibly, and I don't see a tournament I wouldn't more like to win. It's always a nice, hometown feel for me coming back here with friends and family."
He's come close twice, finishing runner-up in 2012 and 2007. Rose also admits there are "a lot of demands on my time during Wentworth week" so that might explain why he's had some poor results too. His latest form is also a bit feast or famine with a missed cut at Sawgrass and early Match Play exit following a second place at Augusta and a win at the Zurich Classic.
Last four events: MC-T17-1-2
Wentworth record: 25-50-2-MC-10-MC-2-11-32-MC
Form in England: 23-25-50-MC-2-44-MC-10-70-38
Last 50 starts - Win: 8%, Top 5: 30%, Top 10: 42%

Lee Westwood
"I've always played pretty well here. It feels like it suits my game," says Westwood of Wentworth. The perception is that he always shines in this event but that's not strictly true and a top 10 lay would have been successful seven times in the last 10 years. He usually comes here off the back of a big performance at Sawgrass but he missed the cut this year and, apart from his almost standard post-Masters win on the Asian Tour, his overall form is questionable.
Last four events: MC-T9-1-46
Wentworth record: 35-9-33-2-10-MC-WD-12-MC-2
Form in England: MC-35-9-45-33-MC-2-10-27-MC
Last 50 starts - Win: 6%, Top 5: 12%, Top 10: 22%

Luke Donald
Forget Rose and Westwood, Donald is the true course specialist here having racked up two wins, a second and two thirds in the last seven years. Take him on at your peril. If current form would suggest otherwise, it's worth noting that his two best performances this year have come on two other of his favourite venues. He was T7 at the Honda Classic where he can previously boast a win and a second and also T15 at Hilton Head last month, a course where he's had five top threes in the last seven years. He alluded to that in Tuesday's press conference. "Obviously coming back to a place where you play well always helps," said Donald. "The last few weeks and month or so, I've gotten in some really good, focused practise. I feel like I'm on the right path again."
Last four events: MC-15-MC-53
Wentworth record: 3-MC-1-1-2-35-3-7-25-18
Form in England: 64-3-MC-5-1-MC-1-2-35-3
Last 50 starts - Win: 2%, Top 5: 14%, Top 10: 22%

Francesco Molinari
This is a home game for Molinari, who lives in London, and perhaps getting used to the vagaries of the UK weather has helped him compile an excellent record in this event with top 10s in each of the last three years and a T17 in 2010. All those results have come since the big Ernie Els redesign and the course is a good fit for his tee-to-green game. "Great to be in Wentworth for the @BMWPGA, can't wait for one of the best weeks of the year to start!" he tweeted on Monday. After a wrist concern, Molinari appeared to show no ill effects when taking second place in Spain last week so everything looks in place for a good week.
Last four events: 2-T17-57-WD
Wentworth record: 7-9-7-50-17-35-MC-30-MC
Form in England: T13-15-7-9-39-7-MC-50-17-MC
Last 50 starts - Win: 0%, Top 5: 8%, Top 10: 18%

Jamie Donaldson
The Welshman has been a bit hit-and-miss this season after basing himself on the PGA Tour but said "that's as well as I've played in a while" after finishing T8 at Sawgrass last time. He added: "Looking for a big summer at home. I've been here for four months with the family, which has been awesome, but looking forward to getting back, having a week off at home, catching up with friends and kicking off in Europe again." He's a consistent cut-maker at Wentworth - he's not had the weekend off since 2006 - and made the top 10 in 2005 and 2011.
Last four events: 8-T17-MC-33
Wentworth record: 30-37-53-7-34-32-53-MC-8-40
Form in England: T13-MC-30-37-60-53-7-34-32-32
Last 50 starts - Win: 2%, Top 5: 16%, Top 10: 32%

Martin Kaymer
He's had six top 20s but the German has never registered a top 10 in 14 starts on English soil. Nevertheless, he said in Tuesday's press conference: "Even though it's not my home country, it is where I feel the most comfortable. I'm really excited about the next few weeks and months, because I know things will fall into place sooner or later, and when you practise hard, it's almost unavoidable to have success." That steely confidence is what makes Kaymer a slightly nervous lay even if the stats and his current form suggest otherwise.
Last four events: 56-T17-MC-MC
Wentworth record: 12-50-15-31-MC-11-16-30
Form in England: 70-12-50-MC-15-12-31-MC-13-11
Last 50 starts - Win: 4%, Top 5: 10%, Top 10: 20%

Branden Grace
"I enjoy this type of golf course. You have to hit it in the fairways and take the opportunities when they come, and stay patient." This was actually Grace talking about Sawgrass but it's interesting to note that he enjoys the same challenge that Wentworth presents. He immediately took to this venue when tied fifth on debut in 2012 although that was the year he won four times (he arrived at the West Course with three of them in the bag). Like many of the fancied contenders he's spent the past few months on the PGA Tour and he's steadily improved a previously dreadful record Stateside, most notably with a T7 at Hilton Head.
Last four events: 42-T9-7-MC
Wentworth record: 61-24-5
Form in England: 36-61-24-77-5-MC-18-21-MC
Last 50 starts - Win: 6%, Top 5: 8%, Top 10: 16%

Danny Willett
After the high of a third place against the elite of golf at the WGC-Cadillac Match Play, Willett will want to keep the ball rolling in front of his home English fans. The Yorkshireman cracked the top five here on debut in 2010 after opening with a 65 but hasn't hit those same heights since, despite making his last three cuts at Wentworth. He's finished in the top 10 in 33% of his tournaments since last year's US Open so could be worth a look at another as he's over 7/2. The field is much deeper this week but Willett says Wentworth suits his eye.
Last four events: MC-3-38-MC
Wentworth record: 63-32-43-MC-5
Form in England: MC-63-32-43-MC-MC-5-MC-MC
Last 50 starts - Win: 2%, Top 5: 16%, Top 10: 24%

Shane Lowry
"I love this place. I love it around here. Everything I enjoy about it," said Lowry last year. And he so nearly went home with the trophy before being pipped into second spot by the fast-finishing Rory McIlroy. That followed a T12 in 2013 and a T4 in 2011 so he boasts one of the best recent course records in the field. Lowry also loves the month of May as it was just over six years ago that he famously won the Irish Open as an amateur. He's struggling for recent form but it was a similar case last year and if he's suddenly going to click, this is a very likely stage.
Last four events: MC-T17-MC-58
Wentworth record: 2-12-68-4-65
Form in England: T9-9-2-12-68-4-65-MC
Last 50 starts - Win: 0%, Top 5: 12%, Top 10: 22%

Conclusion
This could look daft but, on a course nowhere near as suitable as many others, I think laying Rory in the Top Five finish market at 4/5 is a worthy play.
Yes, his form is hot but Jordan Spieth could do no wrong for a while before missing the cut at Sawgrass so dips happen.
Rory's long-term Top 5 record (36% over his last 50 events) supports a lay at odds-on, as does his Top 5 record here (20% in last five Wentworth starts).
With a US Open on the horizon and all his off-course activities (he did a full day with Nike in London on Monday after flying in from North Carolina), McIlroy's eye may just be slightly off the ball. And you don't need to be off by much to get caught out at Wentworth.
I'm tempted by lays of Justin Rose and Lee Westwood for top 10s at 2.427/5 and 4.216/5 respectively but will instead have a back of Shane Lowry in the same market.
He loves the course, loves playing in England - "the crowds are very knowledgeable, it's great to play here" - and thrives at this time of year.
Filtering his results to purely European Tour events, he's had seven top 10s in his last 15 starts (also a 12th, 13th and 16th), beginning with his second place in this event last year. Back him at 4.77/2 for another.

Recommended Bets
Lay Rory McIlroy for Top 5 @ 1.84/5
Back Shane Lowry for Top 10 @ 4.77/2
Dave's 2015 P/L on Top 5/10s (based on £10 per selection)
Staked: £220
Returned: £283.9
P/L: +£63.9

Discover the latest articles