Australian PGA Championship: Scott stands out but is just too short to consider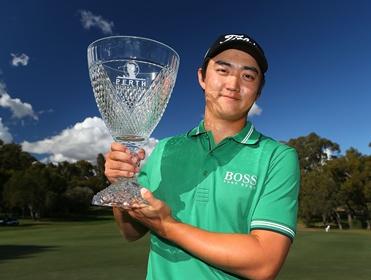 Jin Jeong is tipped to further his growing reputation
The Australian Triple Crown begins this week with the PGA Championship. Masters champion Adam Scott is all the rage but, given his very short odds, Paul Krishnamurty reckons better value lies further down the list...
"Jeong showed his Perth win was no fluke with an excellent top-20 in last week's HSBC Champions Trophy, again putting really well. He had a fine amateur career and looked a top prospect when finishing 14th in the 2010 Open Championship."

After more than a decade of relentless profits, there must be a worry that the wheels have started to come off my tried and trusted annual Aussie golf strategy. For the benefit of new readers, the golden rule is simply to restrict calculations in top Australian tournaments to the relatively small number of players with some proven form on the bigger tours, particularly the European and PGA Tours, although the Web.com Tour also applies to some extent. 
That process of elimination had yielded virtually every Australian triple-crown winner this century and the vast majority of top-ten places. We have now, however, had two [1000.0] upsets in succession. First Daniel Popovic pulled off one of the greatest golfing shocks ever seen at last year's PGA. A failure to register more than one top-50 finish since confirms that no case could have been made for him. Then Jin Jeong won the recent Perth International at the same odds, although in fairness, while the Korean's recent numbers were diabolical, he did previously hold a very promising reputation and had been tipped on these pages before.
There is a good chance that the run of unlikely winners will continue this week, not least because very few players meet the 'international class' criteria, in what must be the weakest PGA renewal to date. Market leader Adam Scott and to a lesser extent second favourite Rickie Fowler are from a different golfing universe to the rest, yet neither are certain to show their best form. Scott Hend comes into the argument on some excellent recent form on the Asian Tour, but hasn't even made a top-ten in his homeland for over a decade. Next best Richard Green failed to secure his European Tour card. The rest are basically Australasian Tour regulars, including a handful of occasional Web.com Tour contenders.
Furthermore, this may be the easiest course in triple crown history and the general rule is that, the easier the layout, the greater chance of an upset as anyone can have a hot week with the putter. Royal Pines will be the PGA venue for the foreseeable future and when the revamp is completed, it will doubtless present a tough test. Apart from some minor changes, however, this is basically the same easy, resort course that hosts the Ladies Masters every year and yields winning totals of up to -26. Tournament organisers promise that the rough is up and it will be tougher than expected but there's no way this will be the sort of test we've become used to in triple crown events. 
For obvious reasons, everything revolves around Masters champion and red-hot favourite Scott on this return to his home state. However you'll struggle to make money over the long-term backing [4.0] chances in golf tournaments, even if it's hard to argue with that price. This will be Adam's first start since the Tour Championship and, while he may be the man to beat in majors, his record in lesser events and on home soil is ordinary. There will be no end of extra pressure and media commitments on this rare home appearance, so I'll be surprised if he doesn't at least trade bigger at some stage in-running.
The only other two with world-class form are Rickie Fowler and Marc Leishman, though again neither represents a wholly reliable proposition. Fowler drove and putted terribly last week while Leishman was poor on his latest start a fortnight ago in Malaysia. Tournament specialist Peter Senior remains ultra-consistent on the Champions Tour, but will enjoy this putting contest far less than the long game test of past PGAs at Coolum. 
Under the circumstances, it may be worth backing the man in form. Jeong showed his Perth win was no fluke with an excellent top-20 in last week's HSBC Champions Trophy, again putting really well. He had a fine amateur career and looked a top prospect when finishing 14th in the 2010 Open Championship.
I also like James Nitties, an occasional contender in the States who usually features in the big Aussie events. Nitties was 12th at Perth after characteristically starting well, and third in another Australian event in October. Currently available at [42.0] and [48.0] respectively, my plan is to back the pair then place lay orders on both at [8.0] for double the combined stake. See the details listed below.
As always in this part of the world, the best betting options lie in the top-ten market. While I expect the nature of this course will throw up a few unlikely contenders, the lack of strength in depth should ensure a fairly predictable top-ten. My plan is to back five Australasians, all of whom are pretty consistent at this level and available at bigger odds than seems appropriate, due to the class at the top of the leaderboard. 
In addition to Nitties, Scott Laycock, Gareth Paddison, Nick Cullen and David Bransdon all register regular top-tens on the Australasian Tour. The class at the top of the leaderboard has inflated their odds and I'll be very surprised if none make the top-ten. If just one of them does, the combined stake will be more than covered while two would ensure a decent overall profit.
Recommended bets
Back Jin Jeong 4u @ [42.0]
Back James Nitties 4u @ [48.0]
Place order to lay both players 16u @ [8.0]
Top-ten finish
Back James Nitties 4u @ [5.0]
Back Nick Cullen 4u @ [5.0]
Back Scott Laycock 3u @ [6.5]
Back Gareth Paddison 3u @ [6.5]
Back David Bransdon 2.5u @ [8.0]