The Players Championship 2016: Sergio to shine again at Sawgrass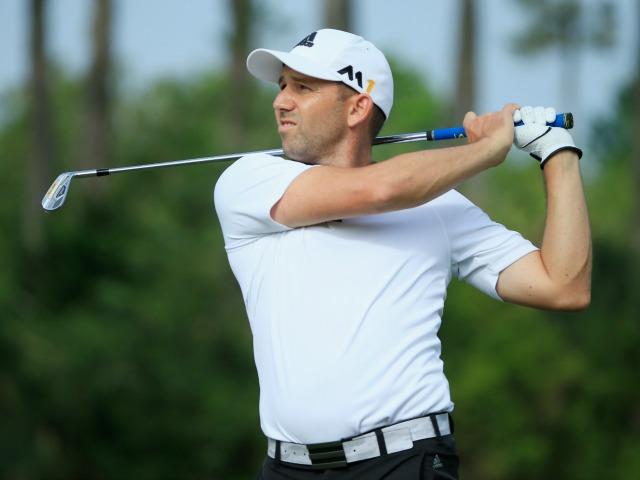 Sergio Garcia has a superb record at Sawgrass
Dave Tindall arms you with the stats that matter for a punt on the Top 5 and Top 10 Finish markets ahead of The Players Championship at Sawgrass...
"Along with McIlroy, Garcia is the only player to have made the top 10 in each of the last three years here. Unlike Rory, though, Sergio has won this event (2008) and made the top five on four other occasions (2002, 2007, 2014 and 2015)."
Rory McIlroy
After initially not getting on with Sawgrass, McIlroy has made the top 10 for the last three years although all those finishes were outside the top five. No doubt, the place still gets to him though and after finishing last year he said: "Yeah, leaving frustrated again. It's just that sort of course. If your game's off just a little bit in any department, it really magnifies that during this week." There's certainly an argument that if he couldn't win at Quail Hollow (scene of two wins, a 61 and a 62) last week then he won't win here but, equally, on the back of his T4 at the Wells Fargo, recent results both here and this season says he's a justified top 10 back at odds-against.

Last four events: 4-10-4-27
Course form: 8-6-8-MC-MC
Florida form: 27-3-MC-8-11-9-MC-6-25-2
Last 50 starts - Win: 16%, Top 5: 40%, Top 10: 62%

Jordan Spieth
Spieth surfaces for the first time since his shock Masters collapse and it doesn't help that he missed the cut here last year after shooting 75-72. However, he was tied for the 54-hole lead at The Players Championship on debut in 2014 and played his opening three rounds without a bogey which is, quite frankly, astonishing. Eventually finishing runner-up to Martin Kaymer, Spieth said of the tournament on his return last year: "It's really cool and on such an incredible golf course, one of the best in the world, one of my favourite in the world." It certainly looks his sort of course, perhaps more than McIlroy's, so instinct says back not lay.
Last four events: 2-13-9-18
Course form: MC-4
Florida form: 18-17-MC-1-17-4-20-34-7
Last 50 starts - Win: 14%, Top 5: 38%, Top 10: 52%

Jason Day
Day went 11 tournaments without a top 10 in Florida between 2012 and this year's WGC-Cadillac Championship and this column made money by laying him any time he teed it up in the Sunshine State. Thankfully, I didn't oppose him at Bay Hill in March as he put his Florida demons to rest by winning the Arnold Palmer Invitational. At Sawgrass he's missed more cuts than he's made but there is a sixth place there in 2011. He gave one explanation for the struggles in Tuesday's press conference. "There's a few three-woods out there for me that I have to hit, and if there's one club in the bag that's uncomfortable for me at times, it's the three-wood. That's why I might be hitting a few more two-irons off the tee this week." He arrives on the back of a top five at the Zurich Classic.
Last four events: 5-23-10-1
Course form: MC-19-MC-6-MC
Florida form: 1-23-MC-17-31-19-45-43-33-MC
Last 50 starts - Win: 18%, Top 5: 38%, Top 10: 50%

Rickie Fowler
First, the bad news. No champion has ever defended the title at Sawgrass and, most relevant to this preview, none of the 10 previous winners even finished in the top 10 the following year. Given his feast or famine form in this event (four MCs, a win and a second), it would be no surprise if Fowler extends the streak. The good news is that he tops the Tour's All-Around ranking this year which bodes well for the multi-faceted challenge of Sawgrass and he's cracked the top 10 in each of his last three starts in Florida. He couldn't convert a 54-hole lead at Quail Hollow last week but still made the top five.
Last four events: 4-20-MC-10
Course form: 1-MC-MC-2-MC-MC
Florida form: 8-6-1-29-12-41-MC-MC-44-24
Last 50 starts - Win: 8%, Top 5: 28%, Top 10: 46%

Hideki Matsuyama
After eight Florida starts and no top 10s, Matsuyama ended the sequence with a sixth place at Bay Hill in March. In this event, he's shown promise with T23 and T17 and just one over par round in eight laps of Sawgrass. Like most, he finds it tough though. "It's a very difficult golf course. The key, for me anyway, is to keep the tee shots in the fairway and then score well on the back nine. If you don't hit the fairway with your tee shot, you just got to put it on the green somewhere and hope to make par." He's 5th in Strokes Gained: Tee-To-Green this year and played well on the weekend to finish T11 at Quail Hollow but the putter looks cold which is a concern for top 5/10 backers.
Last four events: 11-7-18-6
Course form: 17-23
Florida form: 6-35-WD-17-21-23-23-34-WD
Last 50 starts - Win: 4%, Top 5: 20%, Top 10: 32%

Adam Scott
Having won this tournament on just his third visit in 2004, it's a surprise that his supreme ball-striking hasn't brought him further success at Sawgrass. You have to go back to 2007 to find his last top 10 and he's had just two top 20s in the last eight visits. Perhaps he's just more aware of the trouble now having played it a lot. "It's just a demanding golf course, it's a very hard to get around here bogey-free and the rough is challenging and when you're in it, it's just a little unpredictable," he reflected last year. That said, Scott won back-to-back in Florida (Honda, WGC-Cadillac) earlier this season so has to be given plenty of respect.
Last four events: 17-42-28-12
Course form: 38-38-19-15-MC-26-MC-54-6-53
Florida form: 12-1-1-38-35-MC-4-38-3-25
Last 50 starts - Win: 6%, Top 5: 32%, Top 10: 48%

Justin Rose
He's had some great results in Florida (now his base), including a WGC win and strikes the ball beautifully from tee to green and yet Sawgrass is a puzzle that Rose just hasn't been able to solve. A missed cut last year was his sixth halfway exit in 12 attempts and the only ray of light/top 20 is a fourth place in 2014. "This golf course has never been good to me, to be honest with you. It's been a bit of a personal challenge over the years to try and figure it out," he said two years ago. Rose has three top 10s in his last four strokeplay starts, including third at Quail Hollow last week, but it's a big leap of faith to trust him at this venue.
Last four events: 3-MC-10-28
Course form: MC-4-MC-51-45-MC-22-MC-MC-MC
Florida form: 9-17-MC-MC-55-MC-4-MC-8-34
Last 50 starts - Win: 8%, Top 5: 30%, Top 10: 42%

Henrik Stenson
Stenson was a brilliant winner at Sawgrass in 2009 and was also 3rd in 2006, 5th in 2013 and 10th in 2008. Forget his missed cut at Quail Hollow last week (his fourth MC there in five years) as he's a huge fan of this venue. "It's a course I love playing. I've always said it's been one of my favourites since I came here in '06 the first time. It suits my eye, suits my game. It just suits my game off the tee. I mean, I like to hit my three-wood a lot, and that club just matches perfectly around here." Backing him blindly in Florida for top 10s would have produced a success rate of over 50% since 2013 (7 out of 13) and that includes third place at the Arnold Palmer Invitational in March. Definitely one to be with this week.
Last four events: MC-24-2-3
Course form: 17-34-5-15-MC-MC-1-10-23-3
Florida form: 3-11-28-17-2-4-4-34-5-16
Last 50 starts - Win: 2%, Top 5: 40%, Top 10: 48%

Sergio Garcia
Along with McIlroy, Garcia is the only player to have made the top 10 in each of the last three years here. Unlike Rory, though, Sergio has won this event (2008) and made the top five on four other occasions (2002, 2007, 2014 and 2015). Three of those were second places, including a play-off loss last year, while his tally of 16 rounds in the 60s over the last 10 years is the best in the field by five. "It kind of reminds me a little bit of Valderrama," he said 12 months ago. "It's small greens; if you hit a good shot you're always going to have a birdie putt. It's one of my favourite courses on Tour." Talking of Valderrama, Garcia was third there in the Open de Espana on his last start so all looks in place for the Spaniard to shine again at a venue where he consistently thrives.
Last four events: 3-34-MC-18
Course form: 2-3-8-56-12-47-22-1-2-14
Florida form: 11-2-2-31-31-3-16-8-8-WD
Last 50 starts - Win: 2%, Top 5: 26%, Top 10: 36%

Dustin Johnson
DJ is a very obvious lay this week although you'll have to put him up at a big number as everyone knows it. In seven starts, he's managed nothing better than T34 in 2010 and it wasn't until 2014 that he managed a round in the 60s. That's poor but nothing is certain in golf and surely he will have one good year. On current form, this could be that year as he's recorded three top fours in his last four strokeplay starts, the latest coming at Augusta National. DJ's take on his poor record: "I don't know. I feel comfortable around here. I like the golf course a lot, but it's tough, it's always windy, it plays difficult. I think the greens are tricky. I think putting is a big deal here." One final point, Johnson has posted 25 top 10s in his last 50 starts. Only McIlroy and Spieth can better that 50% strike-rate.
Last four events: 4-3-5-14
Course form: 69-59-WD-57-34-MC-MC
Florida form: 14-69-1-MC-59-4-WD-12-46-35-57
Last 50 starts - Win: 4%, Top 5: 32%, Top 10: 50%

Conclusion
The two most consistent Sawgrass players at backable prices this week are obvious - Sergio Garcia and Henrik Stenson.
Five of Sergio's top 10s here were actually top 5s so there's scope to be aggressive. It's also worth noting that in his last 50 starts, there is little difference between Stenson's top 5 record (40%) and his top 10 strike-rate (48%) so again it encourages us to play the bigger price.
The pair are both available in the top 5 market at 8.415/2 and 7.87/1 respectively so let's get stuck in as a handsome profit awaits.
However, given that they're also 4.3100/30 (Garcia) and 4.216/5 (Stenson) for a top 10, I'll split stakes between the two markets (Top 5 and Top 10).
That means a top 10 from either will lock in a profit for the week while we also cash in further if one (or both) really gets in the mix and cracks the top five.

Recommended Bets
Back Sergio Garcia for Top 5 @ 8.415/2
Back Sergio Garcia for Top 10 @ 4.3100/30
Back Henrik Stenson for Top 5 @ 7.87/1
Back Henrik Stenson for Top 10 @ 4.216/5
Dave's 2016 P/L (based on £10 per selection)
Staked: £120
P/L: +£33.50
(After The Masters)
Discover the latest articles