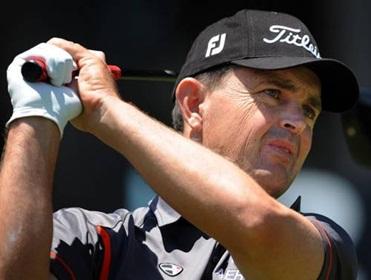 Greg Chalmers is usually a very reliable pick in his Aussie homeland
The Race to Dubai heads to Australia for a new event this week, offering our resident insomniac Paul Krishnamurty an extra chance to employ one of his favourite annual betting strategies.
"These Aussie events are played on courses that accentuate the difference between the best and the rest. The combination of firm, fast greens and exposure to wind really sorts out men from boys."

With the first group teeing off at 11pm UK time and live coverage starting from 6.30am, it's a safe bet that most European Tour followers will be paying less attention to this week's Race to Dubai event than usual. For those who don't mind adopting unsociable sleeping patterns, however, the inaugural Perth International presents an excellent betting opportunity.
Regular readers of this column will know how much I love this time of year, when the world's leading golfers travel to the less competitive tours. The Australasian Tour is a particular favourite, as it offers some of the most solid angles to be found in any form of sports betting. See for instance how my confident strategy yielded dividends last year.
The principle angle concerns the fact that these Aussie events are played on courses that accentuate the difference between the best and the rest. The combination of firm, fast greens and exposure to wind really sorts out men from boys and usually results in separation on the leaderboard. These tests are all about ball-striking and scrambling skills, magnifying any weaknesses in a player's game. Barely any outsiders ever make the top-ten in Australia, let alone challenge for titles.
Consider the 'triple-crown' that forms the heart of the Aussie season. In 36 renewals of the Australian Open, PGA and Masters this century, only two outsiders have won. They were hardly off the scale shocks either, as 2010 PGA winner Peter Senior was a long-term course specialist and 2002 Open champion Stephen Allan was playing his home course. Both fulfilled the 'golden rule' to follow on this tour - restrict calculations to players with some decent form to their name in either Europe or the US.
Everything about this week's Lake Karrinyup venue suggests business as usual. This course last hosted the 2002 and 2003 Johnnie Walker Classics, both of which produced highly predictable outcomes. At a time when they were part of golf's 'big-five', Ernie Els and Retief Goosen dominated those two events, winning by ten and eight shots respectively.
I'm expecting something similar, as these market leaders look miles ahead of the rest. In fact, because many of the usual Aussie suspects are still engaged in the PGA Tour's Fall Series, competition is even less fierce than in triple-crown events. Whereas normally there would be 15 or so serious contenders, barely more than half a dozen make any appeal here.
World number 10 Jason Dufner is easily the highest ranked player on show, with Bo Van Pelt, Charl Schwartzel and Greg Chalmers the only other representatives from the world's top-100. Of the rest, very few Europeans have any pedigree for this sort of test and most of the Aussies simply aren't good enough.
Given that Dufner was outstanding last time at the Ryder Cup, the American looks a rock-solid favourite. Notably, Dufner has already shown a liking for Aussie golf, long before his rapid recent rise, when finishing third in the 2009 JBWere Masters. [6.8] may seem like a skinny price, but considering there is hardly any decent opposition, it rates much better value compared to the approximate [25.0] that we'd see about him in a high-class PGA Tour affair.
A further useful angle lies in the location. Perth is famous for it's afternoon wind, known as the 'Fremantle Doctor', so late starters could find themselves well back after day one. For that reason, I'm prepared to take on Van Pelt, whose poor win ratio was always likely to be a deterrant in any case. Schwartzel and Chalmers, however, have nice tee-times and warrant inclusion in the staking plan. Schwartzel is a more tentative pick than Dufner as he hasn't enjoyed a great year, but was in good nick at last week's Turkish Airlines World Golf Final.
As for Chalmers, while he would rate inferior on the PGA Tour, the left-hander is rarely out of contention in his homeland. Greg did this column a favour when winning two of last year's triple-crown events, which sparked a more consistent than usual in the States this term. At [4.1] for a top-five finish and [2.1] for a top-ten, these place bets represent the best value of the week.
Outright

Back Jason Dufner 6u @ [6.8]
Back Charl Schwartzel 4u @ [7.8]
Back Greg Chalmers 2u @ [14.0]
Top-five finish
Top-ten finish