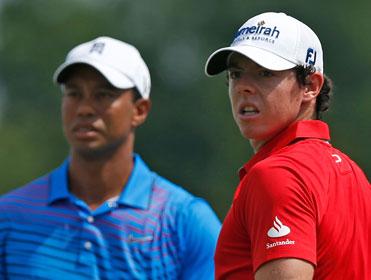 In all probability, one of these men will probably land the $10m cheque on Sunday afternoon
Romilly Evans looks at the PGA Tour's much-maligned Playoffs, where he expects Rory McIlroy to succumb to Tiger Woods in the final analysis
"Only this quintet have their destiny in their own hands. Win the Tour Championship and they win the Fedex Cup."
Ever since Vijay Singh turned the Fedex Cup's scoring system into a farce in its inaugural year by wrapping up the $10m jackpot before the Tour Championship had even begun, the PGA Tour Playoffs have had their knockers. But it's easy to criticise. And fun too. The simple truth is that knock-out championship playoffs should be the province of team sports, not individual ones. Especially in golf, a fickle game with an inconvenient truth: the best players lose more often than they win.
Of course, therein also lies its any-given-Sunday appeal: apparent also-rans can still pass the post first. That certainly happened last year when the Fedex leader Webb Simpson, like an intrepid mountaineer scaling some unknown peak, walked off the map to allow Bill Haas in from the cold. Haas, only 25th in the standings before the finale at East Lake, was an undeserving winner. Sure, his victory was exciting, predicated on a miracle up-and-down from the water to edge out Hunter Mahan. However, that was excitement fashioned from winning a close tournament. Not from lifting the Fedex Cup.
And the trouble is, even Haas agreed. "Webb played the best golf throughout the series. I honestly had no idea I'd won the Fedex. I was just happy to win the tournament." The candid Haas was subsequently schooled in the dark arts of sponsor-speak by PGA promoters, who soon realised that classing the Fedex as an unconsidered sideshow was not the ideal path to renewable sponsorship contracts.
Indeed, this lack of awareness among both players and fans has proved an unfortunate theme throughout the playoffs, where the deck of the top 120 golfers has now been cut down to 30. Charlie Hoffman, who made a seemingly clutch 8-footer to qualify for the penultimate BMW Championship, seemed positively apathetic.
"Really? I had no clue. Thought I'd probably blown it round the turn," drawled the Californian from behind his Thor-like locks.
And all this is despite constant TV graphics from broadcasters reminding us of the do-or-die two-footers that could move Chris Kirk from 71st to 70th in the standings. Kirk endured more plot twists than Jack Bauer. Small wonder the writers of "24" have hung up their quills.
Accepting all of the above, the Fedex Cup Playoffs do have their uses. They bring the best golfers in the world together at a time when most would probably be dragging the kids round Disney World. This year, it finally looks like the Cup will get its fitting finale, with three of the best players of all-time housed inside the all-important top five of the rankings. Tiger Woods, Rory McIlroy and Phil Mickelson are joined in this elite group by Nick Watney and Brandt Snedeker. Only this quintet have their destiny in their own hands. Win the Tour Championship and they win the Fedex Cup. Simple as that.
So let's have a look at them...
1. Rory McIlroy ([2.48] to back)- has hit a purple patch since taking his second major, dominating the Playoffs with two wins and outscoring Tiger head-to-head. He's a logical favourite but I still have my doubts over his capacity to continually close. On an unfamiliar course where more seasoned campaigners should have an advantage, this is one week where I'll be opposing him at cramped quotes for both tournament and Cup.
2. Tiger Woods ([4.7] to back) - In a year of sustained recovery but no former dominance, Woods has still recorded three wins at challenging venues. Ever since the PGA, though, he has come up short against McIlroy and this is his last chance to salvage Player of The Year honours. Expect his experience and course know-how to prove telling against Wee Mac.
3. Nick Watney ([36.0] to back) - The nearly man of the US Ryder Cup team, who found his winning stride too late. Watney has always had the big game to take down golf's top prizes and perhaps it's just a matter of time. He has unlocked his best putting stroke again and looks the best value option. Would still claim the Cup with second place, assuming none of the Big Five wins.
4. Phil Mickelson ([13.5] to back) - FIGJAM (Flip I'm Good Just Ask Me) has a marked tendency to prove his talent when most are doubting it. At the PGA, Phil had just one top-10 since May and was in danger of falling outside the automatic Ryder Cup spots. Cue a tied fourth at the Deutsche Bank and a tied second at the BMW. He has hit form at the right time and loves East Lake, where he has stuffed Tiger on more than one occasion.
5. Brandt Snedeker ([26.0] to back) - Reminds me of a young Brad Faxon and is surely the purest roller of the ball with the flatstick. His putting has taken him inside the world's top 20 but no further. His ball-striking has its limitations - he looked like an amateur alongside Adam Scott in round three of the Open - and will hit the buffers this week on a testing track.
While all 30 players have a mathematical shot at one of sport's biggest purses, probability theory strongly suggests you should only concentrate on this top five.