The Punter's In-Play Blog: Thorbjorn shoots clear at St Andrews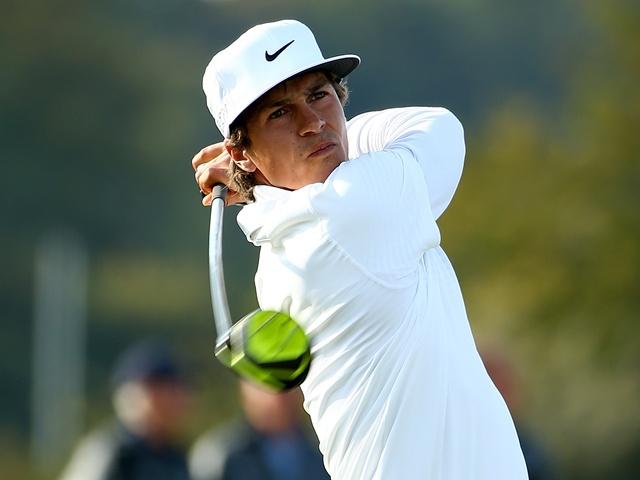 Thorbjorn Olesen – three clear at St Andrews
Thorbjorn Olesen is three clear of the field and trading at odds against but is that a value price? Steve's looked at all the relevant stats to answer the question so read our man's final in-running thoughts for the week here...

"The last man to take a three-stroke lead into the final round of a European Tour event was Oliver Wilson, in this tournament 12 months ago. Wilson was the 75th player to lead by three on the European Tour since 1996 and when he went on to win by a stroke he became the 51st player to convert – a return of 68%."
09.10 - October 4, 2015
Thorbjorn Olesen birdied three of the last four holes at St Andrews yesterday to register a seven-under-par 65 and to shoot three clear of the field at the Alfred Dunhill Links Championship. Here's the third round leaderboard with prices to back at 09:00.

Thorbjorn Olesen -17 2.021/1
Florian Fritisch -14 11.521/2
Benjamin Herbert -13 21.020/1
Kiradech Aphibarnrat -12 20.019/1
Chris Stroud -12 29.028/1
Bradley Dredge -12 36.035/1
Joakim Lagergren -12 46.045/1
Branden Grace -11 17.016/1
Brooks Koepka -11 23.022/1
Jamie Donaldson -11 32.031/1
Ernie Els -11 50.049/1
Graeme Storm -11 70.069/1
-10 and 65.064/1 Bar

The last man to take a three-stroke lead into the final round of a European Tour event was Oliver Wilson, in this tournament 12 months ago. Wilson was the 75th player to lead by three on the European Tour since 1996 and when he went on to win by a stroke he became the 51st player to convert - a return of 68%.
Michael Hoey, in 2011, and Nick Dougherty, four years earlier, also won this event having led by three at this stage and Brand Grace won having led by four in 2012. The only player to lose a lead of three or more here is Kenneth Ferrie who shot 77 in round four ten years ago to let in Colin Montgomerie, having led by five with a round to go.
Olesen has led by three strokes three times and he's successfully converted twice, winning the Sicilian Open in 2012 and the Perth International last October. With his two closest pursuers both looking to open their European Tour accounts, having both began the event as huge outsiders, all things considered, Olesen is certainly not too short at around even money and I've had to force myself to take a profit...
Having backed Olesen after round one at 50.049/1, it makes sense to lay him back now to cover stakes and a tiny bit more but it wasn't easy doing so. The European Tour stats since 1996, Olesen's in-contention record and the record of clear leaders at the event previously all suggest that the Dane should be odds-on.
If Olesen does flop, I'd love to think pre-event pick, Kiradech Aphibarnrat, might profit but the big dangers look to be lurking on -11 and backers of Branden Grace, Brooks Koepka and even Jamie Donaldson won't have given up on their charges yet.
I'll be back tomorrow with my De-brief.

08:50 - October 3, 2015
Playing in his first ever event as a professional, young Englishman, Jimmy Mullen, has backed up his opening 64 at Kingsbarns with a perfectly respectable three-under-par 69 at St Andrews to share the lead with Anthony Wall, one of Paul Krishnamurty's two Find Me A 100 Winner picks, but quite how long they'll stay in front is debatable. Here's the current leaderboard with prices to back at 08:45.

Anthony Wall -11 22.021/1
Jimmy Mullen -11 36.035/1
Jamie Donaldson -10 6.611/2
Thorbjorn Olesen -10 12.5
Chris Stroud -10 16.5
Paul Dunne -10 32.031/1
Garth Mulroy -9 85.084/1
Martin Kaymer -8 8.415/2
Alejandro Canizares -8 15.014/1
Bradley Dredge -8 50.049/1
Benjamin Herbert -8 150.0149/1
Nathan Holman -8 230.0229/1
Branden Grace -7 12.5
Graeme McDowell -7 28.027/1
Marc Warren -7 34.033/1
-7 and 42.041/1 Bar

The front two play Carnoustie today and given that's the hardest of the three venues, I can see them getting passed by a few. Alejandro Canizares, who sits tied eighth and three off the lead, is the only player in the top-21 that plays Kingsbarns but 11 of the top-21 play St Andrews and I expect some of those to be dominating proceedings this evening.
David Howell, who was tied for 20th and six strokes off the lead two years ago, is the only winner in the last 10 years to sit outside the top-four at halfway so we probably shouldn't be scanning too far down the leaderboard. Welshman, Jamie Donaldson, PGA Tour player, Chris Stroud, and in-running pick, Thorbjorn Olesen, sit alongside Paul Dunne in a tie for third and those three all play St Andrews today.
They could be the three to concentrate on if the stats can be taken seriously and I'm happy to stick with Olesen for now.
Donaldson is the current favourite, and rightly so, but he's never been especially resolute in-contention and I never get him right. And Stroud is also easy to overlook given he's now 33 and that he's never won.
Martin Kaymer was matched at just 3.814/5 yesterday before finishing his second round tardily but he still only trails by three strokes and he looks a reasonable price at around 9.08/1. I'm tempted to get the German onside but after much deliberation I'm going to wait for the stagger to unwind completely and take another look tomorrow.

10:30 - October 2, 2015
Day one of the Alfred Dunhill Championship wasn't a day I'll cherish with fondness. As expected, the live coverage included far too many amateurs for my liking, the European Tour's website failed miserably to keep the scores up to date, as it does most weeks, and my five picks were all a disappointment.
I'd prepared myself to be largely bored by the coverage and I only half watched, determined not to be irritated by it, and to a large extent that worked. Preparing for lots of shots that have absolutely no bearing on the result is the way to go here - it never really warms up until Sunday - but I couldn't help but get irritated by the insufferable leaderboard. I have no idea why the European Tour's website seems incapable of having a fully functioning leaderboard but it's not an uncommon occurrence. And when it did eventually update it was never with any good news!
The best of my five after day one is my each-way fancy, Tyrell Hatton, who shot three-under-par around St Andrews, despite double-bogeying the 18th, but still having Carnoustie to play, he already looks too far back.
The leaderboard is dominated by players that played Kingsbarns on day one although those that trail the early pacesetters, Jimmy Mullen, Paul Dunne and Kristoffer Broberg by four strokes that played Carnoustie yesterday, including pre-event favourite, Martin Kaymer, are right in it. To give an indication of how the three courses vary in terms of difficulty, listed below are the scoring averages for round one.

Carnoustie - 72.45
St Andrews - 71.89
Kingsbarns - 70.07

With the wind up slightly first thing today but due to drop mid-morning, Broberg, who played St Andrews yesterday and who will play Carnoustie today (tee-off at 11:01), looks to be in a nice position and that's great news for followers of Paul Krishnamurty's Find Me A 100 Winner column. The Swede has already met the first lay back target and Paul's only other pick, Anthony Wall, has also started well. He's one of three men tied for fourth, one off the lead on seven-under-par. Not a bad start!
History tells us that a fast start here is important. Only two of the 14 winners to date have trailed by more than four strokes after round one and three of the last five winners were leading or tied for the lead after round one. At the prices available, I'm not mad keen on any of the leaders if the truth be told but at 21.020/1, the Irish Open winner, Soren Kjeldsen, who sits alongside Wall in a tie for fourth, looks a decent price, so I've backed him this morning and I've also played two others at bigger prices, albeit very modestly.
Having already gotten Carnoustie out of the way, I quite like the look of Thorbjorn Olesen and classy American, Scott Piercy, at 50.049/1 and 65.064/1 respectively. Both play Kingsbarns today and both start a bit later this morning, so may miss the worst of the weather.
I know I'm going to get frustrated by the coverage again and I'll be surprised if the leaderboard can hold out all day but I'm going to try and enjoy today, even if my picks fail to shine again. It's a relaxed event with some quality players and it's one I'm determined to enjoy whatever the outcome.
Although watching a legend like Ernie Els putt like this, that may not be easy!

Pre-Event Selections:
Tommy Fleetwood @ 60.059/1
Eddie Pepperell @ 60.059/1
Tyrell Hatton @ 120.0119/1
Kiradech Aphibarnrat @ 160.0159/1
Roope Kakko @ 200.0199/1

In-Play Picks:
Soren Kjeldsen @ 21.020/1
Thorbjorn Olesen @ 50.049/1
Scott Piercy @ 65.064/1
Thorbjorn Olesen layed @ 2.021/1

*You can follow me on Twitter @SteveThePunter
Discover the latest articles