Scottish Open: A win would help Lefty move on from his US Open disgrace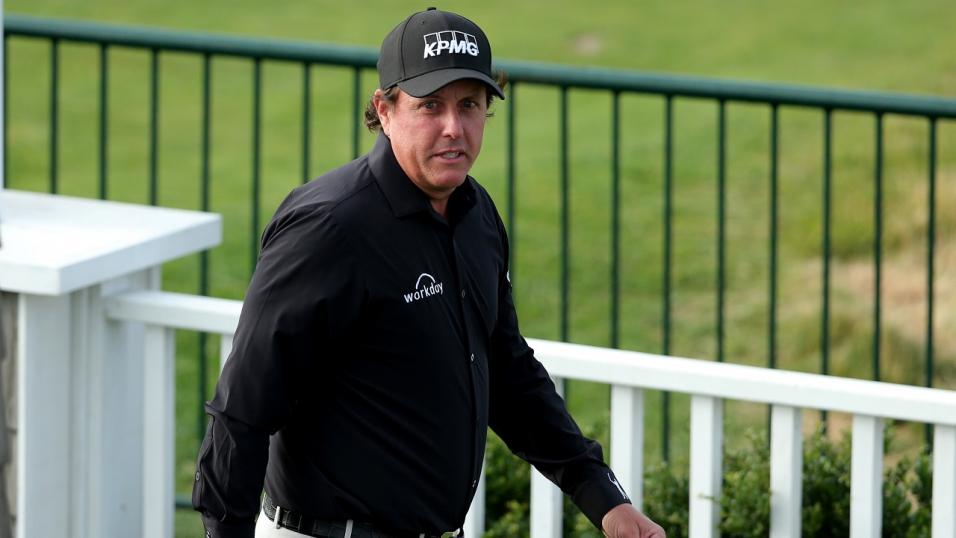 Under pressure - Phil Mickelson wants to move on from his US Open outrage
Phil Mickelson caused outrage at the US Open with his blatant cheating. Ralph Ellis says his search for redemption makes him one to watch at Gullane.
"If he is given a hard time by the reporters at Gullane this week it will only serve to fire him up a bit. Mickelson at 29.028/1 or 3.711/4 a top 10 finish represents great value."
Back in 2011 when The Open was at Royal St George's in Sandwich I was assigned the job of following Phil Mickelson and 20-year-old amateur Tom Lewis.
They were starting Saturday a couple of shots off the lead and my sports editor quite rightly saw it as a classic battle between the wily old veteran and the new kid on the block.
It was blowing a gale that felt more like a hurricane and lashing with rain as they both reached the first tee. Lewis, looking full of nerves alongside one of the greats of the game, went to shake hands with his playing partner - Mickelson pretty much blanked him.
And for five holes, while the wind howled and the rain continued pouring down, he continued to ignore the youngster and make life as uncomfortable as he could.
By the sixth, old Lefty was still in contention (he ultimately finished runner-up to Darren Clarke that year), while Lewis had dropped shots all over the place.
An edge behind his polished image
And then suddenly there was a change. Uncle Phil arrived, giving the kid tips on where to put his clubs to keep them dry, how to handle the tough conditions, laughing with him to put him at ease. Lewis was no longer a threat, you see, and so Mickelson was happy to help.
I sort of admired the stance at the time, the conduct of a steely competitor. But it also told me that Mickelson had a nasty little edge behind his carefully polished image.
So when he came up with that outrageous bit of cheating at the US Open last month, deliberately hitting a moving ball to get away with a two-shot penalty instead of endless putts from behind a bunker, I can't say I was surprised. It seemed pretty much in character with what I'd watched that day in Kent.
Unrepentant at the time, he sort of apologised with a few texts to a few chosen American golf writers a few days later. But when he made his return to playing last week at the Greenbrier Classic he wouldn't take any more questions about it, giving it the classic politician's "It's time to move on" answer.
Just to add to the story, he assessed himself a two-shot penalty on the final day after treading down some fescue grass that was ahead of his ball on the seventh tee.
Justin Rose is favourite
He's unlikely to be let off quite so easily this week if he faces the media at The Scottish Open - and he certainly won't be allowed to "move on" when it's his turn to talk at Carnoustie before The Open, either.
I suspect, though, that if he is given a hard time by the reporters at Gullane this week it will only serve to fire him up a bit and I think he could be a dangerous outsider. What better way to turn the agenda back to the quality of his golf than to start winning again?
Justin Rose 11.010/1 and Rickie Fowler 11.521/2 are the two big favourites in the Winners market for a tournament that has grown in status as a warm-up before the stars contest the Claret Jug.
But Mickelson at 29.028/1 or 3.711/4 a top 10 finish represents great value, especially now that Tommy Fleetwood and Henrik Stenson have both withdrawn from the field.
An Open winner at Muirfield in 2013 and runner-up at Royal Troon in 2016, Mickelson has proved he can play links golf and if he's got something bring out his steely side in what would otherwise be a warm-up event he's capable of hitting his very best. Just don't, if he it gets tight, think it might be fun to play alongside him.
Discover the latest articles
Read past articles