Challenge Tour Graduate Report: Matt Cooper runs through the card of the new boys on tour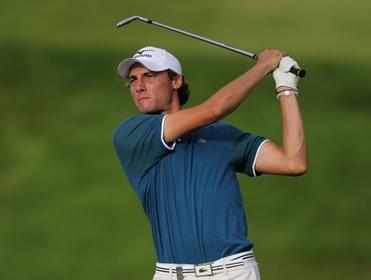 Benjamin Hebert is back on the European Tour
Matt Cooper was at Al Badia GC for the Dubai Festival City Grand Final, the conclusion to the 2014 Challenge Tour season...
Benjamin Hebert, France

"For a second time he graduates with three seasonal wins, but this time he has renewed determination to do himself justice on the European Tour, because the two and a half seasons he's spent there so far have been a poor reflection of his potential."

After watching the 15 players earn promotion to the European Tour he sat down to consider their chances next year and, because many of the graduates will be new to punters, highlight a few thoughts. Where have they thrived in the past? Which courses are they looking forward to playing? What are their strengths and weaknesses?

1. Andrew Johnston, England
The 25-year-old previously graduated in 2011 only to endure a tough debut on the main tour. He admits it was a steep learning curve, but he also acknowledges that in two European Tour starts earlier this year he felt far more comfortable because of that (also the consequence of a pre-season programme of range and fitness work). Don't let the big smile fool you - Johnston's a good guy, but he's also serious about his game and his team are too. A fine driver of the ball, he's looking forward to playing Wentworth and Le Golf National, and is also keen on a return to Palais Royal in Morocco and, longer term, Hilversum in Holland, two courses he felt at home on in 2011.

2. Benjamin Hebert, France
For a second time he graduates with three seasonal wins, but this time he has renewed determination to do himself justice on the European Tour, because the two and a half seasons he's spent there so far have been a poor reflection of his potential. It was notable in the Grand Final that he moved the ball left-to-right and also right-to-left from the tee (when he wanted to, of course; not accidentally; that would be less worthy of note). Also maybe worth remembering that he has a strong record at Geneve (1st and 2nd) which, like Al Badia, scene of his Grand Final win, is a Robert Trent Jones Sr design. (See also - Oliver Farr notes)

3. Byeong-hun An, Korea
The youngest winner of the US Amateur in 2009 (aged 17), he went on to play Bay Hill, Augusta, Harbour Town, Colonial, Muirfield Village, Pebble Beach, Aronimink, Loch Lomond and St Andrews as his first nine starts on the PGA and European tours (on amateur invites) in 2010. i.e. probably the best golf trip ever. It's taken him three years to graduate from this level, but he does so with a first win under his belt. Says he prefers a tough week to a birdie-fest, considers long irons to be the best part of his game at the moment and, having qualified for the Open via Sunningdale qualifying, a course that fitted his eye, is looking forward to a return to Surrey for the BMW PGA Championship. Based at Lake Nona in Orlando.

4. Moritz Lampert, Germany
The good news for the 22-year-old is that he posted three wins this year to earn Battlefield Promotion. The bad news: he's only made five cuts in his 30 European Tour starts. The stats suggest that on the main tour he simply hasn't hit enough greens. If he can fix the cause take note because when given a sniff of victory on the Challenge Tour he has responded with final rounds of 65, 63 and 66 to claim those three wins.

5. Mark Tullo, Chile
This season confirmed what is already known: consistent, solid and good in wind.

6. Sam Hutsby, England
The 2009 Walker Cup competitor is a bit of a range rat and when you ask people for thoughts "solid all-round game" is what comes back time and time again. He has a superb record in Spain, initially as an amateur and subsequently as a professional. In the long term, be ready if and when the Open de Espana returns to PGA Catalunya because he's twice been runner-up there at Q School. His win in Kazakhstan was on the Palmer designed Zhailjau whch conforms to Arnie's principles of favouring aggressive driving and having contoured greens (when the tour first visited the course the putting surfaces had to be modified they were so slopey).

7. Jordi Garcia Pinto, Spain
Another with links to PGA Catalunya (he's from nearby Girona) and another with form on RTJ Sr layouts (three of his nine career top tens have come on them). Can also consider himself a little unfortunate this year because he won the St Omer Open (which used to be a co-sanctioned event), was second in NH Collections Open (the new co-sanctioned event) and was one shot outside the play-off in Madeira (the other co-sanctioned tournament). He did eventually get his card, though, and a hunch says he might go well in Joburg.

8. Jason Palmer, England
Destined to be seen on television a fair bit thanks to the now famous one-armed chipping, but don't think of him as one-dimensional. Anything but, not least because his excitement and enthusiasm is infectious. Quirky swing, low ball flight, hits a lot of greens (which might frustrate the galleries waiting for his chipping!). A winner at European Tour venue Diamond GC in Austria during his Alps Tour days. It's a big ask to take on the main tour with one hand, but he'll win a lot of support trying.

9. Mike Lorenzo Vera, France
The 29-year-old is a bit of a nutcase, but winningly so, and he makes a popular return to the main tour. He's had a tough time since his first crack at it, but would appear to be happier and back on track. Has a strong record in China on both the main and Challenge Tour, but before then worth remembering that he has twice finished top 10 at Leopard Creek. There's a history of Challenge Tour grads cropping up in the Dunhill and he will arrive flush with confidence. If you like his chances he's the type of guy to back for the first round lead.

10. Oliver Farr, Wales
The 2013 Europro Tour winner gave himself three years to graduate from the Challenge Tour - and promptly did it in one. Claimed victory on the shortish, tight National GC in Turkey and played very well in Dubai on another layout that, as winner Hebert stressed, called for a bit of brains from the tee. It may have looked open, but Hebert pointed out that shaping the ball and leaving a full shot into the greens was essential. Fans of (nonsense?) trends might like to note that in the last six years the player ranked 10th has always retained his ET card the following year - no other ranking has a 100% record.

11. Edouard Espana, France
In stark contrast the player ranked 11th has the worst record in the same period - not one of them has retained his card. If Espana breaks the run he will almost certainly do it as a consequence of remarkable consistency, something that typified not only on his first Challenge Tour season, but his graduation from the Alps Tour in 2013. A winner at Club de Campo in Madrid on the latter, a European Tour venue every now and again.

12. Florian Fritsch, Germany
The 29-year-old doesn't fly so will almost certainly miss the first 13 events of the season so whatever you do, don't back him to win the Race to Dubai. Graduates as the leader of the scoring averages and by quite a margin too (0.41), a testimony - he says - to a new found range of skills, maturity and - paradoxically some will argue - simply coming to terms with his situation. He's up against retaining his card, but his limited options will almost certainly bother him less than other people. Won plenty on the third tier EPD Tour in Germany and keen to step up a level.

13. Jerome Lando Casanova, France
A bit of a mystery man but, like Farr, his best efforts of the year were in Turkey and Dubai. It all points to the idea, backed up by chats with the French players, that he will perform better on tight, fiddly tracks.

14. Jakes Roos, South Africa
Very nearly found himself a double winner in 2014 and yet outside the top 15, but he hung on in the end. The first win came in Kenya, on one of those old-style colonial clubs - the sort of places where he has thrived on the Sunshine Tour. Will probably need to make the most of the early season starts in his homeland, but they tend to visit new-style resorts than British Empire outposts these days.

15. Jason Barnes, England
Another to have taken the Alps Tour route and there is no doubt that he has grafted to get this shot at the big time, because graduation from neither the third or second tier came at the first time of asking. Whilst that may, understandably, be taken to count against him in terms of raw talent, it will have endowed him with the virtues of hard work and determination, both of which will be vital in the year ahead. Clearly up against it, but earned his card with a superb finish to the season in China and Oman, and a couple of players believe he might surprise a few. Partly that is because they like and admire the guy, partly because they genuinely think he has the required attitude.

The challenge of being a graduate
For complete first-timers hitting the main tour can be a disorientating experience. Last year's Challenge Tour no.1 Andrea Pavan said that he spent his first year trying everything on offer from the range trucks and the practice putting green gurus. Before he knew it he'd changed everything three or four times and was heading back to the Challenge Tour.
This year's no.1 Johnston said of his initial taste of the main tour: "It's simple things like more people, more going on, playing near people you normally only see on telly, realising how good they are, big crowds, grandstands on the final green. They're little things, but getting used to it was a big thing."
There are a lot of first timers in this crop of graduates who are are therefore up against it (although Tyrell Hatton, who graduated 12 months ago, has shown them the way).
If they have heeded the lessons of past experience, the likes of Johnston, Hebert, Hutsby, Lorenzo Vera, Tullo and even Fritsch will have an advantage.
Hebert said on more than one occasion during Grand Final week, "I hope this is my last Challenge Tour event." It wasn't bluster, it came across as a man who knew the time to step up had arrived. The thought transparently motivated him for those four days and his win was accomplished. Maintaining motivation for 12 months is a much tougher prospect, but if he can retain that inner drive he might be the one to watch.

* You can follow Matt on Twitter - @MattCooperGolf
Discover the latest articles