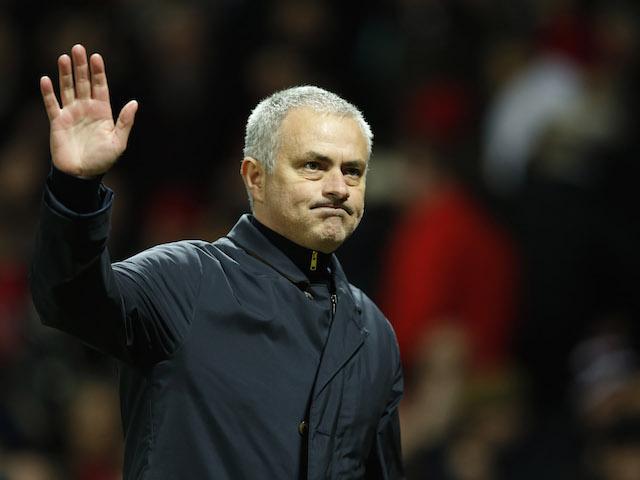 Will Mourinho defeat his former side at the third attempt?
This is by far Chelsea's toughest remaining fixture - can Jose Mourinho help derail his old side's title hopes? Michael Cox looks at the tactics, and Alan Thompson focuses on the betting...

"This seems likely to be a cautious, defensive-minded and potentially scrappy game."
Manchester United v Chelsea
Sunday, 16:00
Live on Sky Sports 1

Match Odds: Manchester United [2.8], Chelsea [3.0], The Draw [3.2].

After two failed attempts to beat his former aide at Stamford Bridge this season, Jose Mourinho will hope to finally defeat Chelsea at Old Trafford on Easter Sunday.

His previous meeting with Chelsea, a 1-0 FA Cup defeat after Andre Herrera's early red card, was notable for his unusual strategy which involved Phil Jones and Matteo Darmian playing at full-back but moving inside and essentially man-marking Eden Hazard and Willian. It briefly caused Chelsea problems, even if it often ended up with United looking like they were using a 6-3-1 formation. Mourinho may turn to that approach once again here.

But this time, Chelsea know what's coming and therefore Antonio Conte may pre-emptively change system and play a 3-5-2, rather than the 3-4-3 which has become Chelsea's default system this season.

That would be a defensive shift, but this could make sense considering Chelsea would probably be content with a point here. Their run-in is remarkably simple, and a draw would keep them on track for the title, so expect the Blues to play cautiously at Old Trafford.

Conte is unlikely to make any surprise selections, but the key is in midfield, where Conte's XI should reveal the formation he's using. His use of Cesc Fabregas against Manchester City meant Chelsea were vulnerable to the movement of David Silva between the lines, and against the threat of Henrikh Mkhitaryan or Juan Mata, it would make sense to deploy the more defensive Nemanja Matic alongside N'Golo Kante. Fabregas' best hope of playing would therefore be as a third central midfielder, which would in turn mean Hazard playing as a second striker, just off Diego Costa.

Expect Chelsea's wing-backs to be more cautious than usual here. Marcos Alonso and Victor Moses have been hugely impressive going forward this season, but will probably sit back and form something of a back five alongside Cesar Azpilicueta, David Luiz and Gary Cahill. Kurt Zouma has been used at the back, but hasn't looked 100% fit and Conte might decide that easing him in next season - or, indeed, when this season's title is already won - is a better bet.

For Manchester United, Mourinho's intentions will be revealed according to the nature of his central midfield zone. Last weekend at Sunderland he played all three of Ander Herrera, Marouane Fellaini and Paul Pogba. That seemed overwhelmingly functional and he can surely afford to drop one of them for an extra attacking player. This is Mourinho, though, and against a Chelsea side potentially featuring a beefed-up midfield, expect him to be cautious.

Zlatan Ibrahimovic will lead the line and battle against his former PSG teammate David Luiz, but will need support with running in behind from teammates. Jesse Lingard doesn't really provide that, nor does Mata or Mkhitaryan, so Anthony Martial or Marcus Rashford could be fielded on the left.

Chelsea's right side of the defence has often seemed vulnerable to an aerial threat this season, so United may look to hit crosses towards a forward breaking inside from the left.

Alternatively, however, if Mourinho replicates his curious strategy from that FA Cup meeting at Stamford Bridge, it will probably mean Antonio Valencia and Ashley Young out wide, and Ibrahimovic remaining extremely isolated upfront.

With that in mind, this seems likely to be a cautious, defensive-minded and potentially scrappy contest. I'll back under 1.5 goals at [3.2], as I think the opening goal could win this game.
The Betfair Trader's View: Alan Thompson

Manchester United returned from Belgium with yet another draw in the bag and what could be a vital away goal in their quest to obtain Champions League football next season and I think the Europa League is their best chance of achieving that goal. They still have to play Chelsea, Manchester City and Tottenham in the final stages of the Premier League so plenty could still happen but I don't see them recording a Top 4 Finish and I would be a layer rather than a backer at [4.7] in the top four finish market, if that's the sort of price you like to lay at.

Chelsea will be able to field a full strength side and will be fresher without the distraction of European football, though there could be some added pressure depending on what happens at White Hart Lane as Spurs entertain Bournemouth. But 15 points from their remaining seven fixtures and they will be crowned champions regardless of what anyone else does. With both Middlesbrough and Sunderland to visit Stamford Bridge, I can't see them slipping up now, regardless of this result.

Manchester United were humiliated at the Bridge, going down 4-0 earlier this season and Jose Mourinho took exception to Antonio Conte's cheerleading on the sideline, the Chelsea players also enjoyed the victory and took the opportunity to goad their former manager further by positing pictures on social media of the entire team celebrating the win. I am sure Mourinho and his players will remember that and they would like nothing better than to throw a spanner in Chelsea's march to the title.

The Red Devils are unbeaten since that game at the Bridge and yet another United draw isn't out the question here. They have drawn nine of their 16 home games and I don't think either side would be disappointed with that outcome. The draw is priced at [3.25] in the Match Odds but I would rather take on the higher priced draws by dutch backing 0-0 and 1-1 at [9.8] and [6.8] respectively, this should give you odds off approx [4.0].

Get the Best Odds on English football with Betfair!

Betfair has had the best odds on all domestic English league football since the start of December. So when you win, you win bigger! Click here for full details.