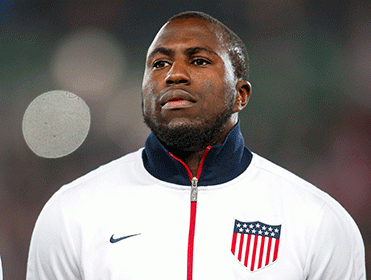 Goal-shy Jozy Altidore doesn't seem like the sort of striker who can take a team deep into a World Cup
The USA are currently ranked 13th in the world after an easy Concacaf qualification campaign but drawn in a tough group and with doubts over Jurgen Klinsmann's tactical nous their stay at Brazil 2014 might be a short one, says Jonathan Wilson...
"It's one thing to grind out results against Concacaf opposition, quite another to do so in the World Cup."
For English fans, there's always something a little unnerving about the USA as a footballing concept. Football was always the thing we both did but they did much worse than us, so we could gently patronise them and use their infrequent victories over us to denote moments of great sporting catastrophe - the humiliation in Belo Horizonte at the 1950 World Cup, the 2-0 reverse in 1993 that was another nail in poor Graham Taylor's coffin.
Their commentators were mocked for their bizarre coinages, while even the way their journalists and fans talk about the game sounds a little strange, almost the same as how we talk about it but one step removed, a clever but imperfect reproduction, like something the weird replicating ocean in Solaris might have come up with.
It may be, though, that the time for mockery is over and we have to start taking the USA seriously.
When the USA qualified for the World Cup in 1990, it was their first appearance at the finals for 40 years. They performed much as expected, being hammered 5-1 by Czechoslovakia in their opening game and losing both their other fixtures. Since then, though, the USA haven't missed a finals and have three times got through the group stage. They've been producing top-class goalkeepers for years, Brad Guzan the latest in a line that includes Tim Howard, Brad Friedel and Kasey Keller.
MLS is maturing and, in terms of fans at the ground, is now the eighth most watched league in the world. Even if the biggest leagues in Europe will still cream off the top talent, it provides a competitive arena in which young players can develop. The long-term prognosis is good.
Immediate prospects are less clear even if the national side is now ranked 13th in the world. It's true that Fifa's ranking system seems to privilege Concacaf - certainly at the expense of the AFC - but the ELO rankings have them 12th. They were comfortable qualifiers, winning seven of their 10 games to finish top of the hexagonal and if they never found any great level of fluency, they were at least solid.
That's the good news.
There is bad news, though, perhaps the worst of it that Jozy Altidore remains their first-choice forward. The bare facts of his season with Sunderland - one goal in 17 league starts - aren't quite the full story; there have been games when he has terrified opponents with his bulk, he won a hilarious penalty at Fulham after duping Philippe Senderos with some mesmeric slow stepovers, and his confidence might have been much healthier if he hadn't had a goal wrongly ruled out against Arsenal.
But still, he is far from a world-class striker. You wonder too about the ongoing reliance on Landon Donovan and Clint Dempsey, who are 31 and 30 respectively but seem somehow much older.
But the biggest issue is the coach. Jurgen Klinsmann seems extremely popular in the US and perhaps his sunny brand of motivational jargon has found a home, but there are major reservations about him as a tactician. When he was Germany national coach, the theory was that Jogi Low, then his assistant, did most of the tactical work - although Low's recent struggles to find defensive coherence perhaps undermine that -  while his time at Bayern Munich was a disaster. It's one thing to grind out results against Concacaf opposition, quite another to do so in the World Cup.
And USA have been unfortunate with the draw, grouped with Germany [1.12 to qualify], Portugal [1.5] and Ghana [3.75].
At [3.4] to go through, USA may offer some value given how Portugal struggled in qualifying - but the evidence of the play-off against Sweden was that they are finding a way of playing, while Cristiano Ronaldo remains Cristiano Ronaldo. Given USA lost to Ghana at both the 2006 and 2010 World Cups, it may even be worth looking at them to finish bottom once the market gets going.
The USA are coming, just probably not yet.