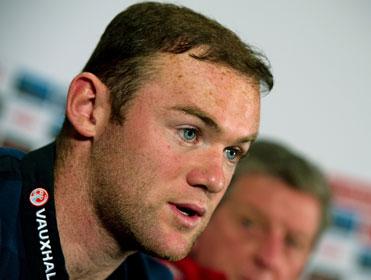 Wayne Rooney will lead England out against San Marino
Christian Crowther believes giving Wayne Rooney the armband on a more permanent basis is the way forward for England...
"You only have to look at the example of David Beckham to see what a positive impact the armband had on his career."
Wayne Rooney will lead his country out against San Marino at Wembley tonight and this is a sight that England fans should hope becomes far more regular over the coming years.
Surprisingly, this is only the second time Rooney has been handed the honour during an England career which now spans 76 caps and, less than a fortnight shy of his 27th birthday, this is the perfect time to take on the responsibility on a more permanent basis.
It's no secret that Rooney has had his issues with behaviour in the past, but by giving him the armband and the extra responsibility which comes with it, we should see an end to incidents like the sending off which ultimately limited his involvement at Euro 2012.
Rooney was in reflective mood at the pre-match press conference and was quick to put that mistake behind him.
"That was a stupid thing to do. I regretted it the moment I did it," said Rooney. "I apologised to the players and paid the price. That won't happen again."
You only have to look at the example of David Beckham to see what a positive impact the armband had on his career after being completely vilified for his kick-out at Argentina's Diego Simeone at World Cup 1998.
Beckham was only a year younger than Rooney when he was made permanent captain in 2001 and the former Manchester United players' performances in an England shirt went on to become the making of the man.
This is not to say that he needs the captaincy to stop him losing his temper, as since being sent off for kicking Montenegro's Miodrag Dzudovic, Rooney has behaved near enough impeccably for both club and country and adopted a far more mature demeanour.
It's not just Rooney's temperament which will benefit though; it should aid his performances on the pitch.
Since lighting up Euro 2004 in Portugal, it's no secret that Rooney's level of performance at major tournaments has fallen majorly short of what the public expects.
By giving Rooney the armband, should England make it to Brazil, he will have the extra incentive to lead his team by example.
England are currently [1.57] to win Group H and [20.0] for World Cup glory.