World Cup Golden Ball: Modric the magnificent in with a real shout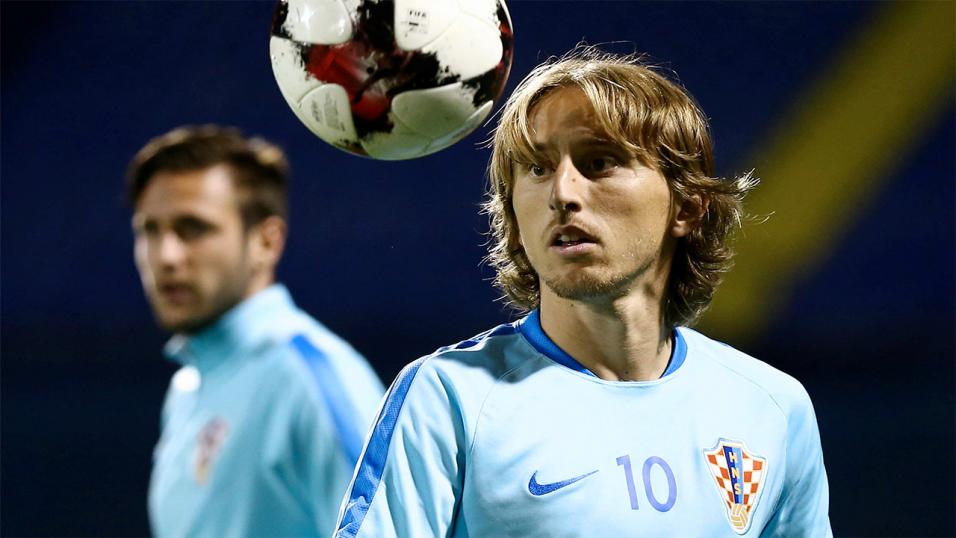 Luka Modric has saved the best performances of his career for the biggest occasion of all.
Four teams left but there are a handful of candidates who can still claim the Golden Ball award. Jamie Pacheco tells us why Luka Modric is the one to go with at the current prices...
"His performances have gone well beyond the numbers. He's been inspirational and brilliant, diminutive in stature but a giant out there in terms of heart and craft. And all this with a possible jail sentence for contempt of court hanging over him."
In addition to the matter of who's going to win the World Cup, there's also a Golden Ball to be awarded to reward the outstanding player of the tournament. It's an open market with no gimmes in either of the two semi-finals meaning anyone from the four remaining teams is very much still in it. Let's look at the front-runners and where the best bet lies.
Javier Mascherano and Marcos Rojo will no doubt have woken up a few times over the past week with cold sweats having had nightmares of a fleet-footed Mbappe running past them in a foot race that resembled a racehorse up against a donkey.
He also scored two of his own in that 4-3 win over Argentina in addition to winning that penalty in what was arguably the best individual performance of the tournament. To go with his winner against Peru.
The problem is he hasn't been great in the other games. History also suggests that whether rightly or wrongly, players that young - he's only 19 - don't tend to win the award.
A lot obviously depends on whether England make the final. You'd think that if they do he'll have scored at least one goal either in Wednesday's match or the final itself and that could be enough for him to walk away with the award.
Two years ago in France, Antoine Griezmann ended on the losing side but his six goals were enough to get the Player of the Tournament prize. Kane has six already.
But in addition to his goals, he's been excellent. In leading the team, leading the line, doing the hard yards and he got England off to the best start in that shoot-out against Colombia. A proper skipper taking responsibility and getting the job done.
Few football fans would argue with the choice if Kane gets it although some conspiracy theorists would say that the powers-that-be may give an England player the cold shoulder just for the hell of it.
I'm lumping these two together for several obvious reasons. Same team, similar position, not much to choose between them in terms of how good they've been.
Very good indeed and I'm sure I'm not the only one who would make the betting closer than it is ahead of their semi-final against France. I'd make it evens the pair in terms of qualifying but even if they're slight outsiders, they've got a brilliant chance.
If they win the whole thing the winner of the Golden Ball will probably come from one of these two. But maybe therein lies the problem: which one?
If you think Belgium's name is on the trophy your best option might be back the pair of them to level stakes right now rather than waiting till the final. They certainly won't be the price they are now if they beat France.
There's not much else Luka Modric could have done for the Croatian cause than what he's done over the past three weeks. He's been magnificent.
He was man of the match when they beat Nigeria 2-0, adding a 71st minute penalty to a quality all-round display. He was man-of-the-match yet again as his side made minced meat of Argentina's midfield, before tormenting goalkeeper Willy Caballero with a brilliant drive from outside the box, one of the goals of the tournament.
A Last 16 encounter against Denmark saw Modric go from agony to ecstasy as he missed a spot-kick late in extra-time but redeemed himself again from the spot when converting Croatia's third as they knocked out Denmark.
But he saved his best performance of all for the quarter-final against Russia. There was no goal but he did everything but score. Bossing the midfield by keeping possession when it was needed or launching counter-attacks with pin point passes, putting in tackles, finding a burst of pace when everyone else was exhausted deep into extra-time. There was another penalty converted in the shoot-out, this one admittedly a bit fortunate, but that was just the icing on the cake of a mature performance worthy of the great midfield World Cup captains of yesteryear- Platini, Maradona, Zidane... make your own list. He was man of the match for a third time in five games.
His performances have gone well beyond the numbers. He's been inspirational and brilliant, diminutive in stature but a giant out there in terms of heart and craft. And all this with a possible jail sentence for contempt of court hanging over him.
Croatia are 5/4 on the Betfair Sportsbook to qualify for the final, so it would hardly be a big upset if that happened. That would give him every chance of walking away with the award but you don't necessarily need Croatia to do that or win the final for him to be in contention. Four years ago beaten finalist Lionel Messi won it and back in 2010 Diego Forlan got it despite Uruguay not even making the final.

And Croatia are a popular side. It's not just the English who have a soft spot for the plucky underdog. Whatever happens from here they've already overachieved. The coveted award ending up with the midfield maestro of a skipper for this success story would be a choice welcomed by most.
Recommended bets