World Cup Final: Gut says Croatia can surprise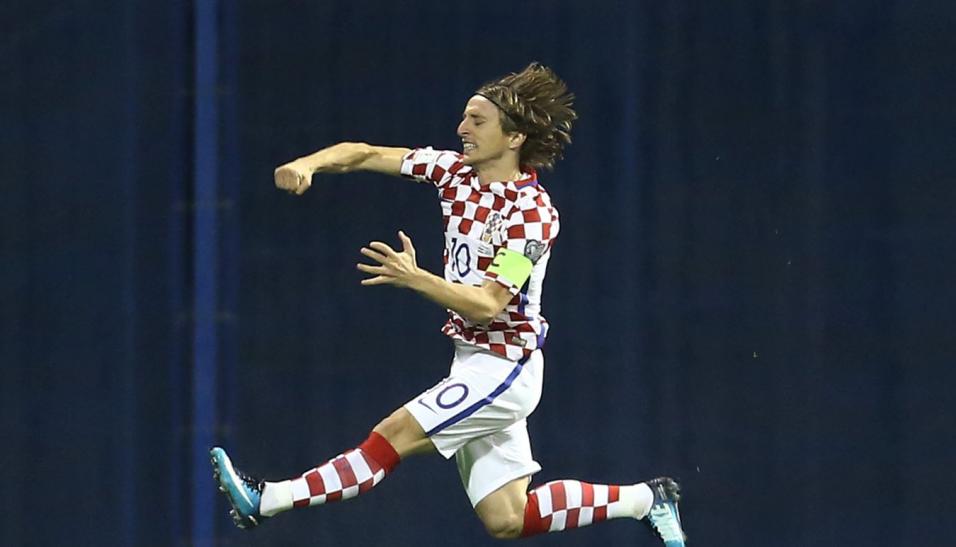 Can little Luka spring a surprise
As billions prepare to tune in for the greatest sporting showpiece on the planet Stephen Tudor looks back at World Cup finals to find clues as to what Sunday might bring...
"Should this one go the full distance Croatia arguably have the edge having progressed from their three knockout matches via additional time."
After 62 games, 161 goals, and a whole heap of surprise results the 2018 World Cup reaches its climax this Sunday with two teams standing on the precipice of history.
France have been here before of course, memorably trouncing Brazil on French soil in 1998 then succumbing to Italian attrition eight years later. For Croatia this is virgin territory and superstition tells us that is no bad thing with new winners of the tournament lifting the trophy in '58, '78 and '98. Twenty years on a country with a population of just 4.1 million look to continue that trend.
It's a final expected to be watched by billions (a staggering stat from the 2010 Final revealed that 46.4% of the planet saw at least one minute of it) and will feature an explosive superstar in Kylian Mbappe who is already the highest scoring teenager the tournament has witnessed since Pele and an ageless schemer in Luka Modric who will tip and tap until the stadium spins.
Yet these two phenomenal talents pale to the occasion itself, a game that has no equal in its meaning or importance. Indeed so unique is a World Cup final it is possible to look back on its predecessors to seek out clues as to what we can expect to happen in the Luzhniki Stadium as France and Croatia grasp at immortality.
Gut says: In-form France will prevail * Smarts say: It will go to the wire
For a contest of such magnitude it stands to reason that stalemates are commonplace with the avoidance of defeat taking priority over cavalier football. The last three finals have all been extended to its full 120 minutes and going further back six from the last 13 have either been decided in extra-time or gone to pens.
Only twice has the latter occurred and perhaps this is not surprising as nerves give way to fatigue and spaces appear. In the last two finals - in the 113th and 116th minute respectively - an attacking midfielder popped up from nowhere relatively unmarked in a gap that would surely have been covered at an earlier point of the game.
Should this one go the full distance Croatia arguably have the edge having progressed from their three knockout matches via additional time. Learned behaviour can be key when the legs go to jelly and tired brains begin to scramble.
A draw on 90 minutes is 1.9420/21
Gut says: Tempers fray in big finals * Smarts say: Too right they do
World Cup finals are traditionally festooned with cards with five dismissals in the last seven and a startling 20 cautions since 2006 that equates to 6.6 per game. In fact, since the days when you needed to take a chainsaw onto the pitch to get a mere telling off this is a fixture that has descended into farce and fracas more than any other showpiece event.
Balancing this out is the current climate brought about by the introduction of VAR. This summer's tournament has seen the fewest reds dished out for 40 years with not a single one for violent conduct or serious foul play. Its yellow count meanwhile is a perfectly reasonable 3.44 per match.
30-40 points in bookings is 2.77/4
Gut says: Giroud and Mandzukic will be leading men * Smarts say: It's midfielders who grab the glory
In the 12 finals since Brazil gave the beautiful game a makeover in 1970 there have been 31 goals and a breakdown of them makes for intriguing reading.
Ten have derived from set-pieces with four of them coming courtesy of the penalty spot. Seven have been headers and only two dispatched from outside of the box.
But it's the goalscorers themselves who most surprise because cliché dictates that star strikers come to the fore on the big stage and grab the headlines. In World Cup finals they tend not to.
On 11 occasions Ronaldo and his ilk have wheeled away in triumph but 15 times Iniesta or Zidane have taken the plaudits and with Croatia resplendent with midfield inventiveness and Paul Pogba enjoying a successful campaign this bodes well for some goals to relish this weekend.
Both teams to score is 2.46.
Gut says: Form matters * Smarts say: Throw it out of the window
A great deal of the form and omens favour France with Les Bleus having only trailed for nine minutes and 12 seconds across the whole tournament and boasting a forward in Antoine Griezmann who has been directly involved in more goals than anyone else throughout the knockout stages.
More so France's head to head record with Croatia should be a concern to anyone in possession of a checkerboard kit with three wins and two draws from their only previous encounters.
This though is a final and standard rules do not apply. In the last three the team with the worse recent results against their opponents triumphed confirming the obvious truth that form guides and major events are so often incompatible.
Modric and the boys to win is 5.24/1