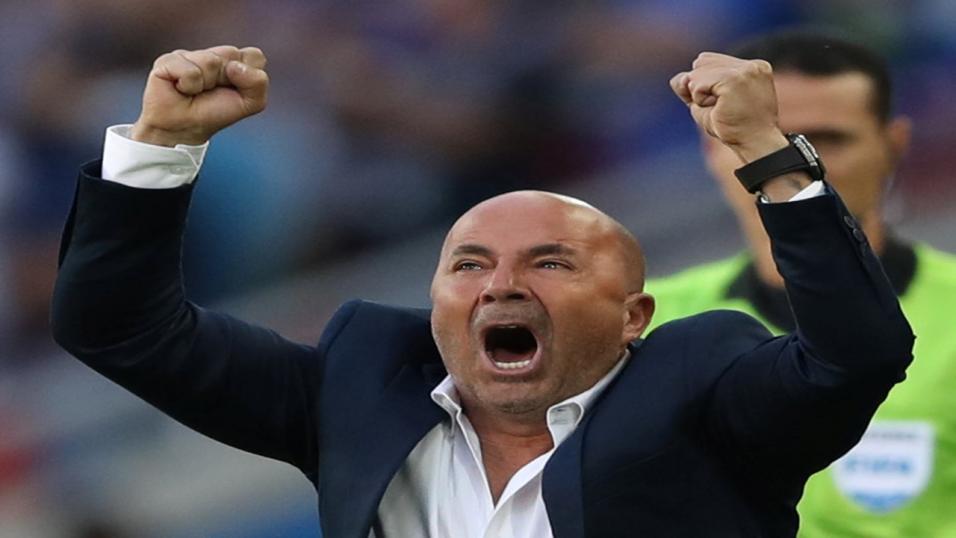 Sampaoli discovers that drawing with Iceland is not the end of the world
Disappointing opening day results for several of the World Cup favourites might have backers running scared. But Stephen Tudor delves back into the recent past to find reassurance...
"Misleading opening day results will be wholeheartedly embraced by those of us who backed the pre-tournament favourites this time out because right now we're in need of some assurance."
Opening games can be misleading
The concluding of the first round of group games offers up a perfect opportunity to take stock and see how the pre-tournament favourites are shaping up. A word of warning is immediately necessary however because historically opening matches in World Cups are renowned for giving false readings. Sometimes they outright lie.
Take Bulgaria's 3-0 reverse to Nigeria in 1994 as a case in point. Even with Hristo Stoichkov pulling the strings the Bulgarians looked out of sorts in the blistering heat of Dallas and were surely destined to take an early plane home. Yet to the surprise of everyone they dismantled Greece in their next game before going on to reach the semi-finals, becoming one of the competition's stand-out nations in the process and forever gaining the affection of hipsters around the world. You would have got very generous odds on that happening in the immediate aftermath of their opening day catastrophe.
Conversely, Brazil's hosting of the greatest show on earth four years ago began with a veritable samba party with a 3-1 win over their main group rivals Croatia raising hopes of a sixth crown. Nobody who witnessed their largely accomplished display that evening - complete with a Neymar double - could have imagined that just three weeks later the dream would implode with a seven goal deconstruction at the hands of Germany.
Reason for optimism
These two examples of misleading opening day results will be wholeheartedly embraced by those of us who backed the pre-tournament favourites this time out because right now we're in need of some assurance after seeing our tips underwhelm at curtain call. France may have ultimately bested Australia on Saturday but looked unsure of themselves throughout while draws for Spain, Brazil and Argentina have prompted widespread doubts from their backers. History tells us though there is no cause for alarm. Not yet anyway.
From the last 40 semi-finalists in this tournament eight of them lost at the first time of asking and a further nine drew. It is entirely possible therefore for a fancied side to struggle at the start; find their feet, and then build up momentum as they proceed. Indeed returning to 1994 three of the four semi-finalists failed to win their opening game while incredibly in 1982 none of them did.
You may have noticed that Joachim Low's Germany were omitted above, despite them also disappointing in their first outing at the weekend. That's because, alas, in their circumstance history has been less kind. In fact it's been borderline cruel.
The record of reigning champions in their opening defence of their title is little short of shocking with just three triumphing from the off since 1978, three saving pride with draws and four enduring the ignominy of defeat. Germany's 1-0 loss to Mexico now makes that five.
But it is not solely the result that raises an abundance of warning signs but more so the manner of it. Germany looked dishevelled and disjointed in Moscow, with the players at times looking stunned and confused, on other occasions bickering and overall it was a disorganised mess that brought to mind two other collapses by reigning champions on their first return back. In 2002 it was France who unravelled so spectacularly and they were made to pay the highest price for their disunity by finishing bottom of their group. Four years ago a shadow of Spain's brilliant, all-conquering side of 2010 were taken apart by Holland and they also failed to progress to the knock-outs.
Presently Germany are 10/1 to finish rock bottom of Group F. It may seem unlikely. It may go against everything we hold to be true. But we've seen it happen before.
The greats find a way
So what of Spain, Brazil and Argentina and their travails this week? What does that tell us about their tournament chances and should we be worried after initially celebrating picking them out in our office sweepstake? The answer is very little and no, not at all.
Taking the latter as an example the Argentines have only failed to get through their group stage once since 1978 and on that occasion they opened their account with a 1-0 win over Nigeria. In 1990 meanwhile they famously lost to Cameroon and were prematurely written off before navigating a path to the final.
Good teams, stocked with very good players, who are not in crisis, tend not to be deterred by an early stumble. Quite often it only makes them stronger.
Argentina have now drifted out to 12/1 to be crowned world champions on July 15. If you saw the resolve and frustration on the faces of Messi and co as they shook on a stalemate with Iceland last Saturday you don't need the past to tell you that's a bet worth taking.