World Cup Warm-Up: Uruguay can make impact - and not just with their teeth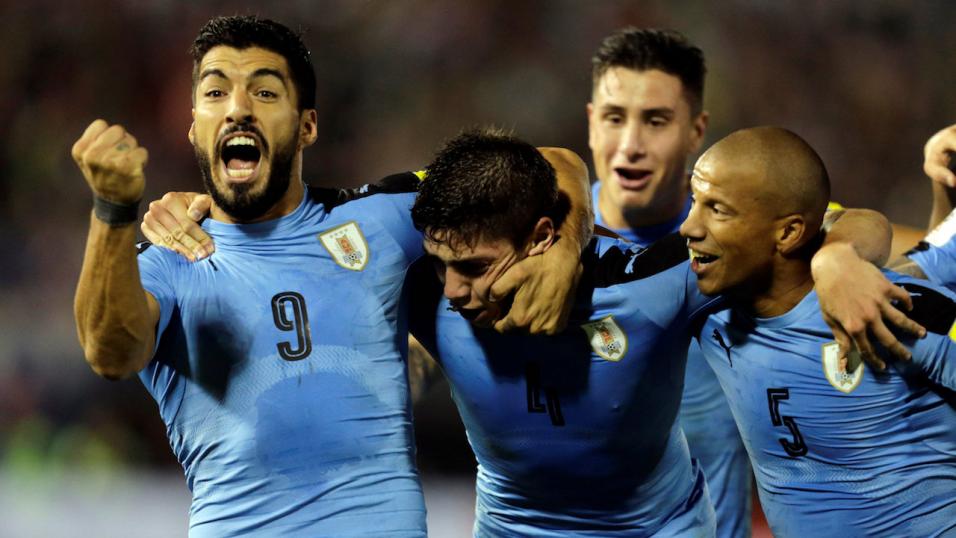 What have you got in store for us this time, Luis?
Jack Lang runs the rule over Óscar Tabárez's new-look Celeste side in the latest in his series on the Russia 2018 favourites...
"Gone are the loveable midfield cloggers (Arévalo Ríos: forever in our hearts), replaced by a group of ball-playing youngsters who have breathed new life into the side"
Uruguay at the World Cup, eh? No, nothing springs to mind. Can't imagine they were much cop in the early years of the competition, or ever turned a nation of 200 million-odd souls into a sobbing mess by winning at the Maracanã or anything. Even their recent tournament appearances have been a bit... grey. No treacherous handballs, no real reason for them to be absolutely hated by, oh, I don't know, Ghana. And a distinct, almost comical lack of biting.
And... SNAP, you're back in the room. Bored, too, probably, after an introduction more stretched than Luis Suárez's temporomandibular ligament (that's the one that opens and closes the jaw, fact fans) and every bit as laboured as Cristian Rodríguez's nickname (The Onion, because apparently - surely this can't be right? - he smells good... when he... sweats? Insane). So without further ado...
Óscar winnner
Even if you don't remember his name, you'll recognise his face in the Uruguay dugout this summer. For Óscar Tabárez is now into his 13th year as coach of La Celeste, and heading to his third straight World Cup - and fourth overall. Think of him as South America's Jogi Löw, only less 'flashy uncle' and more 'adorable granddad'.
His formula has been fairly consistent: pick a hardcore defence, flood the midfield with generic, pint-sized henchmen and let the forwards sort things out for themselves. It worked brilliantly in South Africa, with Diego Forlán and Suárez more than capable of whipping up their own ammunition, but there was a stodginess to their displays four years later that highlighted the dangers of that approach.
Stuck in the middle with youth
Appropriately, Tabárez looks set to go with a slightly more expansive system this time out. The defence, led by Atlético Madrid tag-team pairing Diego Godín and José María Giménez, will be as frugal as ever, while Suárez and Edinson Cavani will hope to wreak havoc - preferably of the non-dental type - up front. But in between those sectors, it's all change.
Gone are the loveable cloggers (Arévalo Ríos: forever in our hearts), replaced by a cadre of ball-playing youngsters who have breathed new life into the side. 26-year-old Matias Vecino is likely to be the elder statesman in midfield, such has been the generation shift.
There's the Federico Valverde, owned by Real Madrid and thoroughly impressive in his first few outings for his country. The rangy Rodrigo Bentancur already has Champions League experience with Juventus, and it will only be a matter of time before Nahitan Nández, who looks likely to start on the right, moves from Boca Juniors to one of Europe's big boys. Throw in pocket rocket Lucas Torreira (Sampdoria), plus compelling Cruzeiro playmaker Giorgian de Arrascaeta, and you're looking at a bright future.
Celeste behaviour
Those players do lack big-tournament savvy, of course, but there's enough experience in the squad to make up for it: Cavani, Godín, Rodríguez, Maxi Pereira are all in three figures when it comes to internatonal games, and they should be joined by Suárez and Fernando Muslera by the end of the campaign. That is a solid foundation and means the lessons of the last two World Cups will not escape the youngsters.
The question is whether Uruguay can produce the fireworks of 2010, or whether 2014 is a more accurate benchmark for their chances this summer. Recent travails at the Copa América and an up-and-down qualifying campaign would suggest the latter, but the mood has changed markedly over the last year and Tabárez seems quietly confident that his charges can make an impact.
Preferably with their football, Luís, before you get any new ideas.
Recommended bets
Back Uruguay to win Group A at [1.88]