World Cup Warm-Up: Portugal's hopes pinned on You Know Who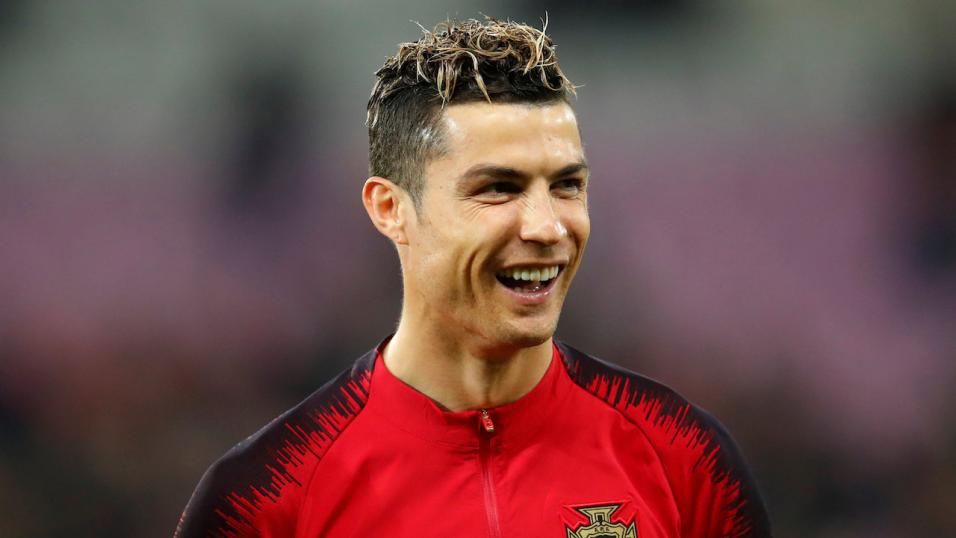 "Sorry, I thought I heard you say we're longer odds than England"
The reigning European champions are only EIGHTH favourites to double up in Russia, which strikes Jack Lang as somewhat off...
"The team has three major strengths: Ronaldo's right foot, Ronaldo's left foot and Ronaldo's head. Joking, of course, but many a true word and all that"
He wants it. You know he wants it. You can almost hear him... the abs tensing like tectonic plates, the pistons beneath that immaculate bionic shell starting to pump with anticipation, the dial-up screech of reputation maths as the motherboard calculates the exact consequences for his legacy.
Cristiano Ronaldo and the World Cup. The World Cup and Cristiano Ronaldo. It has a nice ring to it, doesn't it? Certainly far more catchy than any comparative sentence involving He Who Shall Not Be Named. One final title to make the jump from greatness to immortality? Two can play that game, amigo.
Euro vision
The World Cup is obviously a tough nut to crack, but rarely can the reigning European champions have entered the greatest show on earth with as little fanfare as Portugal look set to do this summer. A Seleção are currently rated eighth favourites to double up in Russia, making them less likely winners than Belgium and England in the eyes of the market.
The logical response to all this involves a trip to Specsavers. For while Portugal are not without their flaws (more on those presently), a price of [30.0] for a team that won their last major international tournament looks pretty generous. That price for a side that also includes Cristiano Ronaldo - and, just for the avoidance of any lingering doubt, neither England nor Belgium have Cristiano Ronaldo - borders on the deranged.
Were Portugal the best team at Euro 2016? Realistically not, but they won the thing, through a combination of daggers-in-mouths defending, luck and individual brilliance in the final third. Will Portugal be the best team at World Cup 2018? Realistically not, but... well, I'll let you fill in the blanks.
Ron and only
The team has three major strengths: Ronaldo's right foot, Ronaldo's left foot and Ronaldo's head. Joking, of course, but many a true word and all that; if Portugal are to make an impression in Russia, a major contribution will be required from their pneumatic talisman. And preferably as a player rather than deluxe cheerleader-coach, as well as that touchline cameo at the Stade de France went.
Ronaldo himself will be itching to leave his mark this summer after limping through Brazil 2014, and - assuming he shakes off a recent ankle issue - should be in peak shape, Zinedine Zidane having given him a third of Real Madrid's league games off this term. Indeed, the last time the forward came into a World Cup with this few minutes in his legs was in 2006. We'll need to double-check with Wayne Rooney, but that campaign went pretty well, if memory serves.
Changing of the guard
Ronaldo may remain the central pillar, but things have changed around him. Fernando Santos has the hangdog grimace of a professional pall-bearer and has not been afraid to usher a few big names into the international afterlife, leaving out 10 members of his 2016 squad this time out. André Gomes, Nani and Renato Sanches are the major casualties, paying a high price for their listless club form.
Gonçalo Guedes, Mário Rui, Bruno Fernandes and Gelson Martins are among the fresh faces, although it would still be a stretch to describe this as a young group: Beto, Bruno Alves, Pepe, José Fonte and Ricardo Quaresma are all approaching retirement age. And Santos' real wildcard pick was Everton legend Manuel Fernandes, playing in his first World Cup fully 13 years after first pulling on the claret jersey.
Make do and mend
There are obvious weaknesses here. Pacy attackers will be licking their lips at the prospect of facing that OAP defence, while the likes of Raphaël Guerreiro, João Mário, André Silva and Adrien Silva have all endured a tough couple of years, giving the starting XI a more patched-together look than is probably ideal.
Yet it is hard not to see potential, too, especially in the final third. In Guedes and Bernardo Silva, Santos has two wingmen capable of stretching and defining games on the counter-attack, plus the scattershot brilliance of Quaresma. Mainly, he has Ronaldo, still the premier goal-smuggler in global football and more than capable of bending a whole competition to his will.
Is that going to be enough for them to win the thing? Unlikely, but stranger things have happened.
Recommended bets
Back Portugal at [30.0] with a view to laying