World Cup Group Winner Betting: Try this 44/1 accumulator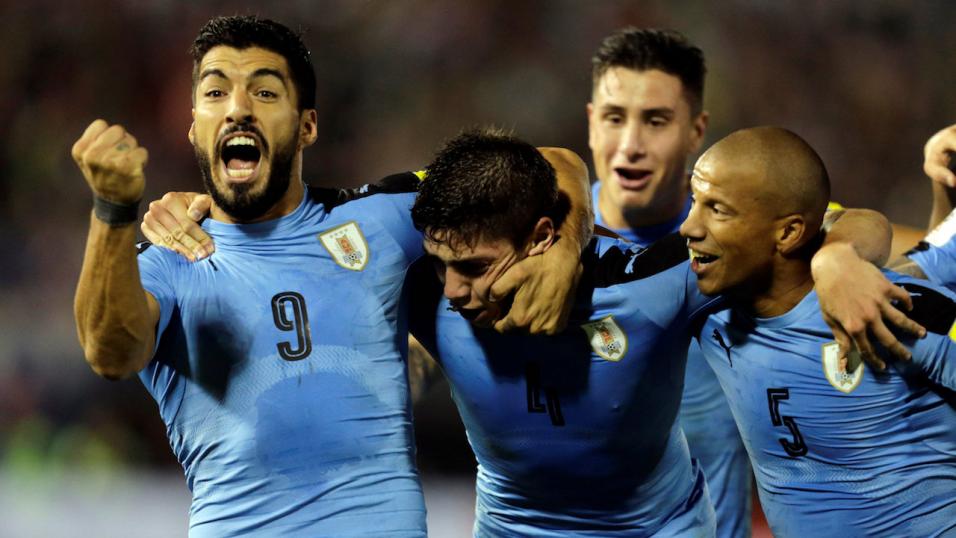 Uruguay are one of the group favourites making up Alex's 44/1 acca
Alex Keble predicts who will win their respective groups at the World Cup, building a 44/1 accumulator...
"Even if Gareth Southgate's team manage to get six points from their first two games (which is far from certain), they are unlikely to boast a better goal difference by the time they face Belgium. A draw, then, would give Belgium top spot."
As we (im)patiently wait for the World Cup to get under way there is nothing more exciting than pouring over a wall chart and predicting the scores. It is more or less inevitable that, by the time Russia and Saudi Arabia get the tournament started on Thursday, every football fan will have a clear idea of which teams will be topping their respective World Cup groups.
Doing so provides some pretty attractive betting odds. Here's my take on who will top groups A-H - and why you should bet on the 44/1 accumulator these predictions build:
Dark horses Uruguay to top dysfunctional group A
Leg 1: Uruguay @ 8/11
Uruguay have moved away from their usual direct football over the last two years as Oscar Tabarez makes use of the technically-gifted midfielders that have recently graduated from the youth side. 20-year-old Rodrigo Bentancur is the chief orchestrator, providing a balance and composure to a spine that already includes an Atletico Madrid centre-back pair (Jose Gimenez and Diego Godin) and the strike partnership of Luis Suarez and Edinson Cavani.
They're a pretty good team, then, which is more than can be said for Russia and Saudi Arabia, who both head into the World Cup in a state of absolute chaos. The Saudis are on their third manager in nine months, while Russia have probably the worst squad in their history. Uruguay's opening game against Egypt will decide who tops the group, and since Mohamed Salah is unlikely to recover from his shoulder injury in time then Tabarez's side should win.
Spain should win nine points as Portugal stutter in Group B
Leg 2: Spain @ 1/2
Portugal are weaker than they were two years ago, and even then they struggled to score goals or play with any real fluency throughout a disappointing Euro 2016 tournament. In fact, there is a real danger their ageing defence and over-dependence on Cristiano Ronaldo will see Morocco finish above them. The Moroccans' solid defensive structure will be tough to break down; even Iran might be able to steal a point off the Portuguese.
This leaves a clear path for Spain to win the group. They are under-rated by pundits going into this tournament, perhaps because they lack any standout superstars in attack, but no nation boasts quite the same organisation and strength-in-depth as the Spanish. Dominating possession and pressing high, they should blow Group B away.
France have enough to finish above evenly-matched Peru and Denmark
Leg 3: France @ 1/3
Didier Deschamps' side have a lot of problems right now, namely that the formation isn't quite sorted thanks in part to Paul Pogba's poor form of late. However, there is so much talent in the France squad that they should comfortably win Group C. First up is Australia, who were lucky to qualify and frankly won't put up too much of a fight.
Peru are an exciting young team who will be brave in their attacking approach against France - a big mistake. Assuming a 4-3-3 gets the nod, the pace of Ousmane Dembele and Kylian Mbappe on the counter will hurt Peru should the South Americans play expansively. Six points from the first two will virtually guarantee them top spot since Denmark should drop points against Peru.
Messi will make the difference in the World Cup's toughest group
Leg 4: Argentina @ 8/13
Group D is going to be great fun. Nigeria have the chance to make serious headway with a strong spine of young players, Croatia have several star players that could hurt Argentina, and Iceland are everyone's favourite underdogs. However, with everyone taking points from each other, the individual brilliance of Lionel Messi should earn just enough points for the Argentine's to win out.
Argentina should beat Iceland in their first game. The European minnows have conceded 11 goals in their last four friendly matches, reflecting their issues without a fully fit Johann Berg Gudmundsson leading from midfield. A strong goalscoring start for Messi will set Jorge Sampaoli's team up nicely for the last two games; on the final day they face Nigeria, with the weight of historical defeat for the African nation weighing heavy.
Measured Brazil to earn nine points from straightforward Group E
Leg 5: Brazil @ 1/3
The most impressive thing about Tite's Brazil is their decreasing reliance on Neymar. Philippe Coutinho, Roberto Firmino, and Gabriel Jesus have all stepped up for the Selecao, while there is considerably greater balance defensively than four years ago. Casemiro and Fernandinho anchor the team superbly.
Serbia, Costa Rica, and Switzerland is a very easy draw. None of these nations can expect to take points from the Brazilians; don't be fooled by Switzerland's high FIFA ranking, they really aren't very good.
Germany never let you down, and won't be stopped by a weak Mexico
Leg 6: Germany @ 1/3
Recent friendly results might not have been too good, but Germany are absolutely ruthless when tournament football gets underway; it is hard to see how either Mexico or Sweden will stand in their way. Sweden are an intriguing young side that could cause a shock, but they are no match for the Germans.
Mexico's first 11 is getting too old to be troublesome, as Germany's 4-1 victory against them in the Confederations Cup a year ago proved. Nobody expects South Korea to get anything against Joachim Low's side, leaving the current holders likely to get a minimum of seven points.
England more likely to be frustrated by Tunisia or Panama than free-scoring Belgium
Leg 7: Belgium @ 4/6
Belgium scored seven goals in their two warm-up matches this month, and encouragingly for Roberto Martinez confidence-player Romelu Lukaku scored three times in the games against Costa Rica and Egypt. The Belgians should be able to break down the deep-lying defences of Tunisia and Panama, meaning they only need to draw with England in the final match to top the group.
Does anyone realistically expect England to beat Eden Hazard, Kevin de Bruyne and co? Even if Gareth Southgate's team manage to get six points from their first two games (which is far from certain), they are unlikely to boast a better goal difference by the time they face Belgium. A draw, then, would give Belgium top spot.
Colombia should just edge it in toughest group to call
Leg 8: Colombia @ 6/4
This is very much a group of individuals, with Robert Lewandowski, James Rodriguez, and Sadio Mane likely to settle which of their respective nations makes it to the second round. Japan aren't expected to pull up trees this summer, which leaves three evenly matched teams to battle for two spaces.
Senegal's counter-attacking system is likely to work well against Poland, who look better on paper than their first 11's domestic campaigns would suggest, but Mane's side are flawed. Colombia emerge as the most composed and consistent in Group H; Davinson Sanchez, Juan Cuadrado, James, and Falcao beat France 3-2 in March.
***
The Racing Post's chief football tipster Mark Langdon provided his best World Cup bets at Betfair's recent Preview Night...
Recommended bets
Back Uruguay, Spain, France, Argentina, Brazil, Germany, Belgium, & Colombia to win their groups at 44/1.