World Cup Warm-Up: Germany head to Russia with Löw - and high expectations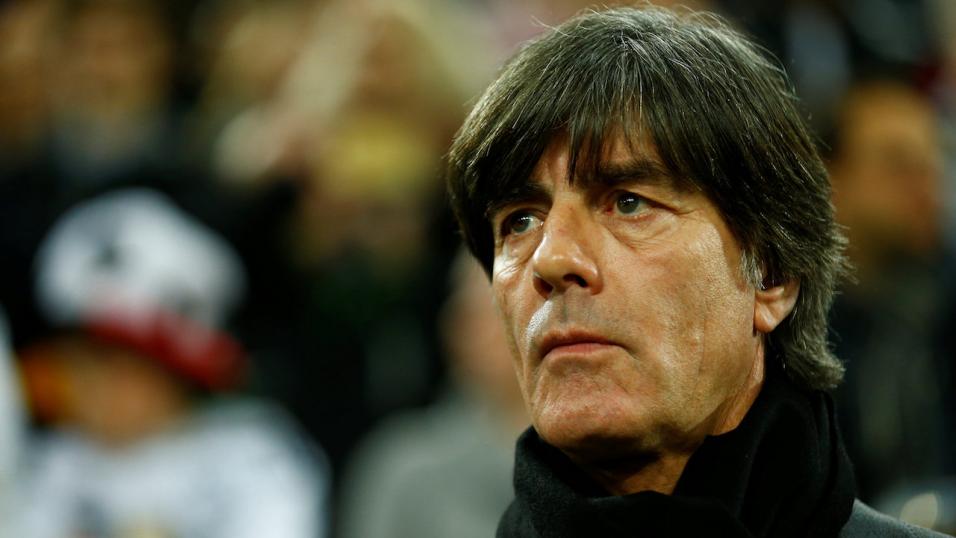 One day Germany will play at a World Cup without this man in charge
Jack Lang completes his series on the favourites for Russia 2018 with a look at the reigning champions and second-favourites...
"Here comes Onkel Joachim, Beatles-roadie chic every bit as compelling as ever, approaching his 12th anniversary in the hotseat and with four more years to come on a freshly-inked contract"
Tough decisions have to be made when you're the coach of a national team like Germany. So plentiful are the options that sometimes you have to leave out a player who won hearts and minds at the last World Cup and can count on an almost limitless supply of goodwill. But time waits for no manager and Jogi Löw had to make a brave call based on club form.
Will this World Cup be the same without Shkodran Mustafi? It's hard to say. Certainly less amusing, but that's probably a good thing for Germany, who - all jokes aside - look absolutely terrifying as we approach the launch ramp. No nation has won back-to-back tournaments since 1958/1962, and that's not the only Brazil record that Die Mannschaft are gunning for: win this summer and they will join the South Americans on five titles.
Let the fünfair commence...
Squad goals
The first thing to say is that the turnover in the playing squad has been surprisingly large for a team that has been defined by continuity over the last decade: only nine members of the 2014 squad are on the plane this time. This is partly because a few members of the old guard have entered retirement - Bastian Schweinsteiger, Philipp Lahm, Per Mertesacker and Miroslav Klose have all called it a day - but also an exciting reflection of the new generation of talent that has blossomed in this World Cup cycle.
In Joshua Kimmich, Leroy Sané, Julian Brandt, Leon Goretzka and Timo Werner, Germany have some of the most exciting young players at the tournament, and if anything, the current squad looks even more stuffed with potential than the one that triumphed four years ago. And with Mats Hummels, Jérôme Boateng, Mesut Özil, Toni Kroos and World Cup specialist Thomas Müller all theoretically at their prime, it's tempting to wonder whether Löw's side should start each game with a one-goal handicap. Fair's fair.
That great Löw sound
Still, at least Germany have a coach with no real exper... ah, right. Here comes Onkel Joachim, Beatles-roadie chic every bit as compelling as ever, approaching his 12th anniversary in the hotseat and with four more years to come on a freshly-inked contract. He is a one-man middle finger to the notion of the gig economy and, far more relevantly, knows his way around a summer jamboree: Die Mannschaft have never failed to reach the semi-finals of a major tournament with him at the helm.
It's not just Löw himself pulling the strings behind the scenes either: Germany's preparations for Brazil 2014 were second to none - they memorably built their own training base from scratch - and the it would be a surprise if the conditions provided this time out were anything less than state-of-the-art. A lesser snarky World Cup preview might chalk that down to 'typical German efficiency', but there'll be none of that here.
Manuel labour
There is really only one cloud in the sky for Germany: the fitness (or otherwise) of Manuel Neuer. The enigmatic Augustus Gloop look-alike has been training with the squad and took place in a behind-closed-doors game earlier in the week. He has also played just 360 minutes of competitive football in the last year - hardly the ideal way to gear up for such an intense competition.
Marc-André ter Stegen is a decent understudy, of course, but there's just something about Neuer that spreads calm throughout the backline - and fear through an opposition attack. The prospect of that big lummox lurking 20 yards from goal is enough to make even the best playmakers think twice about their through-balls, and thus allows the defence to push up.
In the grand scheme of things, though, it's a small concern. Germany are a well-oiled winning machine, made mincemeat of their qualifying group and, like Spain, have a frankly unfair number of great players. They won the Confederations Cup with a reserve team and there's every chance they will follow it up with the first-choice lot this summer.
Recommended bets
Back Germany to win the World Cup at [5.8]