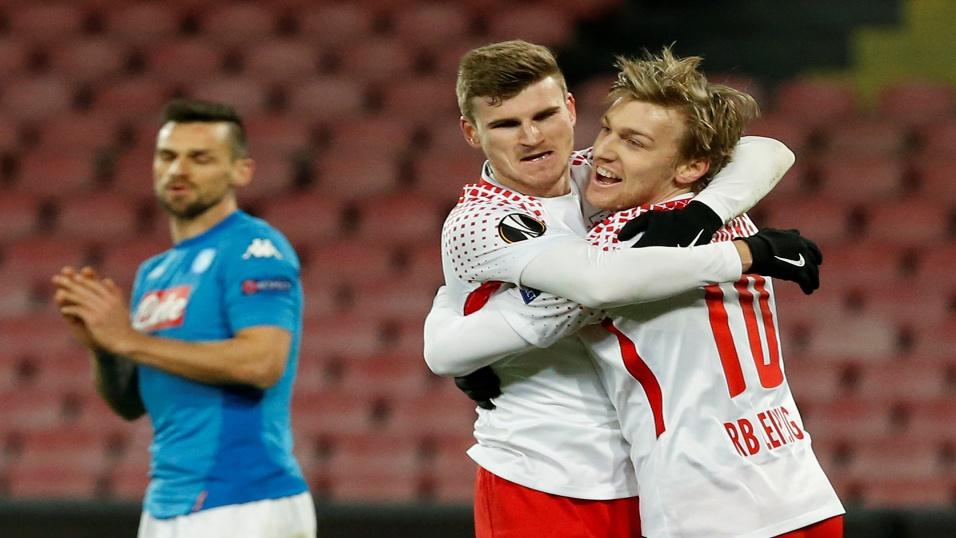 Sweden and Leipzig midfielder Emil Forsberg celebrates a goal with clubmate Timo Werner
Sweden have moved on since Zlatan Ibrahimovic's international retirement, writes Andy Brassell, and could do well without him this summer, even if it means disappointing neutrals...
"No longer in Zlatan's formidable shadow, a number of Sweden's best talents have stepped up in some style. "
Sweden are probably not going to be the darlings of neutrals at the World Cup this summer. Plenty have the hump about Janne Andersson's side denying Italy a place in the finals, for a start - and, of course, they're unlikely to even be sugaring the pill by bringing the mercurial Zlatan Ibrahimovic with them, despite the now-LA Galaxy striker's increasingly frequent teasers suggesting he could come out of international retirement.
They are expected by many to be lambs to the slaughter, mere group stage ballast. This is reflected in their pricing, at a whopping [220.0] to win the competition and in their rating of just third favourites to qualify from Group F, behind the understandably-fancied holders Germany and Mexico, at [1.61].
Life after Zlatan
Let's get one thing straight, though. Sweden absolutely deserve to be in Russia this summer. Defeats in both friendlies in the recent international window - to Chile and Romania - shouldn't mask their achievement in getting there in the first place, or that they are a vastly improved collective from the side that meekly slinked out at the the group stage in Euro 2016.
That was Ibrahimovic's international swansong, of course. It was sad that he couldn't go out with more of a bang having given so much to his nation, but both what happened in France and the trajectory that the national team have been on since have underlined that their mighty number ten wasn't the answer to everything.
Lindelöf and Forsberg lead the way
No longer in Zlatan's formidable shadow, a number of Sweden's best talents have stepped up in some style. Victor Lindelöf and Emil Forsberg in particular have been excellent for the country in the last 18 months and will be key in Russia, despite the former's modest debut season with Manchester United and the latter's lower numbers than last term with Leipzig.
Andersson has done a tremendous job to coax top performances from them and, also, less celebrated names - even more remarkably players like Jimmy Durmaz and Ola Toivonen, marginalised at club level, managed to chip in usefully during the qualifying campaign, with the latter's stunning long-range winner against France in Solna a real highlight of their journey.
Strong start the key in Russia
The way in which the schedule of matches in Russia is set up could work well for Andersson and his players. They get their campaign underway against South Korea in Nizhny Novgorod, before subsequently facing Germany and then Mexico - and if they could beat the Koreans, they would not have any obligation to go after the game against the world champions. Instead, they could concentrate on doing what they do best - frustrating vaunted opponents, as both France and Italy could attest to.
Nobody is suggesting this is a Swedish vintage to match the semi-finalists of 1994, but they are a young, improving team, who have moved onwards and upwards from being mere extras in The Zlatan Show. They have the organisation and determination to spring a surprise or two. So however much Ibrahimovic has been a must-watch in world football over the last decade-and-a-half, let's hope for Sweden's sake that a headline-grabbing comeback won't be countenanced in the coming weeks.