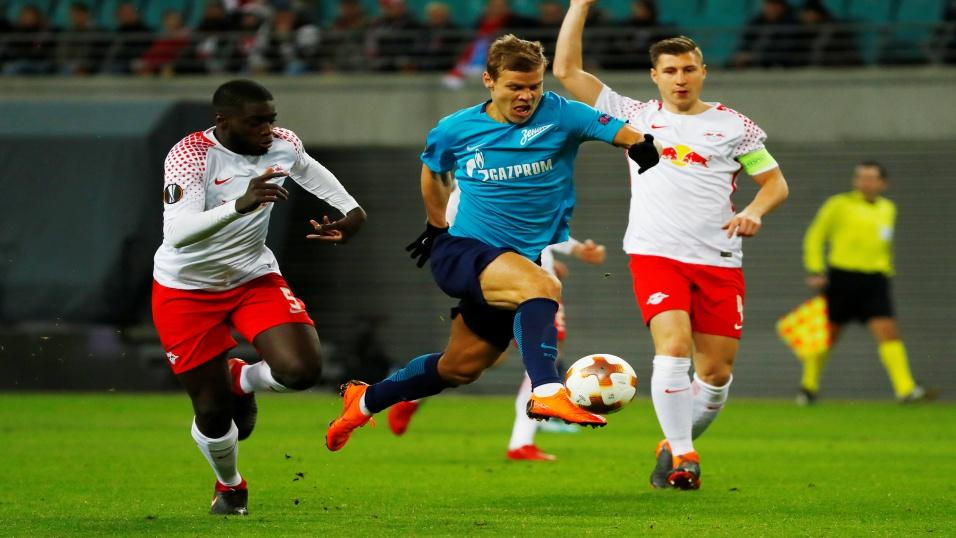 Alexandr Kokorin will hope to bring some of his Zenit form for Russia this summer
Russia could hardly have had a better World Cup draw, but the current shape of their squad means they have work to do to make the most of it, writes Andy Brassell...
"The last time we saw Russia in competitive action was in Euro 2016, in which off-pitch transgressions by some of the national team's followers distracted from quite how terrible the team was."
You've heard all about the challenges that Russia faces off the pitch ahead of the World Cup - to such an extent, in fact, that it might have escaped your notice the obstacles that they face on it. When they kick off the tournament at Moscow's Luzhniki Stadium on June 14th, Stanislav Cherchesov's side will begin an uphill battle to qualify for the second stage.
As stands in the Group A betting market, Russia are expected to get through [2.5], behind Uruguay at [2.1], but this assumes a lot about their advantage as the host nation. While they are hardly fancied to threaten the favourites, it's worth noting as well that their price of [48.0] to win the tournament represents shorter odds than those offered on Colombia, Poland or Denamrk, for example.
Second-lowest ranked team at the tournament
Russia, it's worth recalling, are currently 61st in the FIFA World Ranking; which is always taken with a pinch of salt, and we should remember that their standing is further diminished by not playing competitive matches in nearly two years, of course. Nevertheless, only one side at this summer's World Cup is ranked lower - Saudi Arabia who, handily, have found themselves in the same group as the Russians. Equally fortunately, they face the Saudis first in that Luzhniki opener, giving themselves the ideal chance to get their campaign off to a solid start.
The timing of the games is everything. Egypt are next up in Saint Petersburg before they face the Uruguayans in Samara, by which point they'll hope Óscar Tabárez and company are already qualified and maybe even have their foot off the gas, ahead of bigger fish to come. The fact remains that Cherchesov has a big job on his hands and will need every bit of help he can get.
Squad strength yet to be really tested
The last time we saw Russia in competitive action was in Euro 2016, in which off-pitch transgressions by some of the national team's followers distracted from quite how terrible the team was. They were lucky to log the single point that they did, snatched from England at the end in Marseille, and Leonid Slutsky's players left with their tails between their legs after being thumped by Wales in Toulouse.
Cherchesov is thought of as a solid enough coach. He brought back the title to Legia Warsaw in his previous post, and played a role in them becoming the first team in the group stages of the Champions League in 21 years before leaving to take the Russia job. He is not blessed with either the most talent or vibrant squad, though. It's a pretty old group of players, with CSKA's talented 21-year-old midfielder Alexandr Golovin one of only a couple shy of at least their mid-20s likely to make the cut.
Talent pool shallow, but Kokorin returning to form
The difficulties in developing quality domestic talent in recent years is apparent in the recruitment of Bundesliga-raised players like Roman Neustädter and Konstantin Rausch, plus the naturalisation of Mário Fernandes and Guilherme. Alexandr Kokorin is a ray of hope, maturing at 26 after his talent threatened to fall by the wayside.
The Zenit striker has 16 goals this season in all competitions, and has flourished under Roberto Mancini, even if he hasn't quite kept up his lightening start to the campaign (much like his club side as a whole). In many ways, this tournament could be set for his coronation. Then again, the thought of Russia's defence chasing Mo Salah doesn't engender quite as much optimism.
If Cherchesov's team do manage to ride the wave of enthusiasm and get to the second round, maybe they could be seen as a cash out candidate. Firstly, though, and with one win in their last eight friendlies, Russia will have to work to get that public onside.