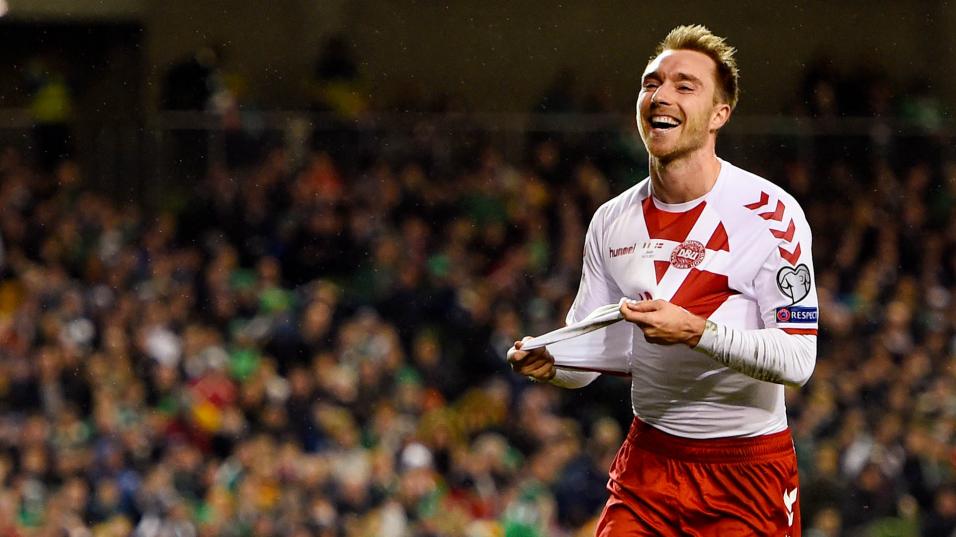 Denmark's Christian Eriksen
The Danish Dynamite vintage is still thought of as the nation's best, but the current bunch are brewing up nicely and may surprise France in Group C, writes Andy Brassell
"Given that Denmark only face France in their third game, by which point they might just have qualified by beating Peru and Australia, it's not beyond the realms of possibility that they could even close out and win the group."
More than any other football tournaments, World Cups are about creating lasting memories. And so each one for those of us past childhood brings with it a splash of nostalgia, perhaps even more so representing a voyage of discovery.
When some of those familiar touchstones are no longer there, it can be unsettling. At Russia 2018, some will struggle, at least initially, to get their heads around a World Cup lacking Italy or the Netherlands. Few would blame them for feeling like that.
Thank goodness, then, for Denmark, who have their place in this pantheon. The halcyon period of the national team is well known, the 'Danish Dynamite' era, beginning in Euro 84 - when the phrase was initially coined - and then considered at its peak in the 1986 World Cup, with an exciting team led by Michael Laudrup and Preben Elkjaer.
Renewed growth under Hareide
Curiously, the 1986 vintage didn't produce Denmark's best World Cup result. Having dazzled in the group stages, winning all three games against West Germany, Uruguay and Scotland and scoring nine times, they were blown out of the water in the second round, losing 5-1 to Spain, some neutrals still consider Miguel Muñoz's side as villains for finishing the Danish dream. It was a far less celebrated team, in 1998, that exited to Brazil after losing to the odd goal in five after a pulsating quarter-final in Nantes.
Nobody is yet comparing Denmark's current side to either of those teams - they are out with the outsiders, priced at [110.0] to win in Russia - but there is at least the feeling of renewed growth. With Morten Olsen's 15-year spell at the helm over, steady progress has been made under Age Hareide, the Norwegian who shone in his last job in club football, winning the Allsvenskan title for Malmö and taking the Swedish giants back into the Champions League.
Strong finish to qualification
Denmark have garnered at least some attention for the way in which they eventually dispatched the Republic of Ireland in the World Cup playoff - inspired by their outstanding player, Tottenham's Christian Eriksen, hitting a hat-trick in Dublin - but their current shape deserves more than that as a summary. Their qualifying campaign was one of two halves, not unnaturally for a developing team.
Qualifying through the playoffs always implies that a team scraped through to the final tournament, but if Denmark had started qualification in the fettle that they finished it (September's 4-0 demolition of Poland, the group winners, was indicative of which way the wind was blowing), they would have won the group.
The outstanding Eriksen has quality help
Eriksen is the heartbeat of the team, without a doubt, and a good tournament from him could garner him worldwide recognition as one the game's elite players.
Only Robert Lewandowski (16) and Cristiano Ronaldo (15) have scored more goals than Christian Eriksen (11) in UEFA qualifying. Astonishing effort from attacking midfield.

? Daniel Storey (@danielstorey85) November 14, 2017
He is surrounded with a growing cluster of talent, however, which is making an increasing dent at the top of European football. Captain Simon Kjaer is no longer leaned upon so heavily in defence, with Andreas Christensen (despite his Chelsea season tailing off) and Jannik Vestergaard highly capable.
Beside Eriksen in midfield, Werder Bremen's Thomas Delaney is hoping to build on an excellent Bundesliga season to beat a path towards the Premier League. Up front, the quality of Leipzig's Yussuf Poulsen and Martin Braithwaite - who has regained his form on loan at Bordeaux - means Nicklas Bendtner might just be a sideshow, rather than the main event.
Long shot to win their group?
Given that Denmark only face France in their third game, by which point they might just have qualified by beating Peru and Australia, it's not beyond the realms of possibility that they could even close out the group, priced at a long [6.8], with Didier Deschamps rarely averse to resting players ahead of the knockouts.
That Denmark are even in this sort of conversation shows how far they've come. Reprising the style of the '80s won't be easy, but they have the most confident group that they have done for a while.