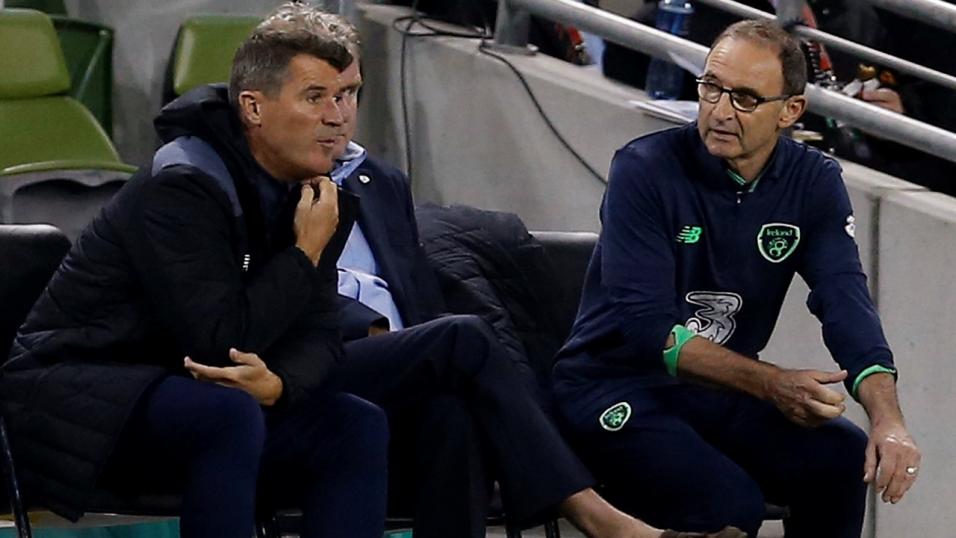 Roy Keane and Martin O'Neill will look to mastermind another Rep of Ireland play-off win
Ahead of Rep of Ireland's World Cup play-off date with Denmark, Kieran O'Connor looks back at five of their most defining moments in crunch two-legged ties, from the last stand of their most successful manager to that infamous night in Paris...
"Many players from this team will be involved in the action over the next week and it bodes well for Ireland, who finally seem to have got the hang of the play-offs."
5 - Turkey. Away goal gets Turkey though
In truth, this team should never have had to go to a play-off. In Group 8 for the Euro 2000 Football Championship, the Republic of Ireland were drawn with Yugoslavia, Croatia, Macedonia and Malta. Wins against Croatia and Yugoslavia had them on top of the group and a stuttering end still had them in good shape.
In the last match-day, Croatia and Yugoslavia drew 2-2 meaning a win against Macedonia would send Ireland through, top of the group.
In Skopje, Ireland had taken a 0-1 lead against the Macedonians and were running down the clock. With automatic qualification for Euro 2000 looking certain, Macedonia scored with the last action of the game sending Ireland to a play-off against Turkey. In that play-off, a late penalty by Tayfur Havutcu at Lansdowne Road meant it was 1-1 heading to Turkey for the second leg.
A nasty row erupted between Turkey & Ireland over the training facilities and a bad-tempered affair ended 0-0 sending Turkey through on away goals and sparking a brawl at full time. A cynical and ill-tempered match, best forgotten.
*if viewing on tablet/mobile please flip device to see image in full
4 - Iran. Keane absence a foreboding sign
Stuck in a group with Portugal and Holland, Mick McCarthy's Ireland only lost out on top spot on goal difference to the Portuguese. The squad had reason to be optimistic heading into their play-off, taking four points against Holland in the group along the way. Iran were their opponents and goals from Ian Harte and Robbie Keane gave Ireland a 2-0 lead to take to Tehran.
The away leg was overshadowed by the sudden withdrawal of skipper Roy Keane from the squad, a sign of a nasty behind-the-scenes row that would explode a few months later. The match itself was played in front of 90,000 Iranian fans. Yahya Golmohammadi's stoppage-time strike gave Iran a 1-0 win on the night but Ireland ran out 2-1 winners on aggregate and qualified for the World Cup.
3 - Bosnia. Jon Walters comes good
Ireland drew Bosnia in the play-off for France 2016. In the away leg, Robbie Brady struck in the fog in Zenica to put the away side 1-0 up. Edin Dzeko's late equaliser put a dent in an otherwise excellent team performance but Ireland were, nevertheless, in the driving seat for the home tie.
The Bosnian media, who had been dismissive of Ireland before the draw, fully believed that their side would turn it around in the second leg. However, Ireland were unbeaten in their previous eight home games, with five wins, three draws and five clean sheets in the process.
Jon Walters was the hero on this occasion. A much-loved Irish player who always put in 100% for the team, Walters was rewarded with two goals on the night as Ireland won 2-0 and went through to France 3-1 on aggregate. Many players from this team will be involved in the action over the next week and it bodes well for Ireland, who finally seem to have got the hang of the play-offs.
2 - Holland. Jack's last stand
The 13th December 1995, a bitterly cold night in Liverpool, a single match played at a neutral venue against Holland. That was what faced the Irish if they were to qualify for Euro 96.
The Irish went into the game without the services of Roy Keane, Steve Staunton & Niall Quinn. A strong Dutch team - including the likes of Frank De Boer, Clarence Seedorf, Dennis Bergkamp, Edgar Davids, and Marc Overmars ran out comfortable 2-0 victors as 19-year-old Patrick Kluivert scored twice.
After the match, Jack Charlton came back out on the pitch to greet the Irish fans, who had refused to leave. Cigar in hand, he saluted the travelling fans. Eight days later, he resigned thus ending the most successful period in Irish football.
1 - France. Paris affair marred by cheating
It will be remembered as the most famous night in the history of Irish play-offs and of European play-offs. The result would prove a cruel blow to an Irish side that had played well in Paris and didn't deserve to lose in such a manner.
A poor performance in Dublin meant that Ireland headed into the second leg with a mountain to climb, 1-0 down. However, a brilliant performance on the night saw Ireland level it up through Robbie Keane. Chances for Damian Duff and John O'Shea came in the match but were not taken. The game went to injury time and France scored during that period through William Gallas' dubious tap-in.
A blatant handball by Thierry Henry in the build-up to the goal was inexplicably not called by the referee. Henry's exuberant celebrations left a sour taste in the mouth of many Irish fans. What followed was a nasty period of back and forth between the FAI and FIFA which culminated in a €5millon pay off to the FAI from the world governing body to avoid legal action - a detail only revealed to the public years later.
The night, for all that were there and watching at home, still ranks as one of the worst nights in Irish sports history.