Morocco v Iran: Back defences to prevail in tight opener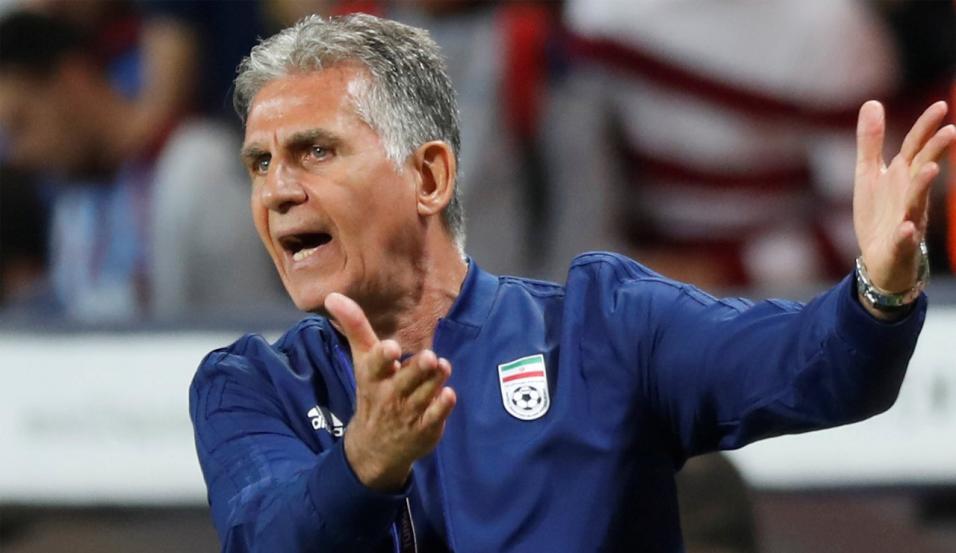 Carlos Queiroz has seen it all before in top level football.
This Group B clash may not be the most entertaining match you'll see over the next few days but there's a strong betting opportunity going, says Jamie Pacheco.
"So what sort of factors do you look out for when thinking a game might be low-scoring? First group game, some nerves, negative approach, two defensively minded-sides. You could make a case for all of those coming into play here."
Morocco v Iran
Friday March 15 16:00
Live on ITV
'Playboy' in charge of some talented players
By African football standards, Morocco are a pretty experienced side at World Cup level. This is their fifth World Cup, albeit their first since 1998.
They have a good man in charge. Herve Renard, the 49-year-old Frenchman who looks more like a Monte Carlo-based playboy than a seasoned football manager of African international teams has a pretty good track record. It may be his first-ever World Cup but he's the only manager to have won the African Cup of Nations with two different teams. He did so with Zambia and the Ivory Coast.
They have 17 players of their 23-man squad who were born in Europe and five of those were born in the Netherlands so you'd forgive a few Dutch football fans for cheering this lot on in the absence of their own team in Russia.
Real Madrid starlet Achraf Hakimi is in the squad, as is Hakim Ziyech of Ajax and Premier League fans might recognize Sofiane Boufal who is at Southampton. He's likely to be more of an impact substitute than a starter, though.
The most recognisable name however is that of Medhi Benatia. Having 53 caps for your country is one thing, having Udinese, Roma, Bayern Munich and Juventus on your CV is another. He played 24 times for Juve last season and is their key man at the heart of their defence. Some people think they may perform a bit better than expected.
Resilience the name of the game
Speaking of experience, guess who manages this lot? Only Carlos Queiroz. Portugal (twice), Sporting Lisbon, Manchester United (Assistant manager), Real Madrid and South Africa are just some of the teams he's been at. He says "Iran will not go to Russia as tourists''. We'll have to wait and see about that but no-one is likely to thrash them, that's for sure.
They kept 14 clean sheets in 18 qualifying games and won 12 of those, drawing the other six. So to go unbeaten in 18 outings deserves some respect even though the cynics may well argue they didn't have much to beat.
There are no big stars to look out for either. A good thing in that it's never a bad thing for the collective to be stronger than its individual parts but you have to wonder if they have what it takes to unlock an opposition defence when push comes to shove.
Should Morocco be as short as 13/10 to win this game? I'm not so sure. It's hard to argue that African qualifying isn't tougher than the Asian one but football is rarely as simple as that. There's little or no head-to-head record to go by (they've played only once and it ended in a draw as Opta point out) and though Morocco have the better known players, it may actually work in Iran's advantage that video footage aside, no-one will know too much about them.
At 13/10 you need to be pretty sure this is a side you can rely on to handle the big occasions. And boy is this is a big occasion. Not only is it football's blue riband event, it's also the first group game.
So the favourite is no value bet for me but I can't get particularly excited about the 8/13 on Iran/Draw on the Double Chance market, either. If you have to go for a bet of this nature (you don't) then the draw at 2/1 is probably the better one of the lot.
So what sort of factors do you look out for when thinking a game might be low-scoring? First group game, some nerves, negative approach, two defensively minded-sides.
You could make a case for all of those coming into play here. Iran's qualifying games had 1.2 goals per match, just 10% of them went over 2.5 goals and they kept a clean sheet in 9 of their 10 qualifiers as Opta tell us.
More yawn-inducing stats include the fact that Morocco didn't concede a goal in a run of eight qualifiers.
Obvious as it may sound, if everything points to a low-scoring game then that's exactly what we might just get here. Of course backing under 2.5 goals at [1.44] isn't much fun but backing under 1.5 goals at [2.3] is a slightly more interesting wager and there's not much out there to suggest it shouldn't come good.
The Betfair Sportsbook allows customers to build their own accas from a range of markets. Just click on the Same Game Multi tab and choose a few selections. A low-scoring game with a low corner count would be my idea of a decent bet and under 1.5 goals coupled with under 10.5 corners will pay out at [3.3]. If you don't fancy that option go ahead and make up your own one.

Key Opta Stats for Morocco v Iran
Morocco and Iran have never met at the World Cup. In fact, they've faced each other only once previously, a game which ended in a draw. Another draw is [3.05].
Morocco have qualified for their fifth World Cup, their first since 1998. They have never progressed further than the round of 16 (1986), being eliminated in the group stages three times in their four previous appearances. They are rated as third favourites to qualify from Group B at [3.9].
Morocco have won only two of their 13 games at the World Cup (D4 L7), including five defeats in their last seven games (W1 D1). They've also never won an opening game in the competition (D2 L2). Iran are [1.74] in the Double Chance market.
Morocco were the only team not to concede a single goal in the third round of CAF qualifiers for Russia 2018 (6 games). Under 2.5 goals is [1.44].
Iran have qualified for the World Cup in back-to-back tournaments for the first time ever. However, they have never reached the knockout stages, winning only one of their 12 games (D3 L8) - against USA on 21 June 1998 (2-1). Iran are [1.78] to finish bottom of Group B.
Iran have also only kept one clean sheet in their 12 World Cup games (0-0 v Nigeria, June 2014). Over 2.5 goals is [3.2].
Iran were unbeaten in their qualifying campaign for the 2018 World Cup, winning 12 games and drawing the other six (AFC Second Round + Third Round). They also kept 14 clean sheets in those 18 games. The 0-0 draw is [6.4].
This is Hervé Renard's first World Cup as manager. The Morocco boss is the only manager to win the African Cup of Nations with two different teams (Zambia, Ivory Coast). Morocco are [2.3] to get off to a flying start with a win.
Meanwhile, Carlos Queiroz is taking part in his third consecutive World Cup tournament as manager, and second in a row with Iran. Queiroz's team are [7.4] to pull off a shock and qualify from Group B.
Recommended bets