Croatia v England: Gut says Three Lions can fulfil our wildest dreams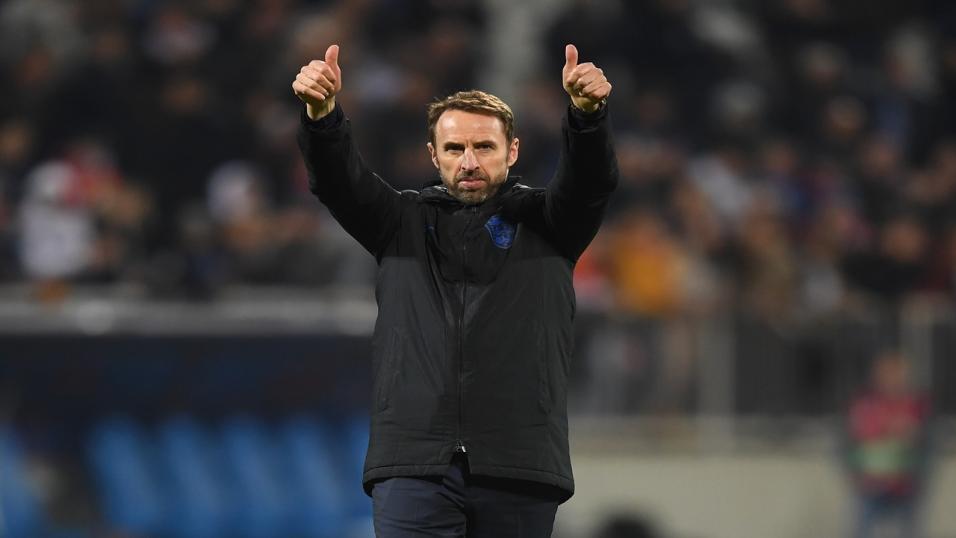 Gareth is amused to spot a fan who doesn't yet believe
Ahead of the huge semi-final clash on Wednesday, Stephen Tudor tries to determine whether it's his heart or head telling him that England will be World Cup finalists this weekend...
"The aerial threat of Maguire, Stones and Kane has frightened opponents to such an extent they've succumbed to Greco-Roman wrestling."

Gut Says: England are masters of the set piece.
Smarts Say: This is a huge advantage
Croatia v England
Wednesday, 19:00
Live on ITV1
This is a game so huge it requires no hype with players so familiar they need very little introduction. A World Cup semi-final pitting Kane against Lovren, Modric against Hendo, and England vs half a century of hurt.
With so much at stake it is difficult therefore to make sense of it all; to take a step back and rationalise and analyse, especially when every instinct is screaming at us to paint our faces red and white and begin the petition to get Jordan Pickford knighted. But step back we must, or at least until kick-off when all hell will break loose.
Thankfully there are times when our emotions synch with facts - not always but sometimes - and when they don't, well, that's what this preview is for.
Let's begin in the past before making our way to the present and a date with destiny in the Luzhniki Stadium, Moscow that will either fulfil our wildest dreams or break our hearts all over again.
Gut Says: Past meetings favour England.
Smarts Say: This is a whole new World (Cup)
England's track record against the team that's standing between them and making history is pretty encouraging with four wins, two losses and a singular draw. Better yet, the last occasion they met ended in a 5-1 drubbing at Wembley.
Before we get too carried away though it's important to remember the context that surrounds head to heads. That extremely satisfying pummelling took place in 2009 with Croatia minus Modric and Rakitic and coming courtesy of a team that then went on to greatly disappoint in South Africa.
Even so, as much or as little as it matters, history offers up grounds for optimism. With a 18-10 aggregate score over the seven encounters the Three Lions have the historic upper hand.
England are 1.695/7 to make it to the World Cup final.
Gut Says: Semi-finals are always tense and tight.
Smarts Say: They average 2.4 goals per game
Decades of enduring or enjoying semi-finals whatever the tournament tells us they are usually cagey affairs with players too scared to take risks for fear of costing their team-mates glory. Strangely however this doesn't apply to the World Cup.
In the 18 semi-finals dating back to 1982 there have been 44 goals which averages to a perfectly reasonable 2.4 per game. Consider too how prolific England and Croatia have been to this point with 21 goals between them and that suggests fireworks are not out of the question.
We may have to wait a while though because over 20% of those 44 goals were scored between the 70th and 80th minute while it's crucial that Southgate's men don't fall behind at any stage: since 1998 the team that scored first has prevailed.
As for discipline don't expect a card-fest. We have to go all the way back to Holland v Brazil in 1998 for the last time a semi-final exceeded the tournament average of bookings.
Over 2.5 goals is 2.6413/8
Gut Says: England are masters of the set piece.
Smarts Say: This is a huge advantage
There are people out there bemoaning the fact that England have largely resorted to corners, free-kicks and penalties to secure their passage to a World Cup semi-final. These people should be avoided at all costs.
The aerial threat of Maguire, Stones and Kane has frightened opponents to such an extent they've succumbed to Greco-Roman wrestling while the creativity of the routines are testament to the work put in on the training pitch.
Eight of England's 11 goals have come from set-pieces - the most in a single World Cup since 1966 - and what this does is put considerable doubt and fear into Croatian hearts every time a foul is committed. This can only be a good thing.
The odds of there being a penalty in the match are 2.789/5
Gut Says: Harry is hungry for more.
Smarts Say: Croatia aren't reliant on one individual
Should it be a concern that over half of England's goals have come from one source while Croatia have divvied up theirs with eight different players getting onto the score-sheet? Possibly.
On the other hand strikers in a rich vein of goal-scoring form are a precious commodity in any tournament and in Harry Kane, England boast a machine who has now scored 14 in 11 appearances under Southgate while notching a goal every 60 minutes in Russia.
Only one player (the original and best Ronaldo in 2002) has scored more goals in a single World Cup since 1974 and there are still potentially two games to go for the Spurs star to not only secure the Golden Boot but help bring home the biggest, most golden prize of them all
Kane is 2.407/5 to add to his tally
Gut Says: Croatia's midfield is brilliant.
Smarts Say: But only sometimes
It's no secret that the Vatreni are stocked with an abundance of sublime midfield talent but this tournament has shown that sometimes having so many options is both a blessing and a curse.
Modric and co looked decidedly underwhelming in their opening game against Nigeria despite nailing down a straightforward win and they once again flattered to deceive as they finally bested the hosts on pens last Saturday. So much of this is due to the incessant tinkering from coach Zlatco Dalic and in particular his preference for deploying his two finest jewels Modric and Rakitic in central roles where they naturally compete to be the team's 'quarterback'. In doing so the midfield settles too deep and should this happen on Wednesday we can expect Lingard, Alli and Sterling to capitalise.
As unlikely as it is that Dalic will make the same mistake again - Brozovic will surely start - this summer has highlighted that one of the world's most admired midfields can be sumptuous on their day but crucially lack consistency.
Croatia are 3.65 to win the game
Gut Says: It's coming home.
Smarts Say: Yes, it's coming home
"I've been listening to my gut since I was 14 years old, and frankly speaking, I've come to the conclusion that my guts have s*** for brains."
That was John Cusack's character in High Fidelity bemoaning a string of failed relationships and while that suspicion of going with your instincts might be true of love it certainly shouldn't apply to football. This is a likeable, young England side led by a likeable, young manager and they are presently uniting the country in pride and hope. Frankly speaking, if we can't take a leap of faith now when the flippin' heck can we? Believe
The English are 3.7511/4 to win the World Cup
England are 11.010/1 to qualify via a penalty shootout, with Croatia 11.521/2