This Week in Football History: Socrates and Brazilian democracy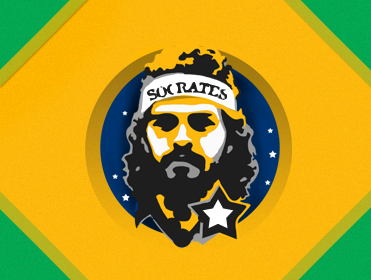 It's an in-depth special for today's look at the history books from Adrian North as he recalls how Brazilian superstar Socrates helped to create democracy in Brazil...
"Socrates believed he could change his country by amplifying his voice through football. How did he do this? By advocating and implementing a democracy at his beloved Sao Paulo club Corinthians. A democracy that was a symbolic antithesis to the Brazilian military regime that was attempting to cling to power in the early 1980s."
December 11&14, 1983 - Corinthians 2-1 Sao Paulo (aggregate), Estadio do Morumbi: Socrates and the Corinthians lay the groundwork for Brazilian democracy.
The summer of 1970 saw Brazil conquer the sporting world. In chapter 10 in his book, The Ball is Round, David Goldblatt wonderfully, if somewhat hyperbolically, compares "Brazil's conquest of the leather ball" with the "high-tech pyrotechnic display" of America's Apollo moon landing program.
His point was beautifully simple. The US may have reached the pinnacle of human scientific progress in 1969 for the simple goal of "sticking a flag on a rock", but just a year later Brazil had conquered the entertainment world in a way never before seen. And after all, what is more pointlessly entertaining than watching 22 grown men kick a ball around for 90 minutes?  
The glory of Brazil's 1970 side is a rather sad and conversely ironic tale when one looks at the bigger picture of Brazilian life during the 70s and 80s. Where Brazilian football was dominated by beauty, art, skill, and teamwork with hints of individuality, Brazilian life was stifled by oppression of freedom of speech, media censorship, massive economic inflation, the banishment of any political dissidents and a two decade long military dictatorship from 1964-85. 
It's easy to see the words "military dictatorship" and think of a brutally oppressive and murderous regime, but the Brazilian military government could not be compared to Jorge Videla in Argentina or Augusto Pinochet in Chile. 
Indeed, between 1970-73 Brazil witnessed what has come to be described as the 'Brazilian Miracle'. Many historians have argued the Brazil's 1970 triumph that saw them ascend to the top of the footballing world was the first domino in bringing about massive economic boom that gripped Brazil in the early 1970s.
Brazilian cities, especially Rio and Sao Paulo, saw massive population growth as Brazilian life became more urbanised due to the construction of the favelas and the exponential increase in available jobs.
But it wasn't until 1989, four years after the end of the countries military rule that the people of Brazil were afforded the one massive political right that had been taken from them over the past two decade - the right to vote.  
"Imagine if, at the time of the Brazilian coup, a player like Pele had spoken out against all the excesses?" 
One man who grew up in under the Brazilian military regime was the chain smoking, philosophy quoting, alcohol guzzling, PhD qualified football genius Socrates, known affectionately by his friends as 'Doctor Socrates'. 
Socrates was the coolest bastard to ever play football. If I could have a tenth of the charm and a thousandth of the footballing ability Socrates had I would die a very happy man.
Favorite Socrates quotes of mine include his thoughts on his casual playing style: "Anyone who runs doesn't think. Anyone who thinks, doesn't have to run." On how he views the game of football: "Beauty comes first. Victory is second. What matters is joy." And how he views his personal life: "I smoke, I drink, and I think."  
Socrates was an intellectual, a doctor of medicine and a keen student of philosophy. All in all he was a man who probably would have made his more famous Greek namesake proud.
Socrates was unique in the sense that he was always more than just a talented footballer. In the words of Brazilian football journalist Juca Kfouri "he was a revolutionary".
"You can draw a symbolical parallel between Che Guevara and Socrates," Kfouri said, in the documentary Socrates and the Corinthians' Democracy.
Aside from the fact Socrates looked strikingly similar to Che, I find a comparison between Che and Socrates to be quite fitting in a strangely opposing way. Che believed to change the world he needed a voice and a gun. Socrates believed he could change his country by amplifying his voice through football. 
How did he do this? By advocating and implementing a democracy at his beloved Sao Paulo club Corinthians. A democracy that was a symbolic antithesis to the Brazilian military regime that was attempting to cling to power in the early 1980s.  
It would be unfair, of course, to suggest that Socrates was solely responsible for the creation of the Corinthians' democracy. It was primarily the work of four men: Socrates, young striker Walter Casegrande, full-back Wladimir and director of football Adilson Monteiro Alves. 
Within the workings of Corinthians Football Club these four men led a quasi-revolution amongst the players against the board of directors.
They went about and very quickly achieved their goal of democratising the football club. Their premise was a simple one: Everyone gets a vote. From every single thing about the club, from when they had lunch to which players they would sign. For any and all issues the vote of the club janitor would carry as much weight as the vote of Socrates or the club's chairman.  
Some of the players were against the idea, some didn't care either way, but these four men had given a voice to everyone on the team.  
The newly implemented democracy at Corinthians had an almost immediate affect on the teams' results. Corinthians won the 1982 Sao Paulo championship and the following year faced off against Sao Paulo FC in the state championship once again. Corinthians won the first leg 1-0 on December 11, Socrates scoring the only goal. Three days later in front of 88,000 people at the Estadio do Morumbi Corinthians drew 1-1 with Sao Paulo and won the state championship for the second year in a row. 
The lasting image of the 1983 Sao Paulo state championship was to be delivered in the post match melee of journalists and fans who surrounded the team and Socrates in particular. One lucky journalist snapped this iconic photo.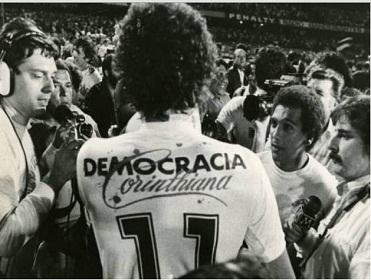 The Corinthians democracy had seen their incredibly talented side win back-to-back state championships. But for Socrates "victory was always secondary", it was the message that counted, the message being unveiled on a this banner held by the players after the game against Sao Paulo in 1983 was "Win or lose, but always with democracy".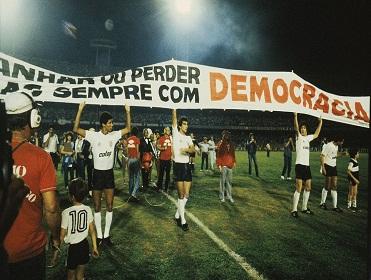 The democracy at Corinthians lasted three years but, when Socrates left for Fiorentina in 1984, the willpower to sustain the experiment faded. Socrates went to Italy in 1984 as a result of threat he made earlier that year: If democratic presidential elections were not held that year he would leave. No elections were held and he kept his promise, only to return after one year as he simply couldn't stand being away from Brazil. 
Socrates had made his announcement in 1984 front of the largest gathering of protesters in Brazilian history. Over 1.5 million people from every walk of Brazilian life took to the streets of Sao Paulo to protest rampant inflation, media censorship and political oppression. The people of Brazil had a voice. The incumbent Brazilian president Joao Figueiredo knew the end of his dictatorship was near.  
In 1985, the 21-year military dictatorship had been dis-established, three years later the Brazilian constitution was passed and, in 1989, Brazil had its first fully democratic election that saw the election of Fernando Collor de Mello.
Bizarrely, and a tad ironically, Fernando Collor de Mello was accused two years later by his own brother of green-lighting an influence peddling scheme ran by his campaign manager and was impeached just a few months later. 
Brazil remains one of the world's largest democracies, although as is the case with every democracy, not everything is perfect. Some 18 months ago Brazil saw the largest protests since 1985 sweep the nation with anger over rising public transport costs and outrage over the public spending of billions of dollars on stadia for the 2014 World Cup while having to put up with sub-standard infrastructure and health care. 
Regardless, the idealistic example set forth by Socrates and the Corinthians democracy between 1981-84 remains as one of the best examples of football being used as a force of positive change, and makes for a nice contrast to rather shitty state of affairs (Heysel, Hillsborough etc) football found itself in by the late 1980s.