This Week in Football History: Record breaking Drake and world beating Zico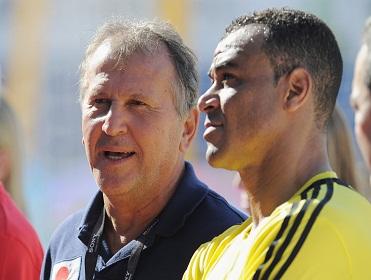 Zico with modern legend Cafu
In today's look back at the annals of the game, Adrian North heads to this week in 1935 and 1981 to pay tribute to a giant of the game here in England and a Brazilian superstar...
"Drake's pace and fierce finishing saw him become Arsenal's flagship player until the Second World War where his service in the Royal Air Force along with a spinal injury picked up in 1945 saw his playing days cut short. Drake was Arsenal's top scorer every season from 34/35 until 38/39, the final pre-war season of English football."
December 14, 1935 - Aston Villa 1-7 Arsenal, Villa Park: Arsenal legend Ted Drake sets a record that has stood ever since.
Early 1930s English football saw Arsenal's first glory days. In 1925, having staved off relegation the previous two seasons, they hired Herbert Chapman, a man who had just led Huddersfield Town to back-to-back English Division One titles.
Chapman, of course, is one of the most influential managers ever. At Arsenal he created the WM tactic, or in today's terminology the 2-3-5/3-4-3 formation. He introduced modern training methods, numbered shirts, came up with the ideas of playing games under floodlights and was a champion of introducing a competition among the premier sides of Europe.  
Success didn't come at first to Chapman's Arsenal. Having created the revolutionary WM formation thanks to the changing of the offside rule in 1925 (the number of defenders between the attacker and the goal-line changed from three to two) it wasn't until 1930/31 that his new tactic began to pay dividends. 
Arsenal won the first division title that season, and went on to win the title again in 32/33, 33/34 and 34/35. Chapman had created a system that not only demanded intense physical preparation from his players, but he also recognised the importance of playing players who were suited to the task that their position demanded of them. To support this, he created a vast scouting network across England which proved instrumental in establishing Arsenal as a pre-war footballing powerhouse.  
In early 1934, Chapman was struck down by pneumonia and died after battling the illness for six days. Chapman's legacy however lived on at Arsenal. His methods of physical preparation, tactical innovation and being the first manager to be in sole control of club stayed in place and Arsenal won a third title in a row in May 1935.  
Arsenal had lost the face and brain of their great side and in the spring of 1934, just three months after Chapman's death, the club sought about bringing a new star to Highbury. Their new star was to be a player rather than a manager but what a player Ted Drake turned out to be for the Gunners. 
Drake was both a footballer and cricketer. During his early football days with Southampton he played cricket occasionally for Hampshire. When Arsenal signed him in 1934 for a fee of £6,500 his cricketing days were quickly over. Drake's pace and fierce finishing saw him become Arsenal's flagship player until the Second World War where his service in the Royal Air Force along with a spinal injury picked up in 1945 saw his playing days cut short. Drake was Arsenal's top scorer every season from 34/35 until 38/39, the final pre-war season of English football.  
His most remarkable achievement came on December 14, 1935 during a League match against Aston Villa at Villa Park. Arsenal smashed the midlanders 7-1, and Drake scored all seven goals.
He had a hat-trick by half time and six goals by the hour mark. He scored a seventh towards the end of the game and in the final minute he hit a shot off the underside of the bar which the referee ruled out for having not crossed the goal-line. Regardless of whether or not goal-line technology would have seen Drake's record stand at eight, his remarkable haul of seven goals is still a top flight English League record to this day.  
Andy Cole, Alan Shearer, Jermain Defoe and Dimitar Berbatov share the Premier League record for most goals in one game with five and I'm sure someone scored six in the old first division days, but Drake's seven in one game is surely a top-flight English record that will stand for a long long time.  
Weirdly enough Drake only held the Football League record for most goals in a game for 12 days. On Boxing Day 1935, Robert Bell of Tranmere Rovers scored nine goals as Tranmere beat Oldham by the ludicrous scoreline of 13-4 in the Third Division North, and just four months after that, Joe Payne of Third Division South Luton Town scored 10 goals in a 12-0 thrashing of Bristol Rovers. 1935/1936 seems by all accounts to have been an utterly bizarre year for English football.  
***
December 13, 1981 - Liverpool 0-3 Flamengo, National Stadium, Tokyo: For a time, Zico was the best in the world.
Football in the mid 70s had one unrivalled superstar - Johan Cruyff. 
Football in the mid 80s had one unrivalled superstar - Diego Maradona. 
Players such as Gerd Muller or Michel Platini could definitely enter into conversation when discussing the best player of the 70s and 80s but the history books and YoTtube compilations remember Cruyff and Maradona above anyone else from that era.  
It would seem that the years between 1978-1982ish, while full of great players, are largely devoid of one true footballing superstar who is remembered within the annals of the history books.
Indeed, the 1978 and 82 World Cups saw two of the deepest pools of talent the game has ever seen. Paolo Rossi, Mario Kempes, Rob Rensenbrink, Johan Neeskens, Arie Haan, Kenny Dalglish, Kevin Keegan, Graeme Souness, Teofilo Cubillas, the already mentioned Platini, Bryan Robson, Franco Baresi and Claudio Gentile are just a few names that lit up those two tournaments.
But when it comes to defining the 'World's best player' between the post-Cruyff and pre-Maradona years I feel one name stands above all the rest - Zico.  
Arthur Antunes Coimbra, who came be known as Zico was born in a northern neighbourhood of Rio de Janerio in 1953 and was later nicknamed 'The White Pele'. Had Zico won the 1982 World Cup with that great failed Brazil side he may well have been regarded on the same plane of reverence in Brazil that is reserved only for Pele (despite the dodgy ads in recent years) and Garrincha.   
Zico's boyhood club was Flamengo. At Flamengo he lit up the iconic Maracana every week and in 1981 he led Brazil and Rio's most popular club to the 1981 Copa Libertadores championship where he scored twice in a first leg 2-1 victory over Chilean champions Cobreloa before destroying the Chilean side again with two more goals in a replay in Montevideo, Uruguay.  
Flamengo had earned themselves a trip to Tokyo for the Intercontinental Cup against Bob Paisley's mighty Liverpool, a side that had won three of the last five European Cups. Liverpool, having turned down the chance to play in both the 77 and 78 Intercontinental Cups (today's Club World Championship) decided to make the long trip to Japan not only to prove their dominance on the global stage but to show a worldwide audience that Kenny Dalglish was the best player in the world at that time.  
And as good as Kenny was, he never reached Zico's level of magic. Within the first 45 minutes Flamengo went 3-0 up. The European Champions had been blown away with a true display of jogo bonito. Zico had assisted all three goals.  
After 12 minutes he played a perfectly weighted ball over the stretching Phil Thompson for center-forward Joao Nunes to slot past Bruce Grobbelaar. On the half-hour he smashed in a free kick from which Adilio scrambled in a second. And just before half-time Zico took advantage of Liverpool's suicidally high defensive line to stab a pass through for Nunes to score again.
Liverpool's famed defense of Lawrenson, Thompson, Hansen and Neal had been made to look like your ordinary Sunday league player after 13 pints from the night before. And make no mistake, this was a truly strong Liverpool side who were playing with the full intentions of winning the competition. In today's day the Club World Cup is somewhat of a joke, but in 1981 it still had that aura of deciding the world's best side. 
To quote Hansen, Liverpool's defending "had been so bad it was beyond belief" but Zico took full advantage of that and showed himself to the world as the footballing superstar that he should be remembered as.  
A year-and-a-half later Zico went on to join Cruyff in the unfortunate bracket of World Cup 'Nearly Men'. Where Cruyff failed in the final of 1974, the Brazilians of 1982, of which Zico was the heartbeat of the side, would play some of the most gorgeous football the game has ever seen before being beaten by Italy's pragmatism, an inspired Dino Zoff in goal and a back-from-the-dead Paolo Rossi hat-trick.  
In 1986 Zico would miss a penalty in extra time during a brilliant World Cup quarter-final with France before going on to lose in the shootout. Zico would never achieve what Pele did and Cruyff didn't and it is unfortunate reputations are often made and destroyed in such singular moments. Zico never recovered from that penalty miss and played his final days in Japan, where he incidentally scored this insane scorpion kick.
Nevertheless, his performance in against Liverpool on December 13, 1981 was perhaps the highlight of his footballing brilliance.  
***
Was Zico the best player from that era? Let us know by commenting below or tweeting @Betfair