This Week in Football History: Brolin and Dowie score 'memorable' goals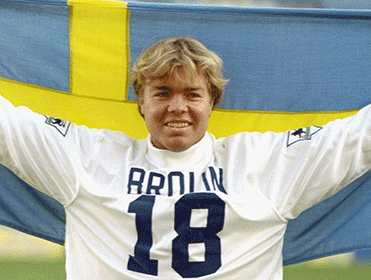 Brolin's time in England was not a happy one
One arrived from foreign lands in a big money move while the other made his way to the top-flight from the lower leagues, their careers will be remembered for wildly different reasons but they are responsible for two of the 'finest' headed goals of all time (own goals count of course)... 
"For Dowie, no amount of banter with Jeff Stelling and Paul Merson on Sky Sports' Soccer Saturday will ever see him live down the hilarity of having scored one of the greatest own goals of all-time."
December 16, 1995 - Sheffield Wednesday 6-2 Leeds United, Hillsborough: This goal is a brilliant metaphor for Tomas Brolin's time in England.

Who is the biggest flop in Premier League history? 
In terms of lack of value for money there are three answers to this question: Andriy Shevchenko, Fernando Torres and Andy Carroll.
  
In terms of actual contribution to the club they signed for there is a whole host of unfortunate names: David Bellion, Kleberson, Eric Djemba-Djemba, El Hadji-Diouf, Sean Dundee, Winston Bogarde, Marco Boogers and a Swedish playmaker who had been a key player for both Italian club Parma and for the Swedish national team that finished third at USA 94 - Tomas Brolin.  
Brolin moved to the Premier League and Leeds United in November 1995 where he was thought to be the perfect playmaker and foil for star man Tony Yeboah. Brolin made his debut that November but quickly fell out of favour with manager Howard Wilkinson. After a 5-0 away loss to Liverpool Brolin and Wilkinson fought over whether the star signing should play as a central midfielder or as a winger.
Wilkinson, seeing as he was the boss, consigned Brolin to the right-wing for the rest of the season. Brolin's performances gradually became poor enough to the point of him being dropped from three match day squads in March 1996 and he eventually moved to FC Zurich in the summer of 96.  
But on December 16, 1995, during a humiliating Premier League defeat to Yorkshire rivals Sheffield Wednesday, Brolin scored one of the funniest goals of that season. 
Challenging a couple of Wednesday defenders in the air, Brolin flicked a header on to himself and poked the ball past Wednesday keeper Kevin Pressman. Retreating Wednesday defender Steve Nicol recovered to smash the ball off the line. The ball hit Brolin, who at this point was lying on his arse in the six-yard box, square in the face and rolled back into the goal.  
One of the scrappiest goals the Premier League has ever seen and, coupled with the fact Brolin's Leeds team lost that game 6-2, is a pretty funny metaphor for the Swede's much maligned time in England.   

December 18, 1996 - Stockport County 2-1 West Ham, Edgeley Park: Own goals don't come much funnier than this... 

Iain Dowie is one of football's good guys. A seemingly chilled out dude who always struck me as the type of bloke that would buy all his mates a round without ever expecting a drink or two in return.  
Dowie made his name as a goal-scoring machine at non-league Hendon Town before amazingly being signed by First Division Luton. The true definition of an old fashioned centre-forward, Dowie's leap up the footballing ladder from Hendon Town to Luton and eventually to Southampton where he played with the likes of Alan Shearer and Matt Le Tissier is one of the better rags-to-riches stories.  
But Iain Dowie was no bricklayer or Greggs employee during his time in non-League football. Surprisingly, in his youth, Dowie had gained an engineering degree and was working for British Aerospace when First Division Luton Town spotted him.  
So a man who could have ended up helping to build the new Airbus A380 decided to pack in his engineering career and become what every 6'1 football fan wanted to be - a lower league target man.  
Engineer, footballer, Sky Sports pundit and all round cool guy, Dowie has lived quite the life. But as is the case with many a great footballing icon, Dowie will forever be remembered for one moment of infamy. 
The history books, Youtube compilations and early 2000s blooper football DVDs (Mark and Lard's Football Nightmares and James Nesbitt's Eat My Goal being favorites of mine) will always remember certain players for just one moment of madness. 
For Zinedine Zidane, 15 years of being a genius was overshadowed when he head-butted a mouthy Italian centre back during a warm evening in Berlin. Roberto Baggio dragged Italy to the 94 World Cup final only to see his legacy come crashing down when he missed that fateful and decisive penalty. 
And for Dowie, no amount of banter with Jeff Stelling and Paul Merson on Sky Sports' Soccer Saturday will ever see him live down the hilarity of having scored one of the greatest own goals of all-time.  
On December 18, 1996, Dowie found himself playing for West Ham in a League Cup fourth round replay against third tier minnows Stockport County in front of 9,000 people at Stockport's tiny stadium of Edgeley Park. Things had started well for West Ham, with Julian Dicks firing the Hammers into the lead. But barely 60 seconds later Dowie had given Stockport a way back into the game with one of the most comically bizarre moments recent English football has ever seen.  
Stockport's full back had hoisted a looped cross into West Ham box; after being flicked on, the ball finds its way harmlessly to Dowie at the back post. What happened next is almost too funny to describe - just watch the video.  
What on earth could you have possibly been trying to do there Iain?!